School is officially in session. Whether you're just settling into your new college dorm or are sending your little ones off to Pre-K, school supplies are probably at the top of your shopping list. But, in an effort to be kinder to the environment, you may be on the prowl for sustainable school supplies that won't break the bank—or cause harm to the planet. We've got you covered.
Shop these sustainable school supplies
From recycled notebooks and crayons to eco-friendly containers to pack a delectable lunch, we've got just about everything you need to get through the school year. Here are ten sustainable back-to-school supplies to shop for.
Compostable scrunchies
Conventional hair ties typically feature materials that aren't biodegradable. Did you know it could take hundreds of years for the average hair tie to decompose in a landfill? Instead, pull your hair back with these 100 percent compostable scrunchies. Made by sustainable and ethical brand Kooshoo with organic cotton and natural rubber, they're equal parts stylish and good for Mother Earth.
Recycled journal
Jot all of your notes down in Aya Paper Co.'s Intention Journal, which features 100 percent recycled paper. Available with lines or without, the company digitally prints its minimalistic notebook using 100 percent non-toxic toner. Once you're done using it, simply compost the cover and pages in your backyard, or recycle them. The wire binding is also recycled via metal recycling.
Plantable pencils
Nothing says back to school like pencils. And while the mechanical varieties sure do have their advantages—no sharpening necessary and they're reusable—they'll eventually wind up in landfills, taking years to decompose. On the other hand, wooden pencils degrade quickly. But Sprout's Plantable Graphite Pencils takes sustainable writing one step further: They can be planted after use to grow into vegetables, flowers, or herbs.
Reusable bamboo cutlery set
The U.S. wastes 40 billion (with a b!) plastic utensils each year. Ditch single-use plastics for good with this reusable bamboo cutlery set. Lightweight and easy to pack in your lunchbox, the set features a fork, spook, knife, and a set of chopsticks, as well as a carrying case made of recycled polyester. If ever you want to dispose of it, you can compost the bamboo cutlery and recycle the carrying case with other textiles.
Bambooware containers
In need of sustainable school lunch supplies? Round out your bamboo lunch set with Bambooware's glass containers, which feature bamboo lids. Made with non-toxic materials, these plastic-free containers make the perfect addition to any lunchbox. Plus, the bamboo lids can also be used as cutting boards, making meal prep time even breezier.
Reusable coffee mug
Okay, so this one is definitely for the college students. (No cups of joe for the first graders, please.) Disposable coffee cups are usually made with materials that aren't earth-friendly like styrofoam and plastic. In lieu of these materials, this BPA-free, reusable coffee mug is made with a bioplastic made from rice husks. Sips coffee.
Reusable metal straws
About eight million metric tons of plastic pollution winds up in oceans each year. According to a 2017 report by environmental advocacy group Ocean Conservancy, nearly 7.5 million plastic straws were recovered on U.S. beaches during a five-year ocean cleanup project. One easy way to reduce your single-use plastic waste is to opt for metal straws. Sip Easy's reusable metal straws are made from stainless steel and feature bent and straight varieties.
Recycled crayons
Are your kiddos prepared for art class? Crazy Crayons' Recycled Crayon Sticks are made from melted down recycled crayons—90 percent of which come from crayon brand Crayola. The pack of eight recycled crayons comes in a cardboard box. And if you ever want to dispose of them, they can be sent to the National Crayon Recycling Program in Arizona to be used to make new ones.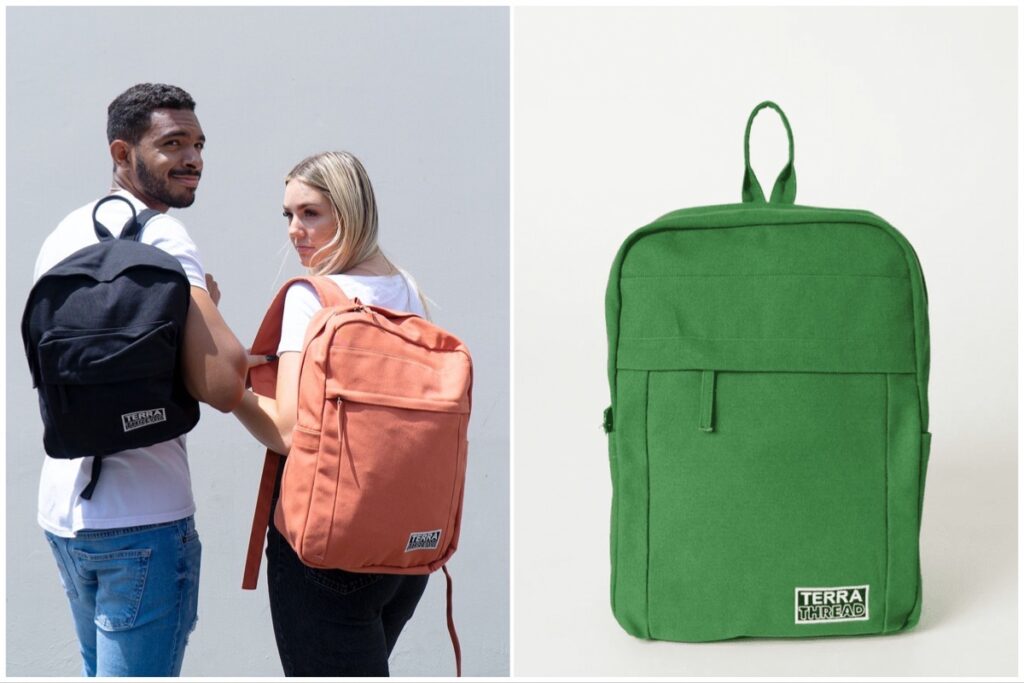 Sustainable backpack
Send your kids packing (to school, that is) in Terra Thread's mini backpack. The company is known for its organic, Fair Trade-certified bags. This sustainable school essential—and all of the brand's other bags—are made with organic cotton. Each purchase also supports Terra Thread carbon neutrality by funding carbon off-set projects. In addition to its sustainable perks—the best part about this eco-friendly backpack is that it features lots of pockets.
Zero-waste planner
Whether you're in grade school or grad school, get and stay organized with Wisdom Supply Co.'s zero-waste planner. What makes the average planner unsustainable? They usually feature things like elastic bands, laminated covers, plastic tabs, and metal ribbons. But this weekly planner features 100 percent recycled materials and is also 100 percent recyclable.
---
LIVEKINDLY is here to help you navigate the growing marketplace of sustainable products that promote a kinder planet. All of our selections are curated by the editorial team. If you buy something we link to on our site, LIVEKINDLY may earn a commission.