The world of beauty and skincare is becoming increasingly genderless, which is a good thing. Every gender can find benefit and enjoyment from a great skincare routine — essential oils, nourishing vitamins, and plant-based extracts work equally well on, well, anyone with skin.
But as important as the above conversation is, we're going to focus on the guys today. Because, while male-gender stigmas of all kinds continue to break, some still exist. And one — even though it's blissfully fading — is that, somehow, "real men" don't exfoliate. Sustainable skincare for men is specific and necessary, and we're here to help you build a routine that will help your skin, and the environment.
"It is crucial to eliminate the stigma on men's skincare in order for men to be able to reach out for help regarding their skin, or even something as little as men purchasing daily skincare products," says dermatologist Dr. Zain Husain, MD, FAAD, founder of the New Jersey Dermatology and Aesthetics Center.
"While the stigma on men's skincare has lessened over time," Dr. Husain continues, "it is still somewhat existent. And men need to know that it is important to maintain healthy skincare habits."
It's the industry itself that perpetuates this stigma most strongly and consistently. Just like some makeup companies want women to feel like they dare not leave home without a smokey eye and a fully defined lip, many big personal-care brands have sent a clear message to men: This is your designated aisle — and it smells like "Cool Wave."
Setting any other factors aside, a solid personal grooming routine is a matter of health. That's why sunscreen is an absolute must for everyone. "Daily sunscreen use is important for protecting us from developing skin cancer and photoaging," notes Dr. Husain.
But he mentions that more men are embracing a simple skincare routine way beyond: cleanser, moisturizer, antioxidant serums, and even masks and peels. Making it sustainable by choosing Earth-friendly products takes it one step further.
The main skincare concern specific to men, notes Dr. Husain, are issues revolving around shaving: "A common problem men face is aggressive shaving that leads to irritation and bumps on the skin called folliculitis," he notes. This is often solved by incorporating a product with soothing essential oils into your skincare routine.
That sounds simple, but the issue becomes finding the right product. Which requires patience. "Men usually grab whatever is easiest for them and use it," notes Dr. Husain. "This is not exactly the best decision for their skin, but it's also not the best decision for the environment."
The above isn't just an opinion; it's backed by numbers. A 2019 study showed men are less likely to recycle out of concern for being perceived as less masculine, and a common belief that eco-friendly behaviors are feminine. While the study authors didn't get a clear read on why, it appears to go back to the concept of archaic gender roles in the home: women tend to the chores; men go to work. And despite strides toward body positivity, female empowerment, and genderless messaging, many ads still depict women lounging around and savoring spa moments, whereas men's marketing appeals to the busy, on-the-go, no-time-for-frills sensibility. (Again, stereotypical gender tropes are on full display.)
At the same time, they're recycling less, more men are buying sustainable skincare. Specifically, the men's personal care market increased 7 percent in the last year to hit $122 billion, or around one-quarter of the total industry's $500 billion revenue. And it's expected to hit $166 billion in 2022. That's concerning from a sustainability standpoint: in 2018, almost 7.9 billion units of rigid plastic were created just for beauty and personal care products in the U.S. alone, making for a ballooning plastic footprint that has overtaken landfills and waterways.
Luckily, there has been a marked increase in interest and action when it comes to sustainable beauty, giving hope that things can be turned around. It's time for everyone — men included — to use skincare with planet-friendly ingredients, sustainable packaging, and small-footprint production. These 10 vegan, cruelty-free skincare solutions check those boxes. And just an important note: These products are marketed for men, but anyone with skin can use them.
10 Essential Vegan Skincare Products for Men
Simple Starter Sets
Cardon Essentials Skincare Set
This brand sets itself apart naturally by making all its products with cactus extract (cardon is the name of the largest cactus species). This hero ingredient is known to soothe and hydrate all skin types — making it a no-brainer go-to for guys. The "Essentials" set featuring three shining examples of the brand — a purifying clay cleanser, moisturizer with SPF 30, and 3-and-1 Hydro Boost gel moisturizer — will make for a simple, effective routine. Plus, all are vegan, cruelty-free, and contain no parabens, sulfates, and silicone.
Check it out here.
Disco Starter Set
Doctor-led and chemist-powered, this line of natural men's products blends substance, style, and sustainability. This set featuring a trio of their vegan, cruelty-free products is a great way to jump in, with a face scrub (featuring aloe, apricot, chamomile, and papaya); vitamin-packed moisturizer (with incredibly hydrating macadamia-nut oil), and a detoxifying charcoal face cleanser in an innovative stick form. And all come in fully recyclable packaging.
Check it out here.
Just the Basics
Native Plastic-Free Deodorant
Packed with toxins and grossly over-packaged in copious amounts of plastic, deodorant is generally a big problem for the planet. But this one isn't — on either count. Native made its name by making healthy, cruelty-free deodorant accessible and affordable, and using clean, vegan ingredients (instead of harmful metals) in its deodorants. But now, it's taken things up a notch by offering a line in plastic-free packaging. There's a huge range of scents for every personality and type, but we'd point guys to two in particular: Charcoal, and the subtly woodsy Citrus & Herbal Musk.

Check it out here.
Jack Black Double-Duty Face Moisturizer SPF 20
If you're looking for the simplest possible single-step skincare solution, stop here. Jack Black's vegan, cruelty-free SPF moisturizer (in fully recyclable packaging) covers all the bases of hydration and protection. It's full of certified-organic ingredients like vitamin E–rich blue algae extract and soothing sea parsley. But just as important is what's not in it: namely, synthetic fragrances, colorants, or parabens.

Check it out here.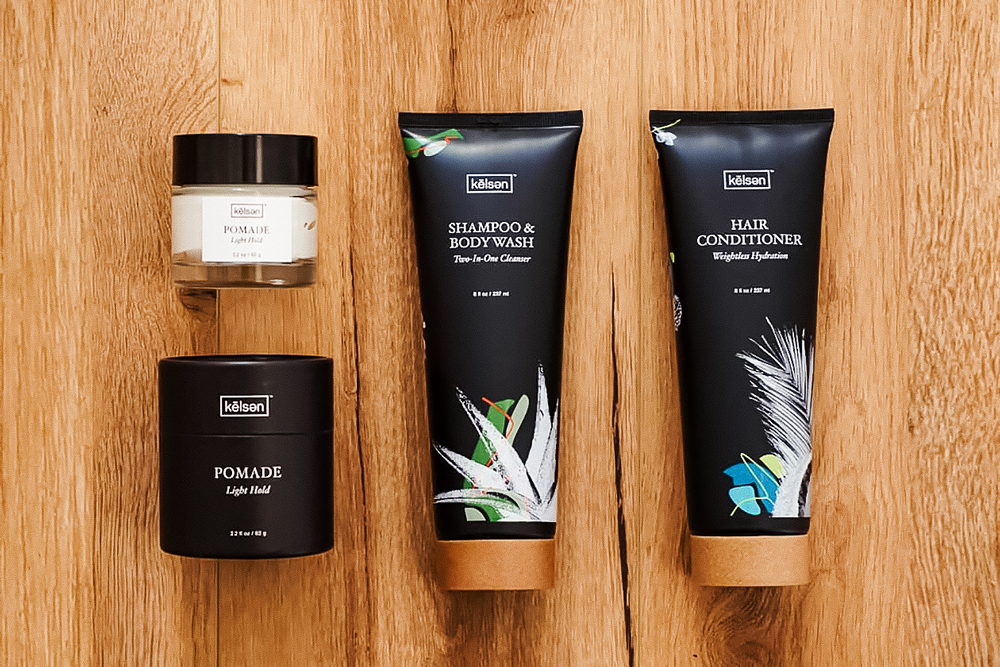 Kelsen Collection Bundle (Shampoo/Body Wash, Conditioner, Hair Pomade)
When it comes to eco-unfriendliness, drugstore hair products are way up on the list (and doubly so for gents). This California-based brand's raison d'etre is to turn that ship around, and craft environmentally conscious hair and body products with no big conglomerate influence. To that end, its trio of cruelty-free hair products — like everything from Kelsen — is made with clean, vegan ingredients (and no synthetic fillers or microplastics). The conditioner comes in recyclable bio-plastic tubes derived from sugarcane, and the pomade comes in a recyclable glass jar. And all feature the brand's signature cedar scent, made with aromatic organic plant oils.
Check it out here.
Beard SOS
Homme Pre-Shave Oil, Shave Cream, Post-Shave Lotion
This 3-step shave routine will pull together even the direst of facial-hair situations without any harmful toxins. Instead, the pre-shave oil, shave cream, and post-shave lotion are powered respectively by hemp oil, green tea, and seaweed. Homme also has a full range of vegan, cruelty-free hair, body, and face products in the same vein — all with chic, minimal packaging and available to buy either a la carte or on a simple subscription basis.

Check it out here.
Jack Henry KO Beard Oil
Keep that facial hair in check (and soothe the parched skin underneath it) without impacting the environment. This non-toxic, plant-based oil blend softens and conditions the beard, and a lightweight texture means it won't take an entire podcast to dry. Like all of Jack Henry's cruelty-free vegan products, this oil — in recyclable amber glass instead of plastic — is a non-toxic essential that'll make your everyday routine a lot smarter.
Check it out here.
A Little Luxe
Haeckels Exfoliating Seaweed Block
Is your top layer of skin so 1989? Let's remedy that. This rich exfoliating soap does the job without the harsh ingredients and chemicals so many mainstream exfoliators use. It'll elevate your daily shower and make you feel truly polished, thanks to crushed coriander seeds and peppercorns, which smooth out the rough spots. And its namesake seaweed hydrates and repairs the skin. True to that, one of the brand's founding principles is to raise awareness about both the fragility and value of the ocean — which is why all its products are sustainably packaged, cruelty-free, and powered by vegan ingredients from the sea.

Check it out here.
Grown Alchemist Instant Smoothing Serum
Moisturizers are important, but one extra step before that (namely, a couple of pumps of serum) can make a huge difference. This serum — from a brand that uses cruelty-free, vegan ingredients to promote cellular renewal in response to the genre of toxin-filled "anti-aging" products — uses a mix of plant-derived Hyaluronan molecules for a naturally smoothing, lifting, and hydrated appearance. It'll make 6 hours of sleep look like 8. (Seriously, though, you should get 8.)
Check it out here.
Blu42 Bright Eye Fatigue Defense Undereye Masks for Men
Tired? Stressed? Not eating your best? That tends to show rather immediately in your under-eye area. With bamboo extract, activated bamboo charcoal, and plant-based collagen, these vegan, cruelty-free masks get to work on puffiness, dark circles, and wrinkles. Just press them on, leave for 10 minutes, and enjoy some rare moments of calm.
Check it out here.
---
LIVEKINDLY is here to help you navigate the growing marketplace of sustainable products that promote a kinder planet. All of our selections are curated by the editorial team. If you buy something we link to on our site, LIVEKINDLY may earn a commission.