Taco Bell's Beyond Meat partnership is official. The chain announced today that for the first time ever, it's putting plant-based meat on its U.S. menu.
The new vegan filling was developed by Beyond Meat and Taco Bell and will trial within the next year. Taco Bell chose Beyond Meat for the trial due to the brand's reputation as a category leader and its appeal among younger consumers. LIVEKINDLY has reached out to Taco Bell to confirm what type of plant-based meat will be on offer.
This new partnership adds to Beyond Meat's growing list of fast-food clients. The California food technology brand has also worked to develop plant-based meat for KFC and McDonald's.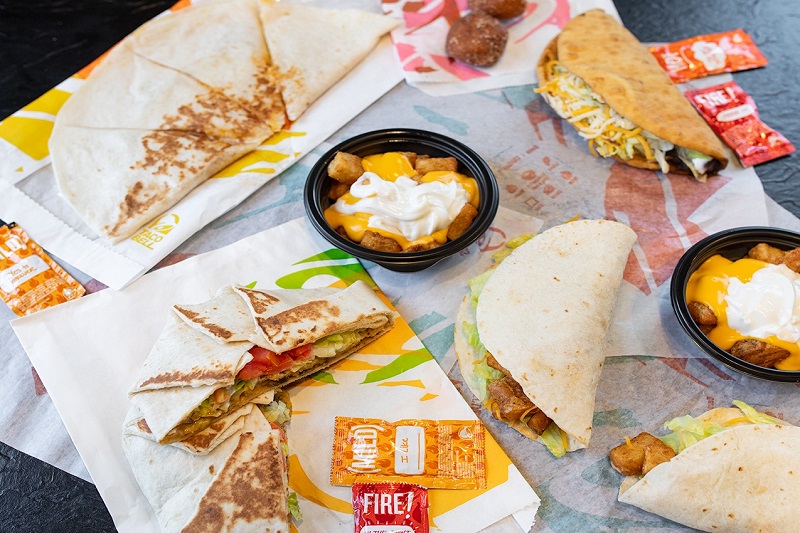 Vegan at Taco Bell
Last year, the chain cut potatoes from its menu in order to make room for new items. But now, spicy potatoes, the longtime staple of meat-free midnight Taco Bell runs, are coming back on March 11.
"The return of our beloved potatoes is just the first step in showing our fans the strong continued commitment to vegetarian we are making this year," Liz Matthews, Taco Bell's Global Chief Food Innovation Officer, said in a press release send to LIVEKINDLY.
According to the chain, it has long been a leader in the vegetarian space. It currently has more than 30 vegetarian items on its menu. (For tips on how to eat vegan at Taco Bell, see here.)
While this is the first time that Taco Bell U.S. will offer vegan meat, it isn't its first time working with Beyond Meat. Stores in Shanghai trialed a Beyond Meat taco last June. In 2019, Taco Bell trialed OmniPork, a plant-based pork developed by Hong Kong-based food technology company OmniFoods.
Other international locations have added permanent vegan options to the menu. Taco Bell Spain and Finland both offer pulled oat meat, which recently debuted on 53 UK menus following a successful trial in 2019. According to a brand representative, it will roll out to all menus.