Scene: it's the start of the holiday season and you're drafting a shopping list for your friends, family, your apartment building's custodian, and that cute barista who you bonded with over an esoteric French film that you both love. You've got everyone matched to the perfect present. Everyone, that is, except for that one friend who you never know what to give for the holidays. So fear not, dear reader. We all know someone who's hard-to-shop-for, so we've put together a unique gifts guide especially for them, and divided it by personality from sweets fiend to fashion follower:
For the zen soul
Otherland 'Chandelier' Candle
As its name connotes, this candle has a bright, luminous scent (think champagne, saffron, and leather) that feels appropriately celebratory for holiday—or just a regular Tuesday. It's made in the US with premium glassware and a vegan soy/coconut wax blend.
Geo Candle Holder Set
Handcrafted in Ohio, these candle holders from Lauren HB Studio are made of porcelain but inspired by the freeform beauty of geodes. They add an instantly calming, contemporary vibe to any space you decide to grace them with.
For the vegan foodie
The Sweet Potato Soul Cookbook
From sweet potato cinnamon rolls to jalapeño hush puppies to low country grits, this debut cookbook from noted vegan food blogger Jenne Claiborne brilliantly reinterprets classic Southern soul food without a plant-based twist.
Brightland Flavor-Infused Olive Oil Collection
EVOO is a staple in the kitchen of every foodie worth their pink Himalayan salt. And this bundle of three flavored olive oils—lemon, chili, and basil—takes the genre to the next level. All are vegan, organic, and produced on California's Central Coast.
For the sweet tooth
Warming Ice Cream Scoop
Who has time to wait for ice cream to soften? This ingenious warming scoop has some major science behind it; biodegradable liquid inside transfers heat from the handle to the scooping ring, which softens ice cream without melting it. No batteries, electricity, or Herculean muscle strength is needed.
Hu Chocolate Bar 12-Pack
Hu's chocolate bars are all vegan, but they're loved by vegan and non-vegan chocolate connoisseurs alike for their incredible quality and taste. Made of certified organic, fair-trade, house-ground cacao, each bar—whether in simple or salty dark chocolate or a more complex flavor like hazelnut coffee and vanilla crunch—will make a welcome break from holiday stress.
For the celeb-obsessed
Fenty Beauty Butta Drop Whipped Oil Body Cream
This light-yet-hydrating cream is enriched with Barbados cherry extract—packed with antioxidants and vitamin C, it's the closest we mere mortals get to capturing even a fraction of the megastar's signature glow.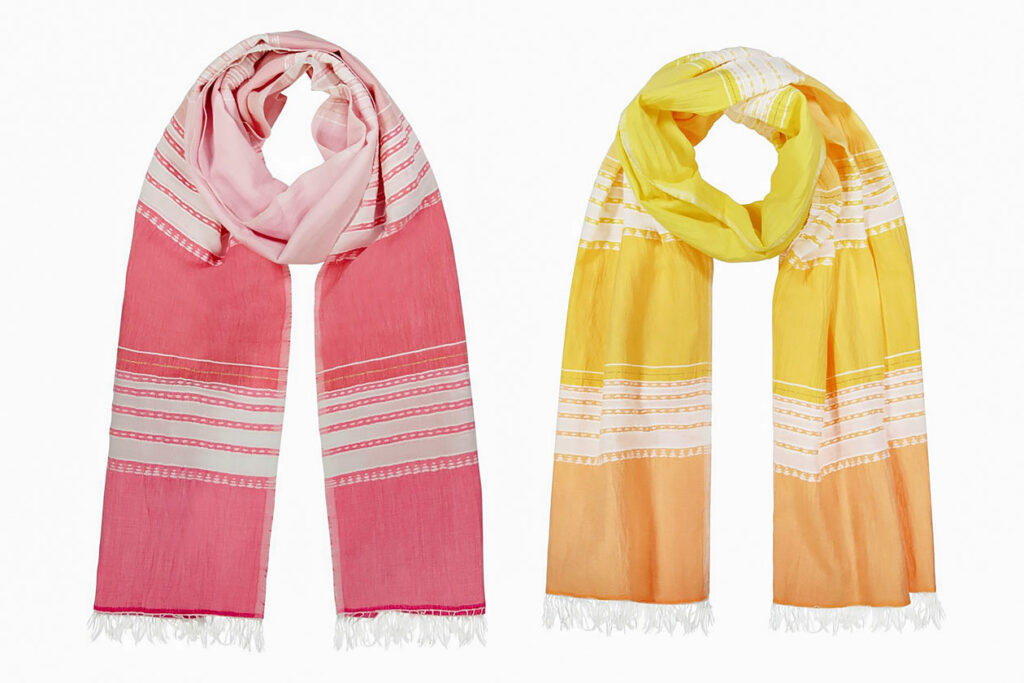 Lemlem Eshal Sarong/Scarf
Internationally renowned supermodel Liya Kebede created Lemlem—a brand of clothing, accessories, and more, all made by expert weavers in Ethiopia—with a mission of inspiring economic growth and preserving the art of weaving in the region. This vibrant, versatile scarf is the perfect example of the superb craftsmanship evident in each of the line's pieces.
For the devoted grower

Chef 'N Countertop Sprouter
This compact sprout-grower features a ventilation system designed to increase airflow, reduce mold, and create the ideal environment for growing sprouts. You'll definitely be posting daily progress updates on Insta.
Terrain Glass Terrarium
Love greenery and gardening? Here is an eye-catching way for you to bring your artistic vision to life. This handmade glass terrarium's sleek, low silhouette makes the perfect canvas for whatever layers of fabulous fauna you layer within.
For the skincare lover
Plant Apothecary Superfacial Organic Superlight Oil Moisturizer
If you're a beauty lover, you'll know: oil moisturizers are good for your skin—especially if it's oily. This incredibly light, serum-like moisturizer has a mix of soothing and hydrating oils, from white tea to pomegranate.
Caldera Lab The Clean Slate Balancing Cleanser
Elevate your morning and evening routines with this extra-special cleanser (a cult favorite in the beauty world). It's powered by plant extracts, glacial ocean silt extracts, and gentle-yet-invigorating amino acids, instead of the harsh surfactants the vast majority of other cleansers are packed with. And it has a featherweight feel that's downright luxe.
For the style-seeker
Veja V-10 CWL
Made in Brazil of organic, ecologically friendly materials like Veja's proprietary CWL ("cotton worked as leather") and a sole made of wild Amazonian rubber that helps with the area's conservation efforts, the V-10 is incredibly conscious. It also happens to be very chic: with its timeless silhouette and minimalist white-and-natural palette, it's a daily style staple that you'll enjoy dressing up or down.
Adidas by Stella McCartney Tote Bag
Vegan or not, nearly any fashion follower would be thrilled to get virtually anything from the Adidas–Stella McCartney collab. This roomy tote—made with Primegreen, a combination of high-performance recycled materials—is incredibly practical in addition to being effortlessly stylish.
The Chic Homebody
Recycled Glass & Reclaimed Wood Hooks
Here's an inspired way to elevate your space this holiday: Made out of earth-friendly materials by artisans in Indonesia, these are a unique, bespoke take on an item that's normally strictly functional. No two of the orb-shaped organic glass hooks are exactly the same. They're available in sizes from 1 to 4 hooks.
The Citizenry San Cristobal Wall Hanging
This eye-catching assemblage of cascading geometric shapes—cast in gleaming bronze by artisans in Chile, then assembled in Austin, TX, by designer Corie Humble—is an inventive alternative to conventional wall art. It'll add instant warmth and texture to any room.
---
LIVEKINDLY is here to help you navigate the growing marketplace of sustainable products that promote a kinder planet. All of our selections are curated by the editorial team. If you buy something we link to on our site, LIVEKINDLY may earn a commission.