Grounded Foods Co., a Los Angeles-based startup, has learned how to make cauliflower cheese. Its Cheese Free Cheese, one of three new products, is a vegan cheese sauce made from imperfect cauliflower and hemp seeds.
The two other products include the simply titled Hemp Seed Cream Cheese and Hemp Seed Goat Cheese. According to a press release, the products are also nut-free and soy-free. They're available to purchase on the website, and will begin rolling out to retail stores starting in May.
The company's dairy-free cheese sauce stands out, not only in form (It comes packaged in a squeeze-pouch.) but also its ingredients. It's the only variety to include cauliflower. And, it's made through a proprietary fermentation process involving koji. If you think you've heard of koji before, you might have: it's the same bacteria used to make miso and soy sauce. It's also used by Prime Roots, a Berkeley-based startup that makes meat and seafood alternatives.
"Koji is a live bacteria, which serves as a natural way of bolstering the fermentation process. It also reduces the need for added salt in the products," Veronica Fil, CEO of Grounded Foods, tells LIVEKINDLY. 
Scaling up
If you peruse the Grounded Foods Instagram, you'll find fancy cheeses including Gruyere and Camembert made from cauliflower and hemp. The Camembert has been sold on the online market GTFO It's Vegan. But Fil says that it may be a while before the company makes artisan cheeses widely available.
Shaun Quade, a self-taught, award-winning chef, is the brand's one-person R&D department. Fil describes him as "one of those mad genius people who obsessively pour themselves into a project until they perfect it."
Quade has produced nearly 40 styles of plant-based cheese. These range from soft cheeses to melting cheeses and hard-aged varieties, using hemp and cauliflower. While Fil loves the Camembert and Gruyere, buying the equipment and packaging for the less in-demand styles is where limitations set in.
So, Fil and Quade set on launching vegan cheese sauce, cream cheese, and goat cheese first.
"We figured we'd choose 3 styles to launch with, see how people respond, then go from there. We have a long roadmap of products to roll out next, but as a tiny company, our obstacle is simply cash," says Fil. The company hopes to complete another fundraising round this year in order to expand its manufacturing capabilities.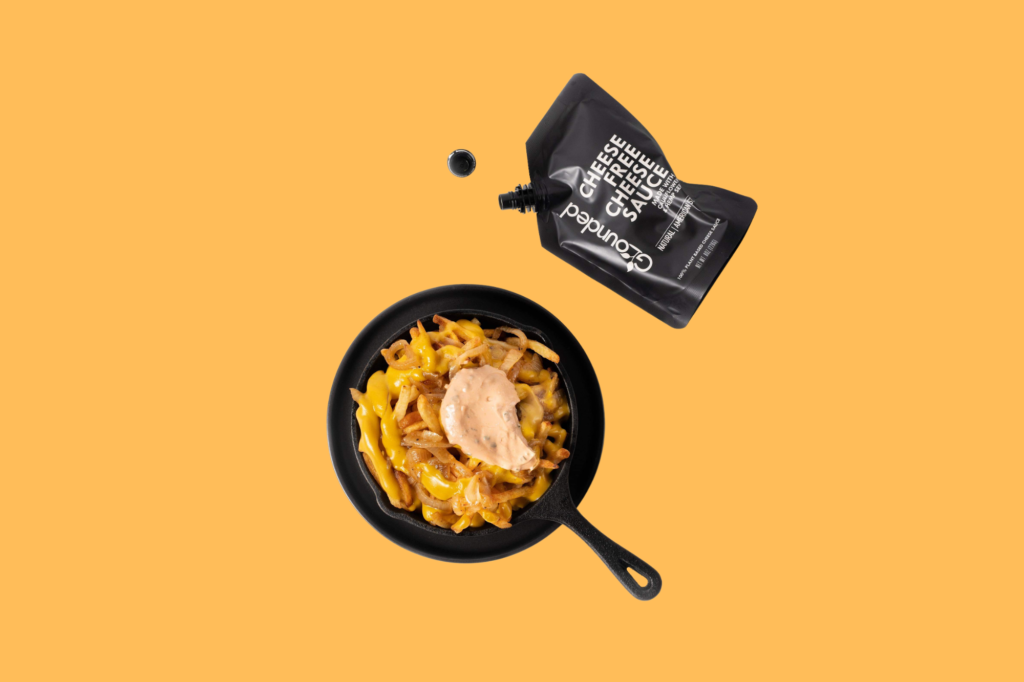 It's All About Flavor
Grounded Foods' vegan goat cheese also contains an ingredient you might not be familiar with. But, it is actually quite common: glucono delta lactone.
"It's commonly used in tofu and feta cheese, and being non-animal derived, it made sense for us to use it in the creation of a goat-style cheese that closely replicated dairy," says Fil. By using it, Grounded Foods was able to eliminate ingredients like modified starches, citric acid, and xanthan gum.
Fil adds that she would ideally have only a four-item ingredient panel. But, taste is critical when it comes to a consumer's decision to buy—or skip—a vegan product, according to the Good Food Institute.
"So instead of making something that kinda looks and tastes a bit like cheese, our goal is to nail it completely—and initiate a genuine shift in mainstream buying behavior towards plant-based alternatives. In doing so, there's definitely a tradeoff between flavor, functionality, and the perfect 'clean label'," says Fil.
Fil cites the dairy industry's enormous environmental impact as the driving force behind Grounded Foods. Cheese made from coconut oil, nuts, seeds, or even cauliflower has a considerably lower carbon footprint. And, the market for vegan cheese is growing fast. According to SPINS data released this year, the U.S. vegan cheese category is worth $270 million.