Seven years ago, Ivan Castro, a young and passionate chef living in Mexico City, finished up a long day in the kitchen, hit the gym, and went home. While enjoying a slab of steak (a protein-packed favorite), he absentmindedly scrolled through social media. So far, so normal. But what happened next changed his life.

A video of a cow in a factory farm popped up on Castro's phone, prompting him to stop mid-mouthful. The clip playing was released by PETA, the world's largest animal rights organization. It was the kind of video where the animals sit in filth, with exposed wounds on their skin and pain in their eyes. As an animal-lover, the video made Castro's steak-filled stomach turn. With a heavy heart, he put down his knife and fork.

Castro, who now lives in Toronto with his husband and owns plant-based Mexican restaurant La Bartola, says the moment was transformative. It was the last time he ever ate an animal. "I made the connection," he told LIVEKINDLY. "I realized that I was eating a piece of animal. I love animals. I had one dog at the time. I just stopped immediately."

After an initial pitstop in vegetarianism, Castro went vegan. Now, through La Bartola, he's working to help others down the same path.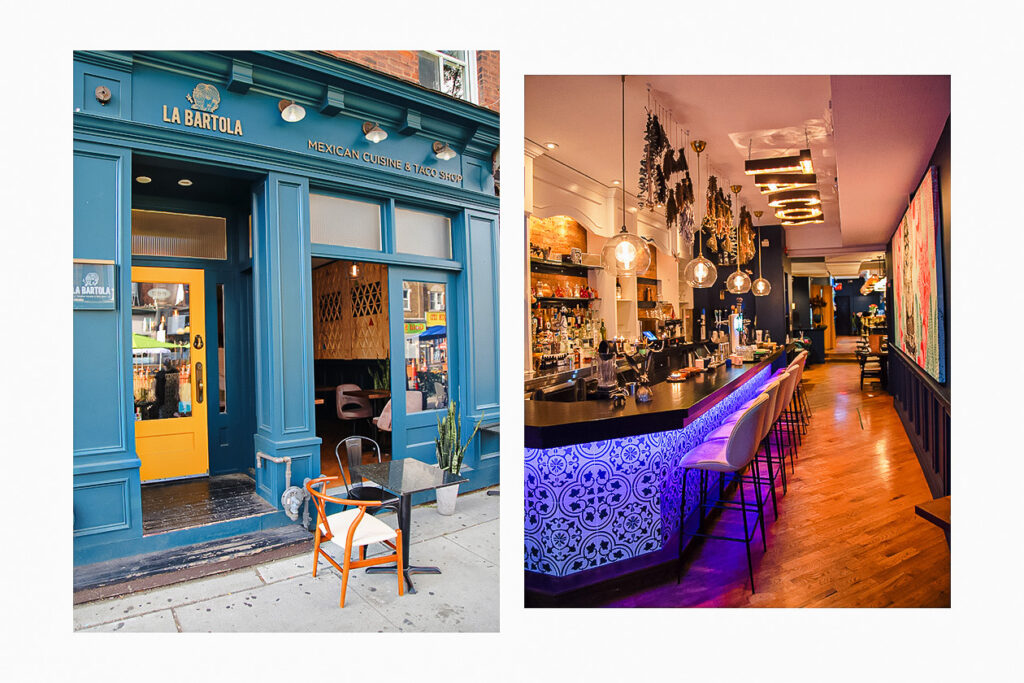 Opening a Toronto vegan restaurant, mid-pandemic
Shock factor was a huge reason Castro changed his diet, but the chef doesn't believe this is the most effective persuasion technique for everyone. At La Bartola, there are no heart-wrenching videos or animal rights messaging, and there isn't even a vegan sign outside. Castro changes people's minds with simple, great-tasting meals. Food, he says, is his activism.

The idea to open a restaurant came after Castro made the move to Toronto four years ago. A year after relocating, he launched a series of secret vegan dinners at his house. Customers would turn up to sit at his table with strangers and enjoy different courses lovingly cooked by the chef in the comfort of his own home. "The project was designed around the magic that happens in the kitchen," he said.

The idea was such a success, he eventually decided it was time to take the next step and open his own restaurant. "After I saw the reactions of the guests, I decided to take that and put it into bricks and mortar. I wanted to share a little bit of my culture to the people that live in Toronto," he continued. "I'm very proud of being Mexican."

So last year, in the middle of the pandemic, La Bartola opened for the first time. The chef admits the timing could have been better, but he has learned lessons he couldn't have imagined weathering pre-COVID.

"It was super difficult," he explained. "But I'm so glad I did it. Because I mean, a lot of people ask me, why did you open during a pandemic? And my answer to them is: why not? I have my product, I already purchased the restaurant and all the equipment right before the pandemic, so I had everything. So why not open? Everything that happens after this is gonna be super easy. It's gonna be a piece of cake."
And despite the difficult circumstances, Castro has managed to build a reliable customer base. He welcomes everyone into his restaurant, but it's meat-eaters he really wants through the door. Because that's where his food shines. Change happens through the tastebuds. "I'm making [plant-based] food for non-vegans, in order to attract non-vegans," he said.

While Castro admits that some turn up, see the menu is vegan, and leave, others are more open-minded. He recalled: "[There was] one customer, he didn't want to stay, but I said 'try my food, and if you don't like it, you don't have to pay'." The result? "He loved, loved it."

"What I believe is, if you offer good quality food, and a variety of food, that's the key to attract more non-vegans," the chef added. "I [don't] believe in labels. That's the reason I don't label my food as vegan or plant-based. I can say my food is traditional Mexican food, that happens to be vegan. I think that's the approach that we need to take, attract more people with delicious food."
Traditional vegan Mexican food
Growing up in Mexico, Castro learned everything he knows about food from his grandmother. While the meals he ate back then weren't plant-based, he says they weren't all that different from how he cooks now. And that's because the heart of the dish is the same. In Castro's view, sauce is everything.

"It was super easy for me to veganize traditional Mexican dishes, because their soul, in my opinion, is the sauce," he said.

Castro is careful to respect his grandmother's traditional recipes and stay true to the origins of the dishes he loves. "What I'm trying to do with my cuisine is to respect the dish," he said.
"I'm not a big fan of mimicking food. If the main dish is pork with whatever sauce, I don't like to replicate that and make vegan pork with whatever sauce," he explained. Instead, he uses plant-based ingredients like banana blossom, or jackfruit, for example (both of which have a similar texture to pulled pork).

He added: "I'm trying to respect the dish, in order to respect the culture. But there's a way to keep doing that without having trouble with traditions and culture."
Tradition runs through every recipe, which is why the menu stands out, says Castro. Even the tortillas are handmade. "Our corn-based tortillas are fantastic," he said. "We make them from scratch. We're still using an old process. We're doing them the same way my grandma used to make them. You can notice the difference between a fresh tortilla from scratch and the tortillas in the packet."
'The future is vegan'
With La Bartola, Castro has had to adapt and shift his original plan many times. He's had government-mandated closures to deal with, but he has persevered. He's come up with new innovative ideas to reel in customers, like his Dinner Experience Boxes. Each box is inspired by a different region in Mexico; the aim is to take customers on a vegan food journey through the country.

In the long run, Castro hopes that people will learn from this time that the planet is fragile and our diets have an impact. But ultimately, he just hopes more people will give plant-based food a chance, for whatever reason. Because ultimately, regardless of motive, any decision to eat less meat or dairy will help the animals.

"I think most people will go vegan because of health reasons," he said. "But it doesn't matter the reason, whether it's for the animals, or for the planet, or for health. The future is vegan. The future is green."
Until then, he'll keep making a difference through cooking. "It's my meditation," he added. "I want to keep sharing the love that I feel through my food."
Check out La Bartola's website here.