Starting tomorrow, UK customers will be able to order new-and-improved Nando's vegan chicken sandwiches and pittas.
The Portuguese-African fast-food chain just launched a revamped post-lockdown summer menu, complete with several new vegetarian and vegan options. These include toppings like pineapple, lemon herb mayo, "peri-naise," and Nando's own vegan chicken.
Called "The Great Imitator," the plant-based chicken is made from pea protein and comes in four strips made to look like the peri-peri filets served at the restaurant. It's listed under the "Burgers, Pittas, and Wraps" section of the menu. According to Nando's, the wraps are not vegan as they contain small traces of shellac, an ingredient derived from a type of insect.
Nando's vegan chicken
When The Great Imitator launched back in October, it was not labeled vegan due to shared kitchen space and fears of contamination. But according to an advance copy of the new menu, both The Great Imitator — and Nando's new PERI-plant strips — are now vegan-friendly.
Nando's has also introduced The Rainbow Bowl, a spiced grains, slaw, broccoli, and hummus salad with optional plant strips, as well a rainbow slaw side. Chips, salad, spicy rice, and long stem broccoli also remain vegan-friendly. The corn on the cob, "Beanie" burger patty, and new spiced grains and squash salad are vegetarian.
The launch of the Great Imitator followed the launch of "The Great Pretender" burger at all 270 Nando's Australian locations in August 2020. Also made from pea and wheat protein, the meat-free chicken was trialed at Queensland locations before rolling out to menus nationwide.
Nando's Head of Food, Mario Manabe, said in a statement that plant-based chicken caramelized and smells like a real filet when cooked. It was also well-received at test locations:

"Sensory testing showed us that those who'd never eaten plant-based meat alternatives or were perhaps a bit hesitant to give 'fake meat' a go, really liked the Great Pretender and said they'd eat it again," explained Manabe.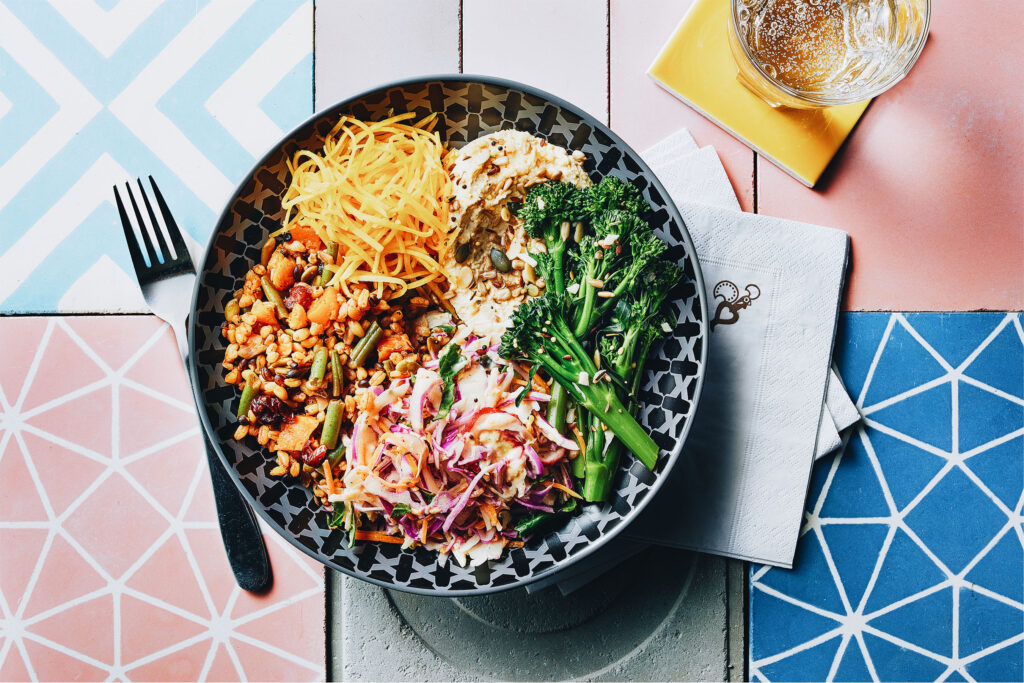 Nando's Commits to Lower Carbon Emissions
According to Nando's, its additional plant-based options are part of the chain's commitment to reducing its carbon footprint. Over last summer, the chicken chain committed to achieving an absolute zero in carbon emissions by 2030 through reduction, rather than through carbon offsetting.
It plans to do this by switching to renewable energy and increasing plant-based options on the menu. Producing 100 grams of chicken meat emits 4.3 kilograms of CO2 equivalent on average compared to .36 kilograms for peas, according to Our World in Data.
Nando's has also partnered with several organizations, including Compassion in World Farming, FAI Farms, and the Soil Association on a new chicken welfare policy, which will include transitioning to a breed "that is naturally slower growing." Eighty-one percent of chicken worldwide is produced through factory farming.
The new Nando's summer menu is available from Tuesday 11th for delivery, takeaway. and Click & Collect. It launches in restaurants on May 17.