Diwali, also known as Divali, is a major holiday celebrated in Hinduism, Jainism, and Sikhism. The word Diwali comes from the Sanskrit word deepavali, which means "rows of lighted lamps."
The story of Diwali celebrates the victory of light over darkness, knowledge over ignorance, and good over evil, and it is thought to be connected to ancient harvest festivals in India. This significant festival typically lasts for five days. Diwali's date changes every year and in 2021, it begins on November 1 and ends on November 6. Each date holds a different significance, but Amavasya, the new moon, which falls on November 4 this year, is considered the main festive day of Diwali. It occurs on the 15th day of Kartik, a month on the Hindu calendar that overlaps October and November.
The legend of the holiday varies from region to region. In northern India, it celebrates the story of Prince Rama's return to his home city of Ayodhya after 14 years of exile due to the scheming of his stepmother, Kaikeyi. This occurred after the rescue of his wife, Sita, an avatar of the goddess Lakshmi, who had been abducted by the antagonistic king Ravana. The people of Ayodhya celebrated the couple's return with colorful lanterns and firecrackers.
However, in southern India, Diwali is about Lord Krishna's triumph over the demon king Narakasura, who had kidnapped 16,000 women. In western India, it is a celebration of the deity Vishnu's banishment of king Bali to the netherworld. In some legends, Vishnu permitted Bali to return to earth on the harvest festival of Balipratipada, the fourth day of Diwali.
While the major reason for the celebration varies through regions, the manner in which Diwali is celebrated is similar across India. Throughout the festival, you'll find houses, shops, and public streets decorated with small, colorful oil lamps that are traditionally made from terra cotta. It is also celebrated with fireworks, lighted lamps, colored sand art, and food.
What foods are eaten during Diwali?
No Diwali celebration is complete without food, and sweets and snacks are the most popular. During a celebration, you're likely to find savory foods like samosas, bhaji (deep-fried onion fritters), and masala peanuts, as well as sweets such as halwa, rice kheer, and gulab jamun, a sweet made from milk powder, rose, and cardamom.
The plant-based origins of Diwali foods
During Diwali, many of the foods eaten are sweets made with dairy products such as milk, yogurt, ghee, and paneer. However, many of them are—as are many foods originating from the Indian subcontinent—plant-based by default. Vegetarianism has been integral to Hindu and Buddhist teachings since ancient times and many people will eschew meat during significant religious holidays.
Curious to know how you can prepare some vegan treats for Diwali? LIVEKINDLY reached out to four bloggers of Indian heritage for their favorite Diwali recipes, and what makes the dish special to them.
Pakoras
Pakoras, also called pakodas, are a type of fritter consisting of a vegetable coated in a spiced batter that's then deep-fried and then served with tamarind sauce, chutney, or raita. The most common flour for the batter is chickpea flour (gram flour) and spices can include coriander, fenugreek, and chillies. They are often served as an appetizer or a snack with tea.
Here, blogger Shruthi Baskaran coats green cabbage, red onion, and jalapeño in a batter spiced with garlic powder, chili powder, and turmeric.
"Diwali is typically synonymous with pakoras in my household. Usually, my mother would pick a few vegetables—onions, cabbage, chili peppers—and make a batter with chickpea flour and deep-fry them," says Baskaran, who runs the food blog Urban Farmie. "The great thing about pakoras is that they're already vegan (and gluten-free!), super quick to make, and a great snack to enjoy with the family (along with a dozen other snacks and sweets, of course!)."
Get the recipe here.
Paan cake
The use of paan, a preparation of betel leaves combined with fillings, dates back thousands of years in India as well as Southeast Asia. Paanwalas, or paan makers, are found selling paan from street carts, combined with fillings such as areca nut, candied fruit, cardamom, raisins, and toasted coconut. But in this festival-ready recipe, blogger Srividhya Manikandan incorporates the flavors of the iconic dessert in a vegan vanilla sponge cake.
"Paan is quite popular across India, and we make it with paan leaves—betel leaves—with various fillings. And this filling differs region by region. We usually serve paan after meals as a mouth freshener," explains Manikandan, the blogger behind Vidhya's Home Cooking.
"I love paan so much, and I wanted to incorporate the flavor in desserts. The first recipe that came into mind was cake," she says. "Enjoy this Diwali with a delicious fusion vegan cake infused with the flavors of paan! This soft and spongy cake is so flavorful and definitely a crowd-pleaser."
Get the recipe here.
Chivda
Known as chivda or poha chivda, this popular tea-time snack is bursting with spices and textures. The mixture starts with a base of poha (flattened rice) and can include mix-ins such as fried lentils, nuts, seeds, fried onion, puffed rice, and curry leaves.
"My poha chivda recipe has savory, salty, sweet flavors and is made with flattened rice flakes, dry fruits, peanuts, spices, and seasonings. This popular snack is made in many households during Diwali, especially in the Indian state of Maharashtra," says Dassana Amit, blogger at Dassana's Veg Recipes.
She adds: "I like to make this snack for Diwali as it is easy and can be customized to your liking. You can make a healthy version by simply roasting or toasting the rice flakes and nuts, or you can make a rich fried version by deep-frying the rice flakes and nuts. You can also make it sweeter or spicier."
Get the recipe here.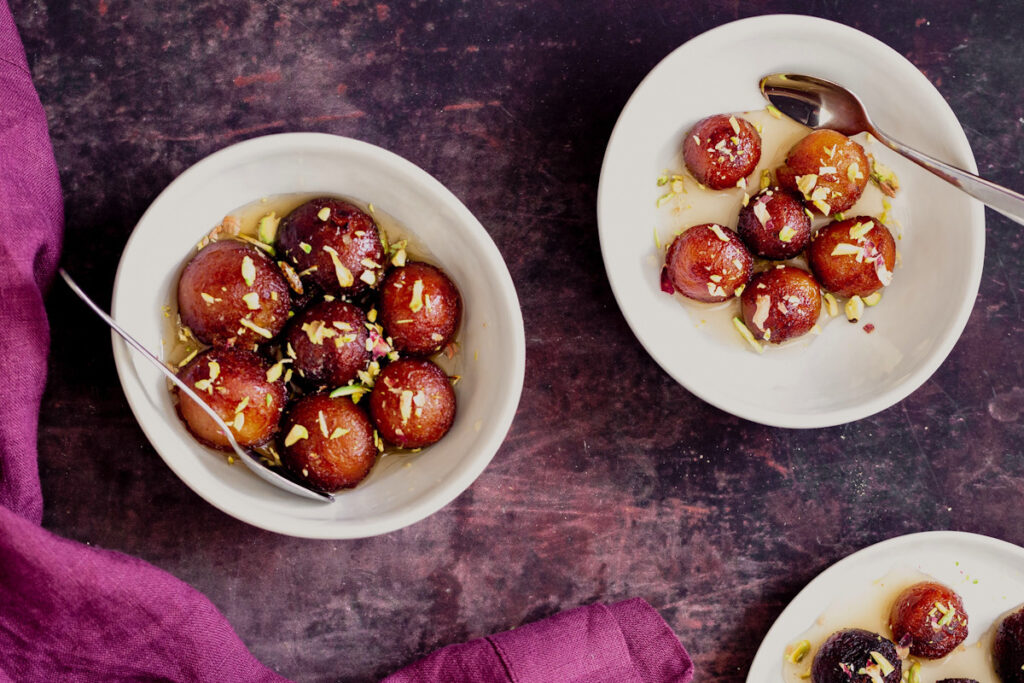 Gulab Jamun
These bite-sized treats are the ultimate Diwali mithai—the Hindu word for a sweet made from flour, milk, sugar, and nuts that's flavored with rose water, saffron, and cardamom. Gulab jamun are like doughnut balls that have been soaked in cardamom-scented syrup. Traditionally, they include mawa (milk powder), but in this recipe, blogger and cookbook author Richa Hingle uses ground pistachios and almonds in its place. They can be made in an aebleskiver pan, a Danish cast-iron pan used to prepare pastries, or you can deep-fry them until they are golden brown.
"Gulab jamuns, warm, melt-in-your-mouth sweet doughnuts that you will dream about even after all are gone, are the perfect Diwali dessert," says Hingle. "The cooler weather around the festival calls for warm, rich, and syrupy-sweet cravings, which are exactly what these jamuns satisfy. Often served between meals or after a spicy dinner, gulab jamuns can be served as is or with rabri to make them more decadent."
Get the recipe here.