Documentaries that tackle global warming, biodiversity loss, and other hard-hitting climate realities are becoming increasingly popular, in part thanks to a growing consciousness about the state of the planet. These docs, which include pioneering films such as An Inconvenient Truth as well as newer titles like Seaspiracy, strive to show the benefits of (at the very least) experimenting with a more Earth-friendly lifestyle.
Most of the time these documentaries tell a compelling story through the lens of the climate crisis, sustainability, or the food system. Since these issues are often interconnected, a well-executed documentary will typically address more than one, and even show how they are intertwined.
For example, a documentary called Meat Me Halfway examines the climate crisis and how it will worsen if people do nothing to lessen its effects. For producer Brian Kateman, part of the solution lies in getting consumers to make changes to their diets (even incremental ones) in order to cause less damage to the environment and our planet.
Although it might not seem like much, cutting back on your meat intake just a little can have a profound impact, especially over time. In fact, a study published in the journal Science in 2018 found that cutting meat and dairy products from your diet could reduce an individual's carbon footprint from food by up to 73 percent. Additionally, the study found that if everyone stopped eating these foods, global farmland use could be reduced by 75 percent.
Another stellar documentary, Gunda, follows a pig of the same name who lives on a Norwegian farm with her piglets. The black-and-white doc has no words or dialogue. Instead, viewers are given an up-close and personal look at Gunda's daily life and can see firsthand that she (and her fellow farm dwellers) are beings worthy of kindness, compassion, and a full life.
The best vegan documentaries to watch right now
Other noteworthy documentaries to watch include I Am Greta, which chronicles Greta Thunberg's path to becoming one of the most-watched and respected climate activists in the world and Seaspiracy, which examines oceanic destruction and how people and governments have actively worsened the problems plaguing the world's oceans.
While you once had to venture to an arthouse or independent movie theater to see these titles, most if not all of them are now available online via YouTube and/or various streaming platforms. I Am Greta, for example, is available on Hulu, while Seaspiracy is on Netflix.
Keep reading for a list of the 14 must-watch vegan documentaries!
Seaspiracy
Seaspiracy, the 2021 follow-up to Kip Anderson's 2014 Netflix documentary Cowspiracy, focuses on the challenges facing the world's oceans. The documentary follows directors Ali and Lucy Tabrizi as they explore the extent of the continued global threat to ocean life.
Throughout the documentary, the filmmakers discover how the issues contributing to global oceanic destruction intersect. For example, Seaspiracy examines the way various governmental policies, the fishing industry, and even environmental organizations contribute to the devastation of marine life.
"When we embarked on the journey to expose the leading threat to our seas, we had no idea of the sheer scale of what we were about to uncover," Ali said in a statement. "What made things even more shocking though, was the fact that governments and environmental groups are complicit and profiting off it's demise."
Seaspiracy is available on Netflix.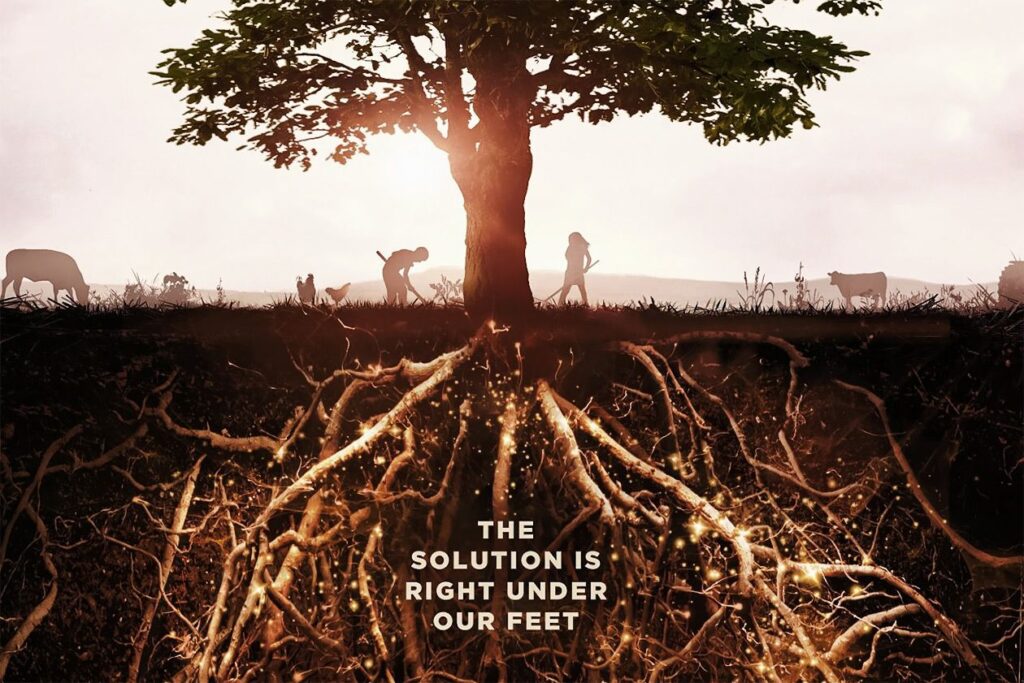 Kiss the Ground
This Netflix documentary, which came out in 2020, is narrated by vegan actor Woody Harrelson. It explores an "new, old approach" to farming known as regenerative agriculture. As the film illustrates, regenerative agriculture has the power to balance our climate, replenish our vast water supplies, and feed the world. Additionally, Kiss the Ground features appearances from an array of experts and celebrity activists such as Detroit Dirt founder Pashon Murray and David Arquette, who unpack the ways in which the earth's soil may be the key to combating climate change and preserving the planet.
Kiss the Ground is available on Netflix.
Gunda
This moving documentary from director Viktor Kossakovsky follows the daily life of a pig named Gunda who resides on a Norwegian farmstead with two cows, a one-legged chicken, and her own litter of piglets. The 2020 film is shot in black and white and contains no dialogue, or subtitles. Instead, the work, which was produced by Academy Award-winning actor Joaquin Phoenix, simply depicts the animals living their lives, which is part of why it's so impactful and why viewers around the world have connected with it.
"We kill cows and chicken and pigs and don't even think about it. But it's the same," Kossakovsky told GQ of the film. "Same creatures, with feelings, emotions, with the right to be happy."
Gunda is available on YouTube, Apple TV, Amazon Prime, and other VOD platforms.
Meat Me Halfway
While some documentaries in this space seemingly deliver a "vegan or else" message, Meat Me Halfway takes a decidedly different approach. Instead, the 2021 documentary accepts the notion that there is no "perfect" approach to veganism. More specifically, Meat Me Halfway argues that getting meat-eaters to simply cut back (not cut out) the amount of meat they consume, is the key to weaning ourselves off of the factory farm system, which has a catastrophic impact on animal populations and the environment.
The film, which was produced by Brian Kateman, the leader of the Reducetarian movement, even explores Kateman's own attempt to consume less meat for the health of the planet. "We're so far away from any kind of utopia, no matter how you define it, that any change in the positive direction is one worth celebrating," said Kateman. "We want to move away from that all-or-nothing thinking and allow people the flexibility to simply move in a more positive direction, even if it's not as ideal as some people might want it to be."
Meat Me Halfway is available on YouTube, Google Play, Amazon Prime, and other VOD platforms.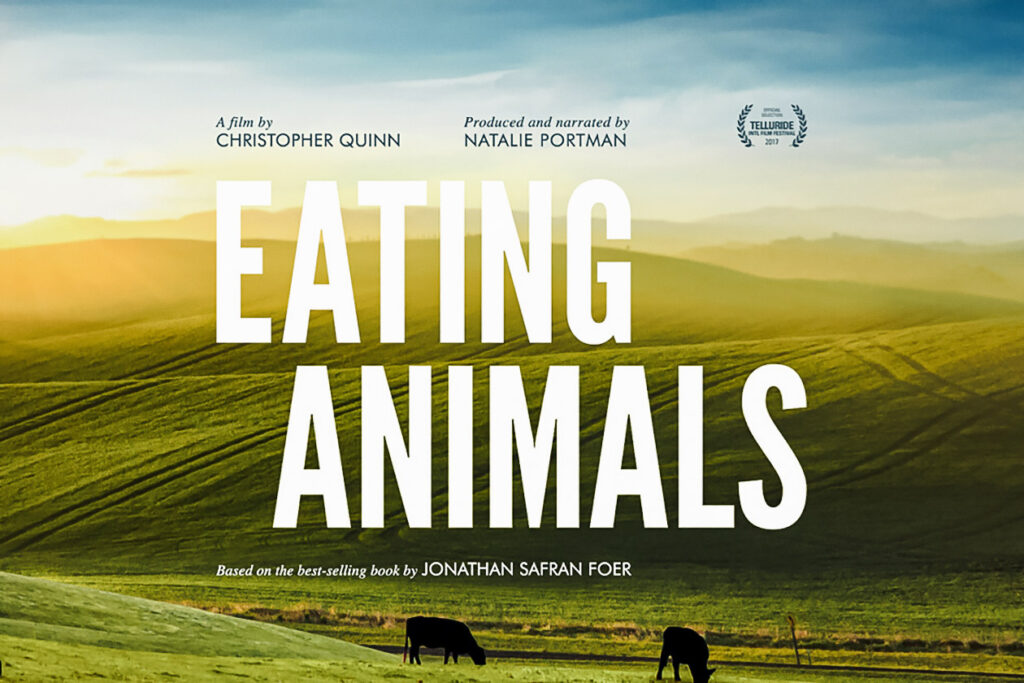 Eating Animals
Academy Award winner Natalie Portman produced and narrated this adaptation of Jonathan Safran Foer's book of the same name. Eating Animals, which was released in 2018, examines the evolution of animal agriculture into the industrial process it has become today. The film explores the environmental, economic, and public health issues tied to factory farming, and also details the use of antibiotics and hormones.
Eating Animals is available on Hulu, Apple TV, Amazon Prime, and other VOD platforms.
Akashinga: The Brave Ones
This 2020 film follows the world's only all-female, plant-powered anti-poaching unit, which is in Zimbabwe. Called Akashinga: The Brave Ones, this documentary is produced by three-time Academy Award-winning director James Cameron and directed by Maria Wilhelm.
The short—which is a National Geographic Documentary Films production—explores how the Akashinga are revolutionizing the way animals are protected and communities are empowered. Akashinga is a radical team of vegan women who are working to protect Africa's key species, including the continent's vulnerable elephants, which are frequently hunted for their ivory. The Akashinga vow to protect these animals with their lives, and have stopped many poachers who are a threat to these majestic creatures.
To watch Akashinga: The Brave Ones, click here.
Food, Inc.
This 2009 documentary from filmmaker Robert Kenner still holds true today. Food, Inc. examines how massive corporations have taken over all aspects of the food chain in the United States, including the farms where food is grown to the supermarket it's purchased in. As the film proves, these companies routinely prioritize profit over public health. Money also comes before the livelihood of farmers, workers' safety, and the state of the planet.
One of Food, Inc.'s goals is to make you think twice about the food on your plate and it has urged many people to give flexitarian and vegan diets a try, even more than a decade after its release.
Food, Inc. is available on YouTube, Apple TV, Amazon Prime, and other VOD platforms.
An Inconvenient Truth
One of the most popular documentaries of the last two decades, this 2006 film is the movie that ignited a global conversation about climate change. The Academy Award-winning documentary follows former United States Vice President Al Gore's campaign to educate people about global warming. While it sheds light on how climate change has had a negative impact on the planet, it also provides viewers with hope and actionable solutions, noting that the effects of global warming specifically can be lessened if we work to release less carbon dioxide into the atmosphere.
An Inconvenient Truth is currently the eleventh highest grossing documentary film in the United States to date, and was so successful that it spawned a sequel, An Inconvenient Sequel: Truth to Power, that was released in 2017. Additionally, Gore remains an ardent climate activist and has now adopted a vegan diet.
An Inconvenient Truth is available on YouTube, Apple TV, Amazon Prime, and other VOD platforms.
Our Planet
This episodic series narrated by David Attenborough premiered on Netflix in April 2019. Each installment showcases some of the world's natural wonders, iconic species and wildlife spectacles that still remain. There are episodes devoted to jungles, forests, and more.
While the natural beauty of the world is breathtaking, Our Planet also notes how climate change affects all living beings and their surroundings. "Our Planet will take viewers on a spectacular journey of discovery showcasing the beauty and fragility of our natural world," said Attenborough. "Today we have become the greatest threat to the health of our home but there's still time for us to address the challenges we've created if we act now. We need the world to pay attention."
Our Planet is available on Netflix.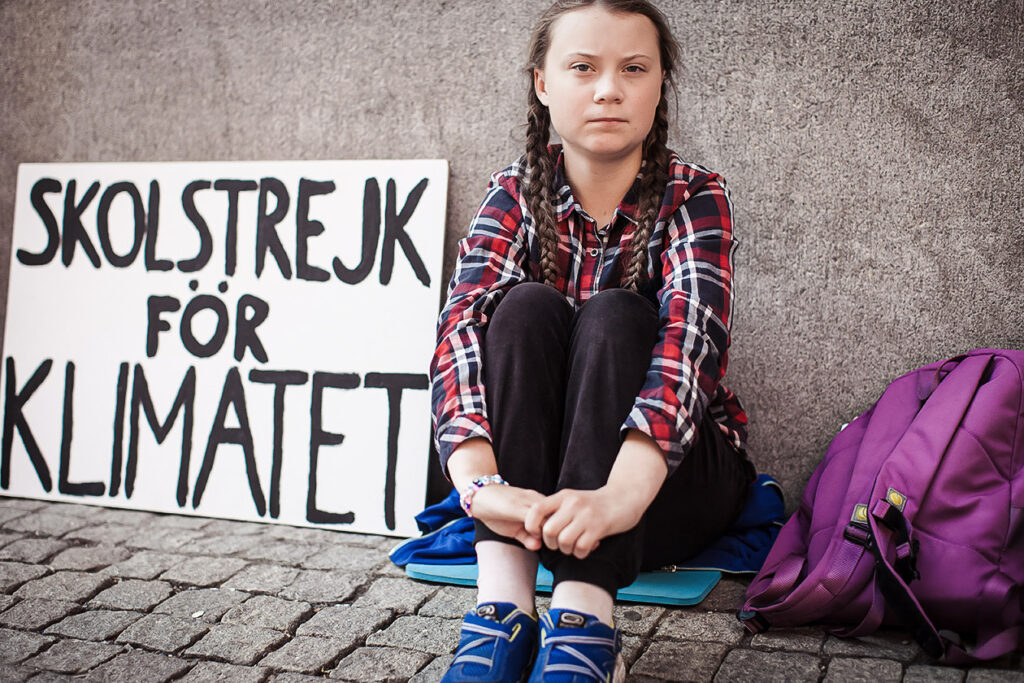 I Am Greta
As its title suggests, this 2020 Hulu documentary is all about 18-year-old Swedish climate activist Greta Thunberg. It follows her as she earnestly and urgently heads off on an international crusade to get her peers, politicians, and others to address the climate crisis."People always tell us that young people are going to save the world, but there is simply not enough time to wait," Thunberg declares in the film.
It also illustrates how Thunberg, who has Asperger's syndrome, became laser-focused on the ongoing climate crisis, and even features footage of her sailing from Plymouth, UK, to New York after she was invited to speak at the 2019 UN Climate Action Summit.
I Am Greta is available on Hulu.
Honeyland
This 2019 Macedonian documentary follows Hatidže Muratova, a loner beekeeper who lives in a remote mountain village. Filming lasted three years, and a whopping 400 hours of footage were obtained. As Muratova looks after her bees and interacts with her bedridden mother and neighbors, the film explores issues such as climate change, biodiversity loss, and exploitation of natural resources. It also has a strong conservationist message.
Honeyland premiered at the 2019 Sundance Film Festival and has received virtually universal critical acclaim. It even earned two nominations at the 92nd Academy Awards.
Honeyland is available on Hulu, Apple TV, YouTube, and other VOD platforms.
INHABITANTS
This 2021 feature documentary follows five Native American Tribes across deserts, coastlines, forests, and prairies as they restore their traditional land management practices. While Native Americans have successfully stewarded and shaped their landscapes for centuries, hundreds of years of colonization have disrupted the tribes' ability to effectively care for the land. However, as the climate crisis escalates, these time-tested practices of North America's original inhabitants are becoming increasingly essential in a rapidly changing world. The doc spotlights these tribes as they work diligently to restore their relationships with the land.
Additionally, the INHABITANTS filmmakers worked with The Tribal Advisory Board to ensure that the film included representatives from each of the Tribes. The partnership ensured that the film is accurate, culturally appropriate, and met the needs of their communities.
For information on how to watch INHABITANTS, click here.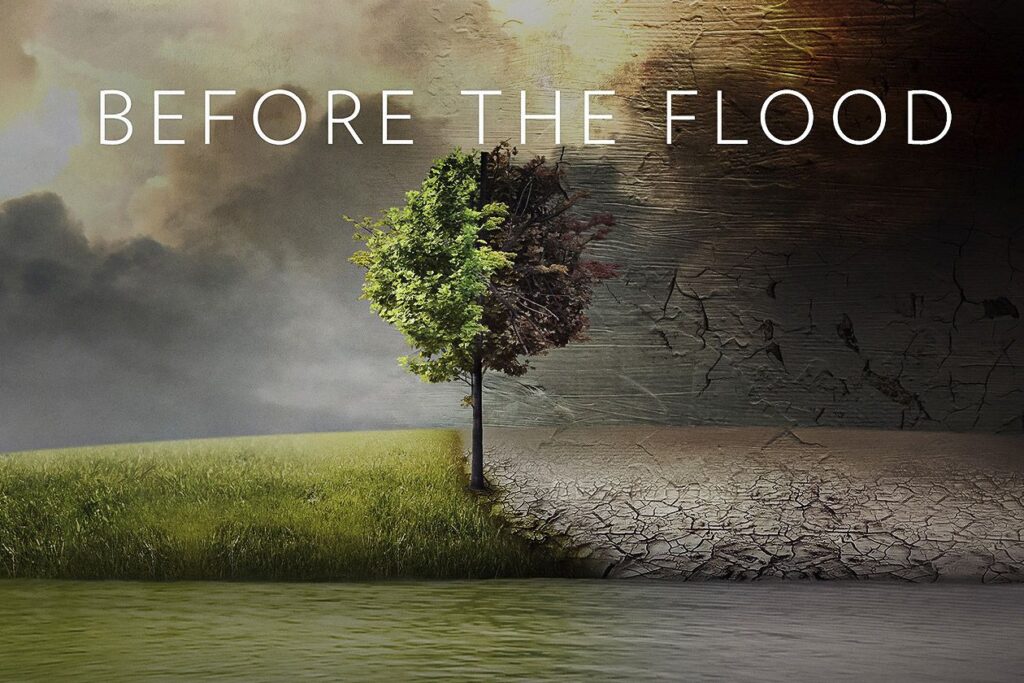 Before the Flood
In this moving documentary, actor, and environmentalist Leonardo DiCaprio uses his platform to meet with scientists, activists, and world leaders around the globe to discuss the dangers of climate change and possible solutions to the many problems it presents. Subjects include Barack Obama, Pope Francis, and Indian environmentalist and political activist Sunita Narain.
The 2016 film, which opened the Toronto International Film Festival that year, also acknowledges the unmissable link between animal agriculture and environmental devastation. DiCaprio has said of the film, which was directed by actor Fisher Stevens: "We went to every corner of the globe to document the devastating impacts of climate change and questioned humanity's ability to reverse what may be the most catastrophic problem mankind has ever faced. All that we witnessed on this journey shows us that our world's climate is incredibly interconnected and that it is at an urgent breaking point."
Before the Flood is available on Disney+.
73 Cows
The BAFTA Award-winning short documentary 73 Cows spotlights Jay Wilde—a former UK beef farmer who now practices sustainable organic vegan farming." The documentary follows Wilde and his wife, Katja, as they transition from meat farming and become "friends" with the animals they once raised for slaughter. "Everything that had bothered me about the process of beef farming in the past, all that burden of responsibility, was lifted. It was just such a relief to know that the animals I'd been looking after have a happy, cow-y, life," Wilde says at the end of the film.
Watch 73 Cows here.