Vegan women chefs are transforming the world's food system one plant-based meal at a time.
Women are staking their claim in professional kitchens. And they're not only showing off their culinary talents but also creating dishes that nourish, inspire, and dazzle patrons whether they're vegan, vegetarian, or flexitarian.
Their creations have the power to transform the most skeptical diner into a loyal customer. Through their plant-powered dishes, these vegan women chefs are helping to dispel common myths about vegan cooking and baking—e.g., that vegan food tastes bland or that it's not as tasty as meat-centric meals.
Give your plant-based cooking a delectable upgrade. Here are 9 vegan women chefs you need to know about.
These vegan women chefs are changing the food system
Charity Morgan
With more than 15 years of vegan culinary experience and a culinary degree from Le Cordon Bleu College of Culinary Arts, Charity Morgan is one vegan woman chef to follow.
And not only does she whip up delicious-looking vegan meals, but she's also inspiring people to go plant-based. In 2017, she helped convert 15 Tennessee Titans players to plant-based diets, including her husband, former NFL linebacker Derrick Morgan.
"When they realized that their production didn't go down, their stats didn't go down, they didn't die on the field, they were like 'sign me up' because the food already looks and smells good," Morgan told ESPN.
Follow her here.
Chloe Coscarelli
This wouldn't be a proper vegan women chefs list without Chef Chloe. Coscarelli took the culinary world by storm in 2010 after she snagged the top prize on Food Network's Cupcake Wars. Since then, the award-winning chef and best-selling cookbook author has partnered with Whole Foods for an exclusive holiday meal and has been recognized by Forbes 30 Under 30 series.
Her first brick-and-mortar concept, by CHLOE, grew into an international mini-empire, with locations across the East Coast, one in Los Angeles, and one in London. In December 2020, Coscarelli finally regained 50 percent ownership of her restaurant after losing ownership in a legal battle with a business partner. The same month, the parent company of by CHLOE filed for bankruptcy, so Coscarelli is currently on the hunt for new business partners. "A million thank yous to all who believed in me during those dark moments when it felt like all hope was lost. Hope, of course, is never lost, and after darkness always comes light," she wrote in an Instagram post. "Keep fighting for what you know in your heart is right, and I promise I will do the same."
The vegan chef recently partnered with Sunwink to launch her own flavor of the superfood powder mix. Cacao Clarity Superfood Powder features organic herbs and superfoods and tastes just like hot chocolate.
Follow her here.
Nina Curtis
Former competitive bodybuilder turned gourmet plant-based chef, Nina Curtis says she decided to overhaul her diet about 20 years ago after realizing her body "didn't want animal-based protein" anymore.
"I had to break up with salmon because it was already breaking up with me! I listened to my body. And started studying everything I could find to better understand the connection between nutrition and how the body works," she explained in a blog post. "I became my own lab, experimenting with different fruits and vegetables, and found I could increase my lifting and my recovery time by living a plant-based lifestyle."
Curtis earned her MBA from Pepperdine University and a plant-based nutrition certification from the T. Colin Campbell Center for Nutritional Studies at Cornell. Curtis has a rather extensive vegan culinary resume. She worked in established venues such as The Ranch in Malibu, Pure Food and Wine in New York, the Springs Restaurant and Wine Bar in Los Angeles, the Marriott Group, and Hilton Hotels. Now, she is the director and executive chef of Adventist Health. The faith-based, nonprofit integrated health system has locations in more than 80 communities in Hawaii and on the West Coast.
Follow her here.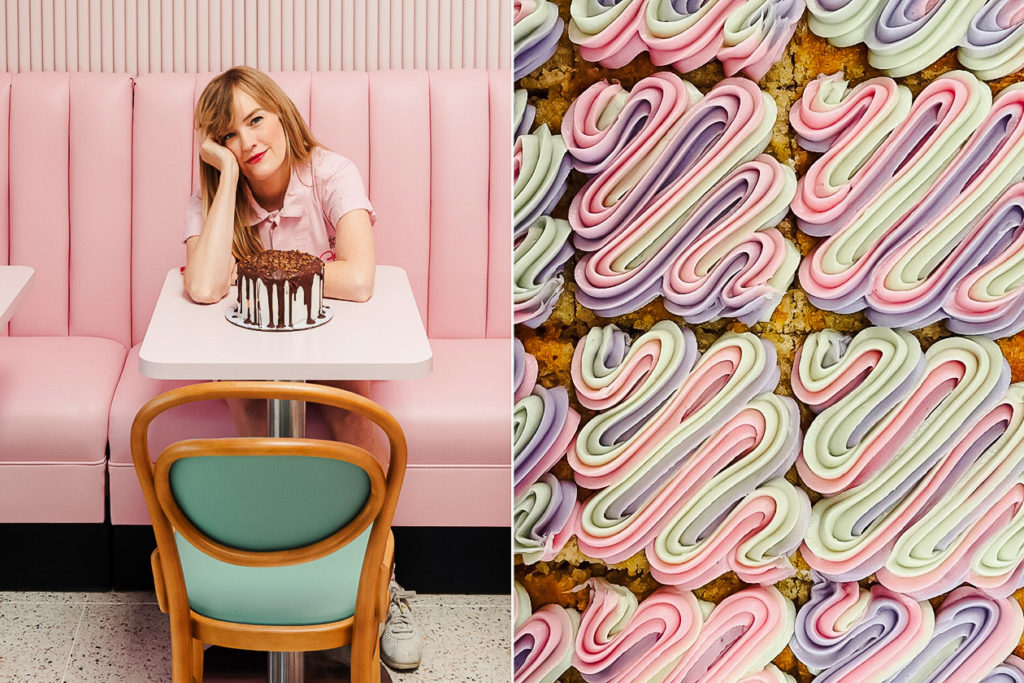 Erin McKenna
Erin McKenna is a pioneer in allergen-friendly baking. She opened her first vegan, gluten-free bakery in New York City in 2005, years before either of these lifestyles had gained society's attention. Plagued by dietary restrictions in her own life, she set out to "focus on the underserved – the people with gluten, dairy, egg, and soy sensitivities, the health-minded, and most importantly, the allergic kids who are often unable to indulge."
McKenna's decked-out donuts and moist cupcakes drew more than just the gluten-free vegan crowd. Today, she operates four bakeries – the original in Manhattan, one in Los Angeles, one in Santa Monica, and one on the Walt Disney World property in Orlando. Those who reside far from these areas can purchase her baked goods online or learn how to make them at home with one of her three cookbooks.
Follow her here.
Sophia Hoffmann
Chef Hoffmann is a Berlin-based vegan chef, cookbook author, and consultant. In 2012 she launched her catering business, where she gained recognition through her multicourse, often themed, pop-up dinners. She's taught a zero-waste Vegan Masterclass. She's cooked alongside Chef Nina Curtis at the James Beard Foundation's International Women's Day dinner. And even has her own podcast, Hoffmanns Küche.
Hoffmann supported the female culinary movement in Berlin as an active member of the Feminist Foodie Club. Hoffmann consults with both restaurants and major corporations such as Google Foods and Wasa to develop recipes and branded menus.
Follow her here.
Leslie Durso
Chef Durso is a vegan chef and food personality, working to bring vegan cuisine to the mainstream audience. She has appeared on the Food Network, The Doctors, and the Discovery Channel, in addition to providing expert plant-based content for media outlets like Mind Body Green, CNN, Glamour, and Maxim.
Beyond the camera, Durso has served as the featured chef in the high-end resort kitchens of the Four Seasons in Punta Mita, Mexico and the Island of Nevis and St. Kitts.
Follow her here.
Babette Davis
For vegan women chefs to follow, look no further than fitness expert, health-centric chef, and motivational speaker Chef Babette.
She founded the all-vegan, California-based restaurant Stuff I Eat in 2008. Vegan for 25 years, the 70-year-old vegan entrepreneur is active in the animal rights community. She previously did work for the animal rights nonprofit Mercy for Animals.
"I have so much to be grateful for," she shared in an Instagram post. "I am healthier now than I was when I was thirty and my lifestyle is conducive to maintaining health! My heart is filled with love and appreciation for LIFE ALL LIFE!"
Follow her here.
Angela Means
Actress Angela Means is well known for her role on Friday—"Bye, Felicia!" But the vegan entrepreneur also owns her own Los Angeles-based, plant-based soul food restaurant, Jackfruit Cafe.
After posing nude for a PETA PSA, she told the animal rights organization that she launched the vegan restaurant in order to bring healthy, plant-based foods to marginalized communities. "Jackfruit Cafe was born in a little doughnut shop in the 'hood," she explained. "My home comedy club was there, so when I was able to come and help a black community, that's the one that I went back to."
Follow her here.
Jenné Claiborne
The last on our vegan women chefs list, but certainly not the least—Jenné Claiborne does it all. In addition to her work as a vegan chef, Claiborne is a cookbook author, Youtuber, and the blogger behind the vegan food and lifestyle blog Sweet Potato Soul, which she launched in 2010.
And if her Insta feed is anything to go by, she's a master at whipping out mouthwatering vegan meals. So, where does the name "Sweet Potato Soul" stem from? Claiborne told Southern Living: "When I was a kid, sweet potatoes were one of the only things I would reliably eat, and I've pretty much eaten them every day of my life since then. They're hands-down my favorite food," she explained. "And then the "Soul" part comes from my Nana. She did most of the cooking when I was growing up and she always said that no matter what you're cooking, you have to put a lot of soul into it. My food background was always rooted in the idea of cooking as an expression of love and soul."
Follow her here.