There are more Chipotle vegan options than ever before. But the Mexican-inspired fast-food chain has always had a wide selection of plant-based ingredients, from sofritas to guacamole, and almost anything on the menu can be customized to be made vegan (thanks, Chipotle hacks).
Named after the smoke-dried jalapeño chili native to Mexico, former line chef Steve Ells founded the Chipotle franchise in 1993. After working in San Francisco's hospitality sector—and inspired by the Mission District's taco stands and eponymous burritos—he opened the first Chipotle restaurant in Denver.
Since then, Chipotle has opened nearly 3,000 branches across the US, Canada, Germany, France, and the UK. Staff make each customer's meal to order from a huge range of salads, grains, pulses, and its famous sofritas, made with shredded and spiced Organic tofu.

The chain describes itself as providing "food with integrity," and has formed lasting partnerships with many of its suppliers. Altogether, the entire menu includes just 51 ingredients, many of which are plant-based.
According to Chipotle, its chefs continue to prioritize ethically sourced and environmentally-friendly food across the menu. The franchise went GMO-free in 2013 and launched its braised tofu sofritas in 2013. The company even invested in vegan seafood company Sophie's Kitchen in 2018. The following year, Chipotle promoted National Vegetarian Month—and "meatless Mondays"—by offering customers discounted food through its rewards program.
From sofritas to guac: what's vegan at Chipotle?
Chipotle's minimalist menu means plenty of plant-based ingredients, and you can find vegan-friendly options marked on the website by selecting the V+ icon as a preference. Another useful site feature is the inclusion of nutritional information for every dish. By choosing vegan ingredients, customers can veganize any base on the menu (apart from quesadillas).
In addition to the Chipotle's sofritas, seasoned shredded tofu, the chain launched vegan chorizo nationwide for a limited time in January 2022.
Vegan burritos
Made to order, Chipotle's famous burritos all start with the large flour tortilla. Those looking to eat vegan can fill their wrap with brown or white rice, along with black or pinto beans.
Customers can also choose Chipotle's plant-based chorizo or signature sofritas as their protein source. Sofritas, seasoned with traditional herbs and spices such as paprika and oregano, have also been available in the UK since 2018, where the company nicknamed it the vegan boost. The same year, Chipotle served a total of 7.5 million pounds of the braised tofu, which is supplied by California's Hodo Foods.
After choosing a protein (or not, you do you), burrito fans can build dishes from a selection of plant-based toppings. These include fajita veggies such as peppers and onions, along with crisp romaine lettuce. Four vegan salsas are also available: fresh tomato, tomato green-chili, tomato red-chili, and roasted chili-corn.
Then there's the guacamole. As with all of Chipotle's fillings, the guac is made fresh on-site every day by combining lime, chili, and cilantro with roughly mashed avocado.
Vegan burrito bowls
Sometimes called a naked burrito, Chipotle's burrito bowls are the same ingredients as the Mission-style wrap but served in a bowl instead of wrapped in a tortilla. These are great for gluten-free customers or people who prefer not to get too messy during their meal.
Vegan tacos
If tacos are what you're about, pick from a crispy corn taco or the soft flour option. The countless combinations of all the freshly made fillings listed above ensure plenty of mealtime variety.
Vegan salads
Those looking for a lower calorie meal option can opt for a salad bowl, which is essentially a burrito bowl built around a foundation of salad. Customers can still combine their favorite protein, veggies, and salsa, as preferred, but with the bulk of the meal made up of fresh salad ingredients.
Vegan 'Lifestyle' bowls
Lifestyle bowls are a relatively new addition to Chipotle's U.S. menu and a significant departure from the eatery's usual build-your-own format. As well as saving customers valuable lunch hour minutes pondering over which salsa to go for, the specialized bowls have been developed to suit particular diets and lifestyles, including paleo, whole foods, and vegan.
The vegan bowl is a colorful medley of brown rice, lettuce, and both the tomato and corn salsas. Since it contains both black beans and sofritas, the Lifestyle bowls are very protein-rich and bursting with flavor.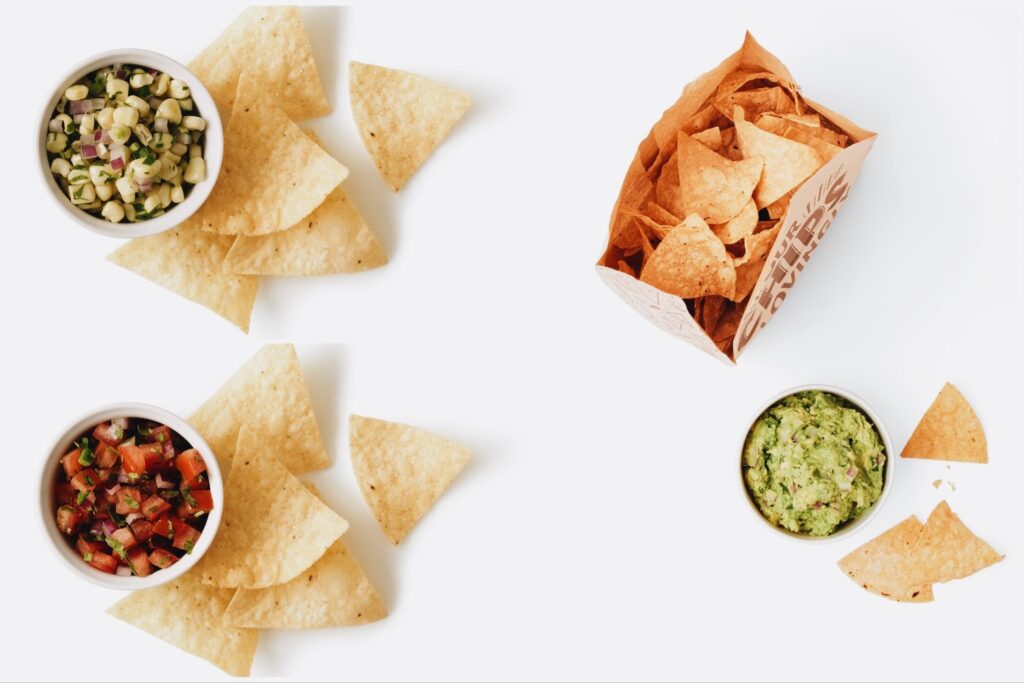 Vegan sides
Chipotle customers can also order tortilla chips with a variety of different dips to start off the meal. The brand's crisp chips—lightly salted, lime-spiked, and served warm—come with your choice of Chipotle's four salsas and creamy vegan-friendly guacamole.
Vegan drinks
While Chipotle doesn't currently have a dessert menu, U.S. customers in the mood for something sugary can satisfy their sweet tooth with a glass of Nantucket Nectar. These bottled juices come in a zesty array of flavors including peach-orange and pomegranate-cherry.
There's no exotic juice on offer for UK Chipotle customers, but Brits can still round off their meal with a freshly blended margarita. These vegan cocktails—made with Sauza tequila, triple sec, and fresh lemon and lime juice—are a refreshing way to finish a spicy dish.