On this episode of EATKINDLY With Me, Suresh Seneviratne puts vegan ice cream to the ultimate taste test.
It's officially ice cream season. "With summer fast approaching, I thought it would be a great time to review some dairy-free ice cream options," Suresh explains.
The blogger and influencer tries nine different vegan ice creams from brands So Delicious, Ben & Jerry's, and Nada Moo!.
Suresh notes there are many benefits to choosing plant-based ice cream over its dairy-based counterparts. "It's just so much easier on all of our stomachs," he says. According to the National Institutes of Health, around 36 percent of American adults are lactose intolerant.
"Taste definitely does not have to be sacrificed," he adds. "So many dairy-free options are so, so delicious."
Which vegan ice cream reigns supreme?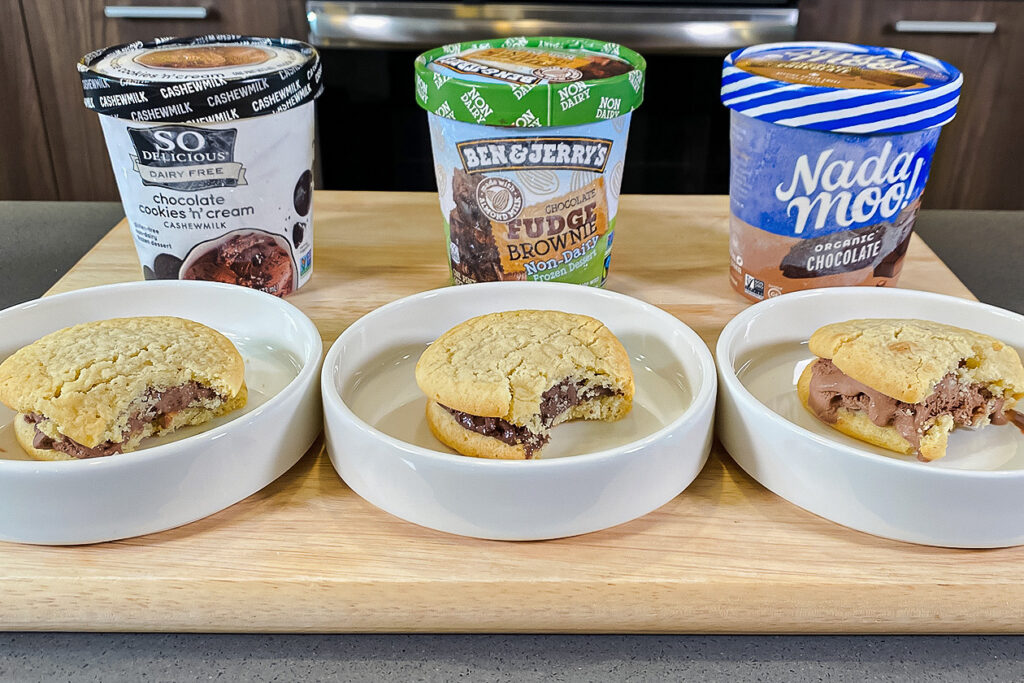 Vegan Ice Cream Taste Test
For round one, Suresh takes a bite out of three non-dairy ice creams: So Delicious Snickerdoodle, Ben & Jerry's Cherry Garcia, and Nada Moo! Strawberry Cheesecake.
"My mouth is watering," Suresh says as he tries the former. "It smells just like a traditional ice cream. Wow, that is so good!" After trying the other two brands, Suresh makes his decision: "This Nada Moo one is the creamiest. This does not disappoint. You guys, this is so good. Hands down, this is my absolute favorite."
For round two, Suresh whips up root beer floats using So Delicious Vanilla Bean, Ben & Jerry's Chocolate Chip Cookie Dough, and Nada Moo! Organic Vanilla Bean. "The So Delicious one isn't as creamy or smooth as the other ones were," he notes. "I think I have my clear winner for this round," he continues. "This is delicious," he says. "Nada's Organic Vanilla Bean wins."
Round three: ice cream sandwiches with vegan sugar cookies. For this round, Suresh taste tests So Delicious Chocolate Cookies 'n' Cream, Ben & Jerry's Chocolate Fudge Brownie, and Nada Moo! Organic Chocolate.
"You guys, I have to say, I think my winner for this round is our Ben & Jerry's Chocolate Fudge Brownie," Suresh says.
---
LIVEKINDLY is here to help you navigate the growing marketplace of sustainable products that promote a kinder planet. All of our selections are curated by the editorial team. If you buy something we link to on our site, LIVEKINDLY may earn a commission.