Nestlé vegan KitKat bars are now in UK supermarkets.
The vegan chocolate bars, called KitKat V, are available in Sainsbury's stores starting from today. The dairy-free chocolate bar features rice milk chocolate enrobed around a crisp wafer. The bar was developed by Nestlé's Research and Development center in York, where KitKats were created by confectionery company Rowntree's in 1935.
Louise Barrett, Head of the Nestlé Confectionery Product Technology Centre said in a statement sent to LIVEKINDLY that the company "worked very hard to get the right balance between the milk alternative and the cocoa. The result is a vegan chocolate that we're very proud of, and that we hope will be enjoyed by KitKat fans everywhere."
When Will Vegan KitKat Come to the US?
Will vegan KitKat bars launch in the US? Nestlé has said that KitKat V will not launch in the states, where it is produced by Hershey as part of a licensing agreement. The company has not revealed further information beyond the initial UK launch.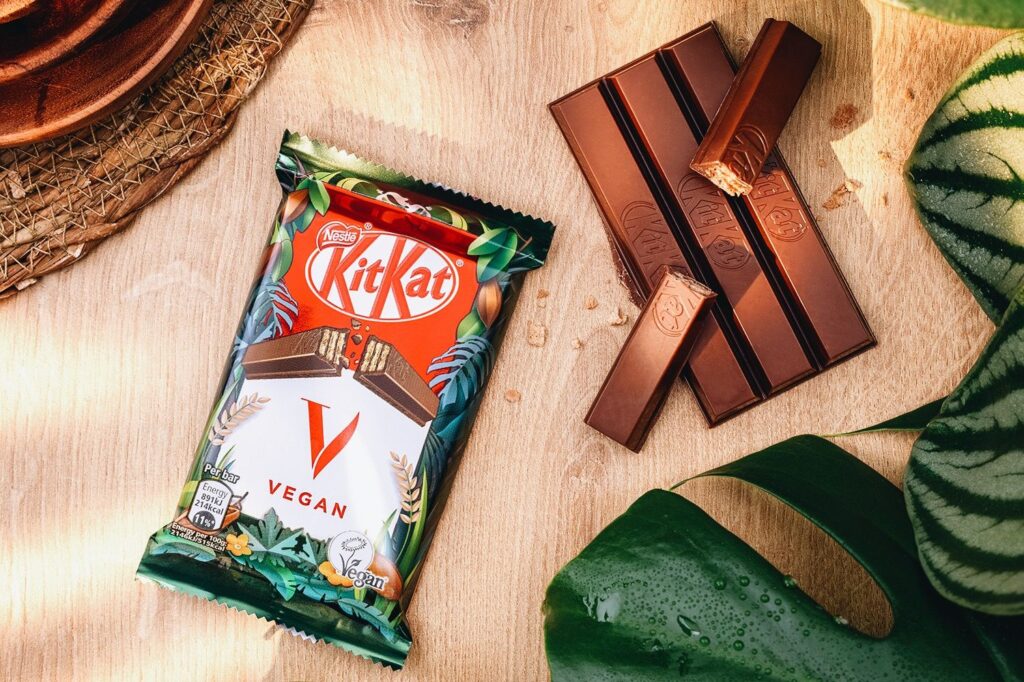 Is Nestlé Ethical?
Nestlé is the world's largest food and drink company. And in recent years, it has made moves to appeal to the fast-growing plant-based food market, which is expected to reach £1.1 billion by 2023, according to Mintel. Some of its vegan options include plant-based tuna, condensed oat milk, dairy-free pea milk, and meatless meat.
But for years, Nestlé has been under fire for how it sources its cocoa (on a laundry list of other issues). There is evidence that much of the world's chocolate supply depends heavily on child labor. A recent report from the U.S. Department of Labor found that the West African cocoa industry was exploiting 1.6 million West African child laborers.
Last month, leading confectionery companies Nestlé, Mars, Mondelēz, Ferrero, Unilever, and Tony's Chocolonely laid pressure on the EU to reverse its decision in delaying mandatory due diligence legislation in the governing of key cocoa supply chains in West Africa.
The companies said in a joint statement: "We remain strongly convinced that an EU-wide legal framework based on international standards would be beneficial for companies in the cocoa supply chain, including our own, mainly by clarifying a common framework through which all companies will be expected to proactively manage their potential and actual adverse impacts on human rights and the environment."
In February, Bloomberg reported that Nestlé and Mars, another company known for chocolate bars, and Cargill, were named in a federal class-action lawsuit filed by International Rights Advocates, a human rights group, for alleged complicity in forced labor and trafficking. The plaintiffs say they were trafficked as children and forced into labor on the Ivory Coast, the world's biggest exporter and producer of cocoa.
On its website, Nestlé states that it is "working with our partners and cocoa growing communities to address the root causes of child labor." The company kicked off its Child Labor Monitoring and Remediation System program in 2012, which monitors more than 78,000 children in the Ivory Coast for signs of forced labor.
According to Nestlé, KitKat V is made with certified sustainable cocoa, sourced through the Nestlé Cocoa Plan in conjunction with the Rainforest Alliance. The initiative trains cocoa farmers, distributes higher-yielding cocoa trees, promotes gender equality, and addresses child labor in the supply chain.Looking for some fairtrade vegan chocolate? Check out our list here.