(Updated February 15, 2021) | Serve this vegan lemon pound cake for breakfast or dessert. This recipe uses Harmless Harvest dairy-free vanilla yogurt, giving it some extra flavor to go with the lemon. And the best part: Top with as much sugar, lemon syrup as you want!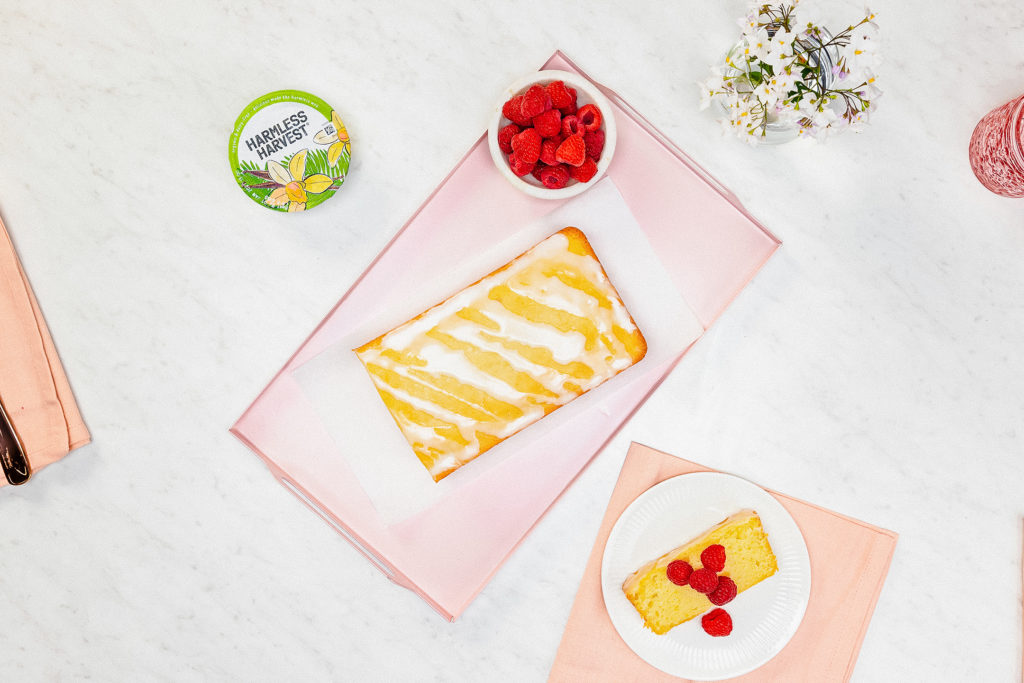 Vegan Lemon Pound Cake
Product: Harmless Harvest dairy-free vanilla yogurt
Ingredients:
1 1/2 cups all-purpose flour
1 tablespoon cornstarch
2 teaspoons baking powder
1/2 teaspoon baking soda
1/2 teaspoon kosher salt
1 cup (8.8 oz) dairy-free vanilla yogurt
3/4 cup sugar
1/3 cup neutral oil (avocado, sunflower, or canola)
1/4  cup freshly squeezed lemon juice
Zest of 1 lemon (about 2 teaspoons)
1 teaspoon pure vanilla extract
Lemon glaze:
1 cup powdered sugar
3 tablespoons freshly squeezed lemon juice
Directions:
Preheat the oven to 350°F. Grease and line a 9" x 5" (1 lb) loaf pan with parchment paper.
Sift together the flour, cornstarch, baking powder, baking soda, and kosher salt.
In a separate large bowl, combine the dairy-free vanilla yogurt, sugar, oil, lemon juice, lemon zest, and vanilla extract. Add the dry ingredients to the wet ingredients, and mix together until just combined. Be careful not to overmix; it is ok if the batter is not perfectly smooth.
Transfer the batter to the lined loaf pan. If using a smaller loaf pan, add a little less batter, so that it only fills the pan 3/4ths full. Bake for 45-50 minutes, or until golden brown, and a cake tester or skewer comes out clean. Allow to fully cool in the pan.
For the glaze, sift the powdered sugar into a bowl. Add the lemon juice and whisk until smooth.
Transfer the cake out of the pan, and drizzle with the glaze. Slice and serve. Cake lasts for 3-4 days covered at room temperature.
---
This is a sponsored post.
LIVEKINDLY is here to help you navigate the growing marketplace of sustainable products that promote a kinder planet. All of our selections are curated by the editorial team. If you buy something we link to on our site, LIVEKINDLY may earn a commission.