Let vegan dishes be the star of your Lunar New Year gathering! This year's festivities begin on Friday, February 1, which is when people around the world will start celebrating the Year of the Tiger. Tigers are fierce, courageous, ambitious, generous, and just, with a desire to help others. This upcoming year's water tiger bodes for good luck with both relationships and family.

The holiday is also often referred to as the Chinese New Year, though the two occasions are not exactly the same. The Chinese New Year is based on the Chinese lunar calendar, and is predominantly celebrated in China, while the Lunar New Year is also observed in other Asian countries (often under different names) such as South Korea and Singapore. In Vietnam, Lunar New Year is known as Tết, and in Tibet it's called Losar. Basically, Lunar New Year is the more inclusive and accurate term as it applies to the holiday worldwide.

Additionally, the Lunar New Year is often celebrated among Asian immigrant communities living abroad. For example, the city of San Francisco holds its own Chinese New Year Festival and parade each year that is the oldest and largest event of its kind outside of Asia, and the largest Asian cultural event in North America. Similarly, London hosts an annual Chinese New Year event.
Traditionally vegan Lunar New Year dishes
While meat and animal products are often part of Lunar New Year celebrations, the holiday also features an array of plant-based foods.

Families typically gather on Lunar New Year's Eve for a large, celebratory dinner that is considered the most important meal of the entire multi-day holiday. Several foods hold symbolic meanings, including many vegan-friendly options. For example, tofu signifies happiness and fortune for the entire family while seaweed symbolizes wealth and fortune, and noodles (the longer the better!) are equated with longevity.

In some cases, such as with a sweet rice cake known as nian gao, the recipes are vegan to start with, but in other instances, like with a vegan version of sweet and sour "pork," people have adapted recipes to fit with their plant-based eating regimens.

LIVEKINDLY reached out to several popular food bloggers of Asian heritage for some of their favorite Lunar New Year dishes. Each blogger also included some personal details about what the dish means to them, their family, and how it relates to the Lunar New Year.

Check out a wealth of popular vegan Lunar New Year dishes below.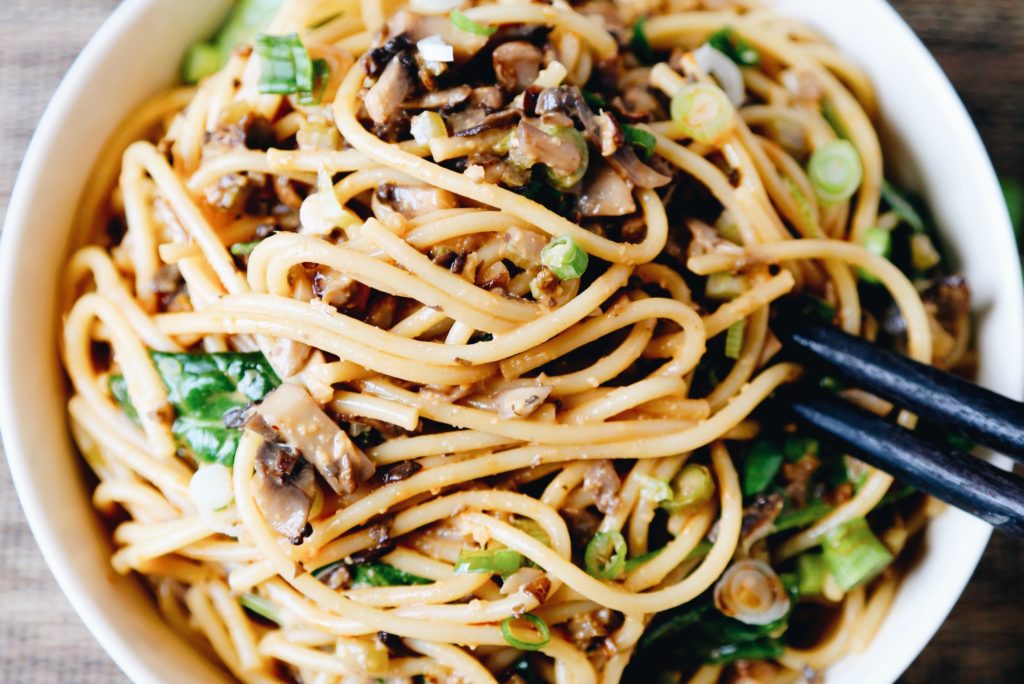 Dan dan noodles
Caroline Caron-Phelps is a Japanese and French Canadian recipe creator and the founder of Pickled Plum. She spent eight years in Asia, splitting her time between Japan, Hong Kong, Taiwan, Singapore, Thailand and Malaysia. "I love making these vegan Dan Dan noodles to celebrate the Lunar New Year as noodles symbolize longevity," she says. "Everyone loves the spicy, sweet, and tangy flavors of this dish and the chopped mushrooms make a great substitute for ground meat."

"I personally prefer the vegan version over the traditional one, because it's lighter and so refreshing," she adds.

Get the recipe here.
Chinese sweet and sour 'pork'
"Growing up Filipino-Chinese, Sweet and Sour Pork was always one of those dishes present at the table whenever we'd have family gatherings or when celebrating a special occasion such as the Lunar New Year," Jeeca Uy explains. "This dish was always a massive hit among us kids and I remember always sharing a large plate and enjoyed it with Yeung Chow fried rice with my cousins at the children's table."

Jeeca continues: "For this vegan version, the pieces of 'pork' made from vegan soy chunks are coated in a generous amount of starch before being fried to a golden brown crisp. It's coated in a sauce that's a perfect balance of sweet and sour with a little tanginess from the vinegar and hints of fruitiness from the pineapple."

Get the recipe here.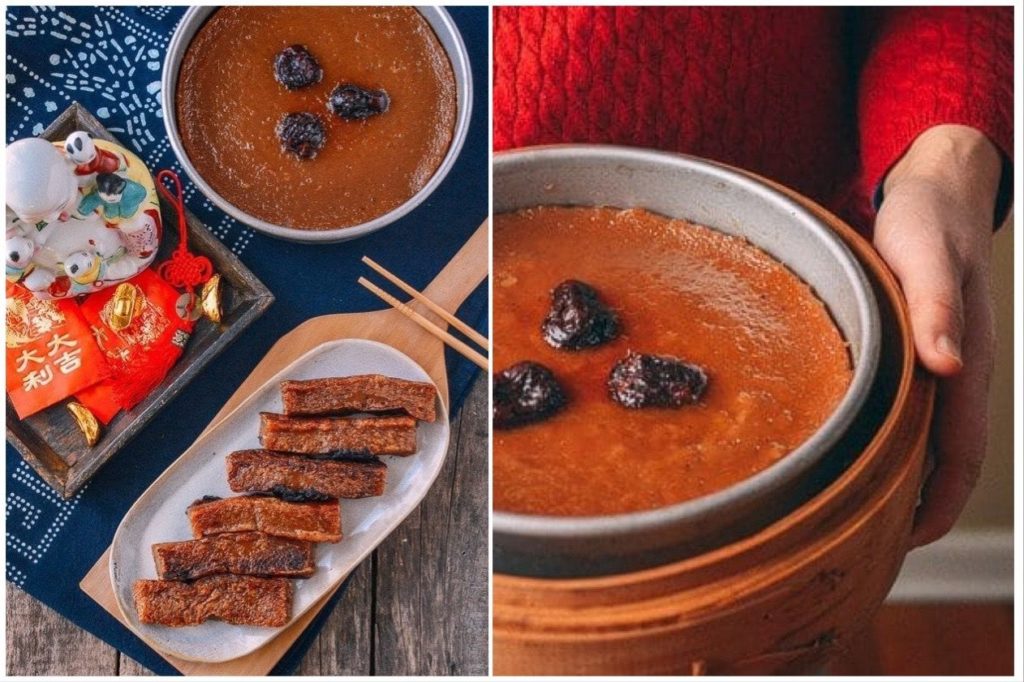 Nian gao
"New Year sweet rice cake (红糖年糕), or nian gao, is a regular sight in our kitchen every Chinese New Year, and we like to give it as gifts to friends and family," says Judy Leung, who runs The Woks of Life food blog with her husband Bill and daughters Sarah, and Kaitlin. "Nián (年) means 'year,' and 'gāo' (糕) is a homonym for 'gāo' (高), which means, 'tall,' 'high,' or 'expensive,' which is why this food represents hopes for prosperity and advancement."

Judy adds: "Our version adds orange zest and vanilla, to give the rice cake an extra kick of flavor."

Get the recipe here.
Sujeonggwa
"Sujeonggwa (Korean cinnamon punch) is a popular dessert drink. It is often served on festive holidays like Lunar New Year's day in Korea," notes Sue Pressey, who was born and raised in South Korea. "I love this drink because it gives a nice aroma and refreshing taste, which is perfect after having heavy main food on New Year's' Day."

"Sujeonggwa is made with ginger, cinnamon, and some sugar, so it has sweet and a mild gingery bitter taste. It is also known to help with digestion," Sue continues.

Get the recipe here.
Cherry hazelnut slices
"We typically gather together during the eve of the Lunar New Year for a reunion dinner and the round shape of the cherry symbolizes the reunion of family members. Cherries are very popular during the Lunar New Year as they are red, and for the Chinese, the color red symbolizes prosperity and fortune," says Raw Chef Yin.

For this recipe, the culinary pro wanted to use as many local ingredients as possible.

"The crust has freshly grated Malaysian coconuts and has a slight hint of pandan, which is used frequently in our Malaysian desserts for that lovely pandan fragrance. The dessert is naturally sweetened with a coconut nectar made from the Malaysian coconut palm, which is sustainably harvested from the rainforests of Borneo," she explains. "The filling uses cocoa butter from cocoa trees that are planted in Sungai Ruan, in Malaysia. They are ethically sourced. These cherry hazelnut slices are made from wholesome ingredients with no eggs nor dairy, so they are cruelty-free and super yummy."

Raw Chef Yin, who is the author of Malaysia's self-billed first raw vegan cookbook, adds: "I usually celebrate with a small reunion dinner on the eve of the Lunar New Year with my family. On the first day of the Lunar New Year, we visit our relatives and catch up with our relatives. It's always very festive."

Get the recipe here.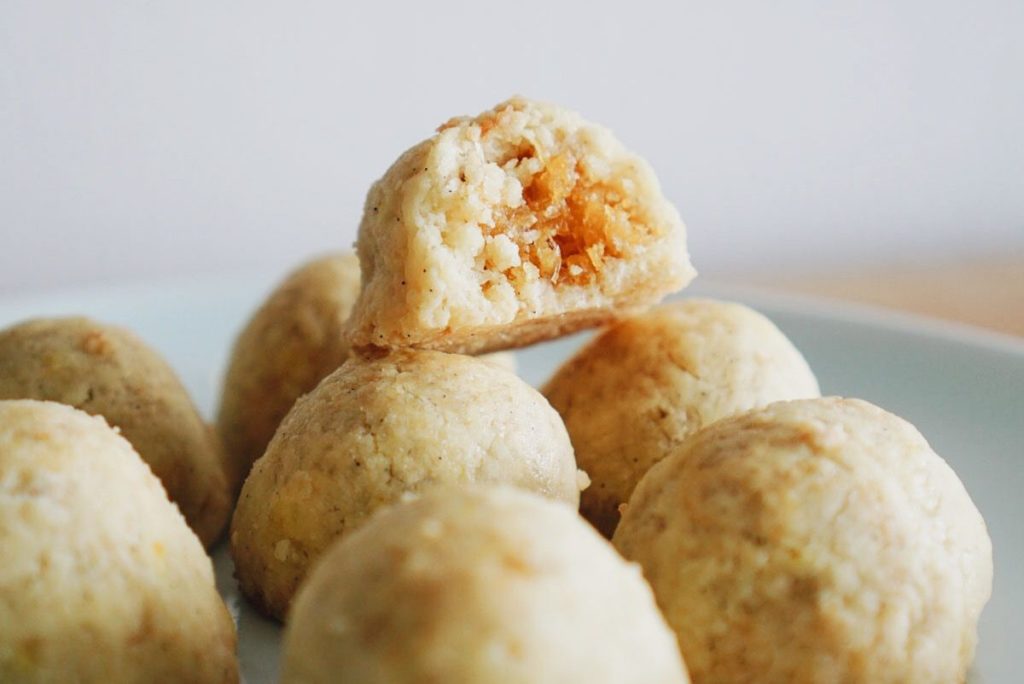 Rustic pineapple balls
"Pineapple-filled pastries are a common sight during Lunar New Year in Singapore and Malaysia, as pineapples symbolize prosperity," says Joy Yuan. "However, they are traditionally very calorie dense, so for those who're looking for a healthy and vegan version, check out this version!"

Yuan also notes that pineapple, the star of this dessert, boasts a name that sounds similar to "fortune, come" when said in Hokkien. In Singapore, after moving into a new house, Chinese people often roll whole pineapples on the floor as it symbolizes "rolling good luck" into the new house.

Get the recipe here.