Curious about some vegan Mid-Autumn Festival recipes? Look no further!
The annual holiday, which is sometimes referred to as Moon Festival or Mooncake Festival, is a traditional festival that is observed by many East and Southeast Asian people. In fact, it is widely regarded as the second-most important holiday after Chinese New Year, and has a history that dates back to more than 3,000 years ago. It is commonly celebrated in mainland China, Hong Kong, Korea, Japan, Malaysia, Singapore, Taiwan, Cambodia, Vietnam, Indonesia, and Thailand.
The holiday is observed on the 15th day of the eighth month of the Chinese calendar, which typically corresponds to mid-September to early October of the Gregorian calendar. This day was chosen because it's thought to be "the middle of autumn." Additionally, on the 15th of each month, the moon is at its roundest and brightest—AKA the harvest moon. This symbolizes togetherness and reunion in Chinese culture. In 2021, Mid-Autumn Festival falls on September 21.
The festival began thousands of years ago when the Emperor of China worshipped the moon in order to ensure bountiful harvests. Today, the holiday is typically celebrated with large family dinners where people eat foods that represent success and good fortune. People also carry or display lanterns that are meant to represent beacons that light the path to prosperity.
What foods are eaten during Mid-Autumn Festival?
The most popular food eaten during Mid-Autumn Festival is mooncakes—a pastry often stuffed with sweet bean, yolk, meat or lotus-seed paste. In many families, mooncake making is part of the celebration, and the sweets are often meticulously decorated and packaged with care.
As their name implies, mooncakes were initially intended as an offering for the moon. They are named after the moon goddess (Chang'e), who is said to make this type of cake. Common filling flavors include lotus seed paste, red bean paste, and green tea.
Like the moon, mooncakes are round and meant to represent togetherness. They are usually eaten in small wedges and served alongside tea, and are typically shared by family members. Mooncakes can also be given to relatives or friends as an expression of love and best wishes.
Since Mid-Autumn Festival is meant to celebrate the moon and the harvest, many dishes are loaded with vegetables, such as pumpkin, eggplant, mushrooms, and carrots. In a similar vein, mooncakes can often be filled with fruit such as pineapple or taro.
Duck is also common at Mid-Autumn Festival celebrations. People in East China's Fujian Province traditionally prepare it with taro, which is widely planted during the Mid-Autumn Festival.
How to be vegan during Mid-Autumn Festival
Since Mid-Autumn Festival is about the harvest, fruits and vegetables play a large role in most family celebrations. However, bloggers and home chefs have also developed vegan versions of popular Mid-Autumn Festival dishes that are typically made with meat and/or dairy products.
For example, many mooncakes are typically made with an egg yolk inside and feature an egg wash, but plant-based cooks have been able to create recipes with vegan fillings and no egg wash.
Celebrate vegan Mid-Autumn Festival with these 6 recipes
LIVEKINDLY reached out to food bloggers of Asian heritage for some of their favorite vegan Mid-Autumn Festival dishes. Each blogger included personal details about what the dish means to them.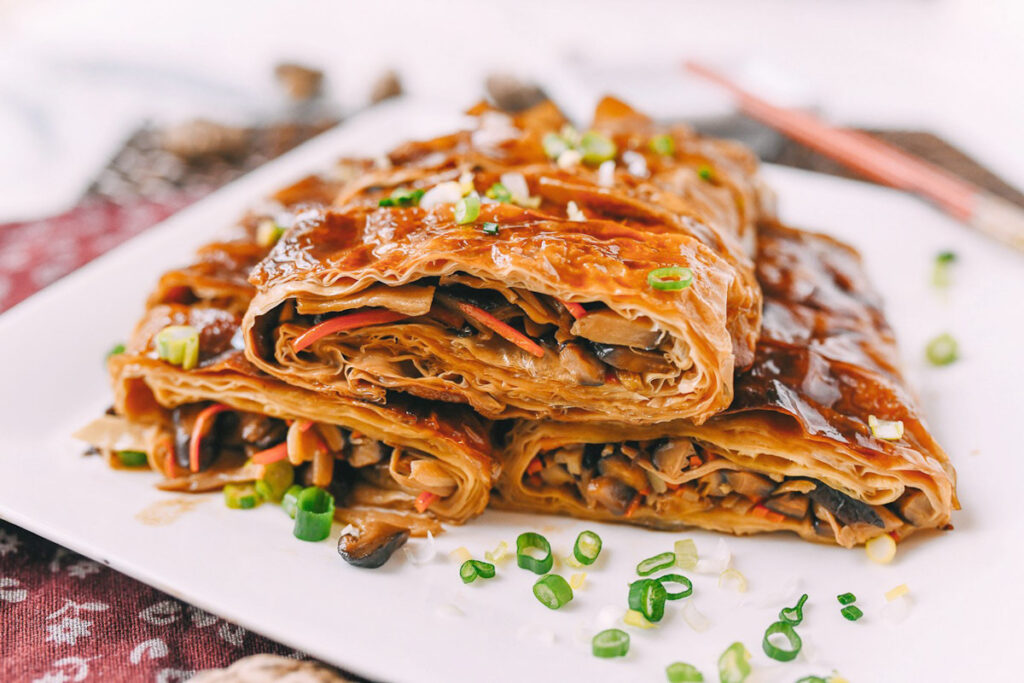 Chinese Vegan Duck
"Eating duck and giving duck as a gift is customary for many during the Mid-Autumn Festival. This recipe, however, is our version of a Chinese vegetarian duck, which is made with bean curd skin and stuffed with a rich, umami-packed mixture of vegetables and mushrooms," says Sarah Leung, who runs The Woks of Life food blog with her parents Bill and Judy and sister Kaitlin. "After slicing, the pieces really do resemble pieces of Chinese roast duck!"

Get the recipe here.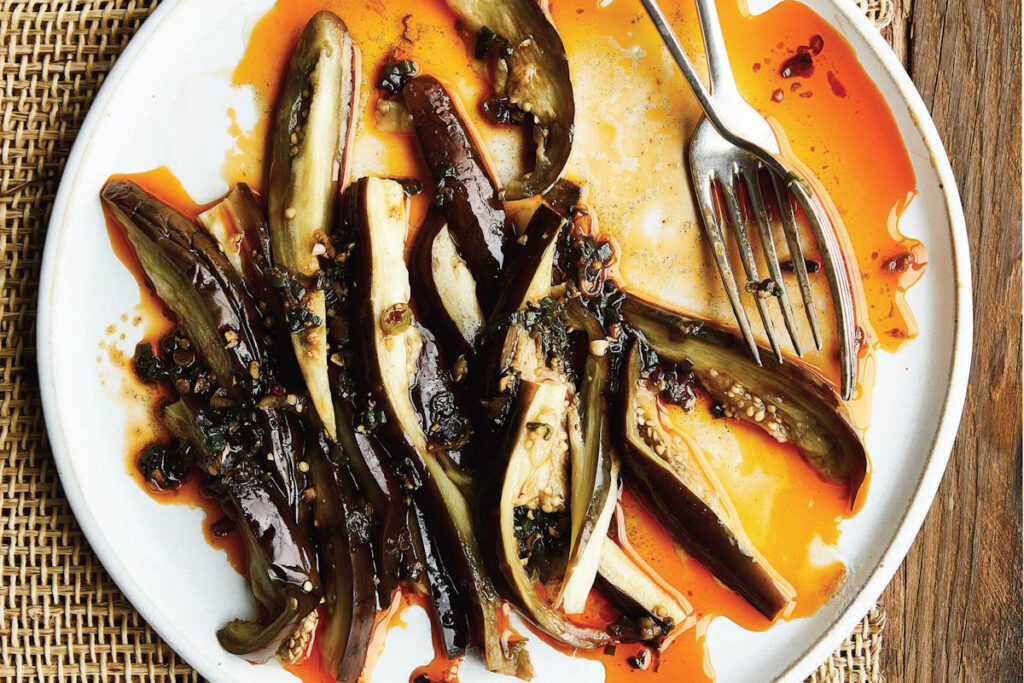 Eggplant With Smoky Green Onion Oil
"[Mid-Autumn Festival] is a harvest festival so I think of the bounty of the season. Rice, for example, is harvested in September and October. TTT [Tết Trung Thu, another name for Mid-Autumn Festival in Vietnam] falls in between seasons so the produce that's available is awesome," notes Andrea Nguyen, the author of Vietnamese Food Any Day: Simple Recipes for True, Fresh Flavors. "Tomato, eggplant and green beans are still around, but hard squash and sweet crucifers are ramping up!"
She adds: "[That's] what the season means to me. I look at the fat moon, sip wonderful tea, and if there's a mooncake around, take nibbles."

Buy a copy of Nguyen's book with this recipe here.
Savory Sticky Rice
"I know Mid-Autumn Festival is drawing near from the amount of moon cakes we start to have here at home. It's a very festive time with lots of food involved and one of the dishes we'd always have at home is a hearty rice dish to share," says Jeeca Uy. "This Chinese Savoury Sticky Rice is similar to Kiam Peng, a fukien term that literally translates to salty rice (kiam = salty, peng = rice). In both Chinese and Filipino cuisine, sticky rice symbolises a tight knit family and believed to bring good fortune."
Get the recipe here.
Sesame Noodles
"The dish is special to me because it's a family recipe that my mom has been serving over the years and it is very comforting. The best part is, the sauce is very versatile and you can use it as a base to serve various toppings according to your needs," explains Maggie Zhu. "For example, I love to top it with raw vegetables in the summer to serve the dish as a cold salad. In winter, I serve it with grilled root vegetables as a warm bowl."
Maggie adds: "For the Mid-Autumn Festival, a noodle dish is always a must because it symbolizes fortune and longevity. The sesame noodle is perfect because it's extremely easy to make, can be prepared ahead of time, and goes with the rest of the dishes on the table."

Get the recipe here.
Snowskin Matcha and Black Sesame Mooncakes
"Mooncakes are all about gathering with loved ones and sharing a sweet treat together. It's a dessert that one comes around once a year, so we savour every bite!" explain Rachel Chew and Racel Leung. "Snowskin mooncakes are a modern, no-bake version that's easy to make at home. If you love matcha and mochi then you'll love this recipe as much as we do."

Get the recipe here.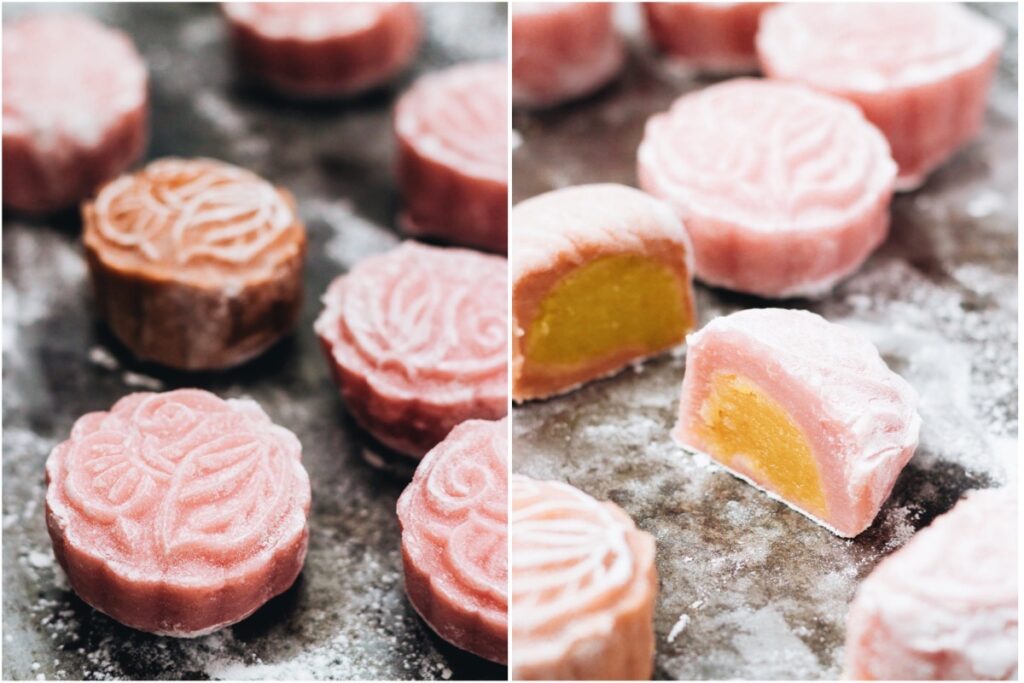 Pineapple Filled Gluten-Free Snowskin Mooncakes
These fruity mooncakes from Joyce Gan are vegan and gluten-free because wheat is substituted for cornstarch. Gan describes mooncakes as a "hallmark tradition" of Mid-Autumn Festival and recalls her parents filling their pantry with all different kinds of traditional mooncakes when she was a child. Now, these vibrant pineapple-filled treats have become a tradition in Gan's own family.

Get the recipe here.