Looking for the tastiest vegan pie recipes to whip up for any occasion? Look no further. From savory to sweet—we've got some of the most delicious-looking plant-based pies that'll have you swooning over them long after the first bite.
14 Vegan Pie Recipes, From Chicken Hand Pies to Key Lime
Try eating just one slice of these vegan pies. These plant-based pie recipes will keep your grumbling belly full from lunchtime all the way through dessert.
Vegetable Pot Pie
You can't go wrong with the classic: vegetable pot pie. Perfect for those with nut allergies, this creamy veggie dish features frozen vegetables and white beans in place of chicken for a protein-packed meal. Mushrooms, yellow onion, garlic, and an array of herbs and spices give it its savory taste. For added umami flavor, throw in some dairy-free cheese or nutritional yeast. With a perfectly golden crust, this meal is sure to be a family favorite.
Get the recipe here.
Squash, Carrot, Onion Pie
Can't get enough savory in your life? Then this flavor-packed, veggie-filled pie deserves a prominent spot on your dinner plate. The ultimate cold-weather recipe, the pie features a golden, flaky crust that's made with Dijon mustard, a variety of veggies, and vegan butter. It's seasoned with a harmonious blend of chili flakes, paprika, garlic powder, pepper, and olive oil. This pie almost looks too good to eat—emphasis on the almost.
Get the recipe here.
Vegan Cajun Chick'n Hand Pies
This Louisiana-inspired dish is so good you just might not want to share. The savory vegan Cajun chicken hand pies feature a flaky puff pastry filled with caramelized onions and peppers, melted dairy-free cheese, and Cajun-seasoned chicken. The perfect comfort food recipe, the hand pies are baked into a crispy, golden oblivion. Not a fan of vegan chicken? Throw some meatless sausage in instead!
Get the recipe here.
Pot Pie With Biscuits
Take your average pot pie recipe to the next level by topping it off with biscuits. The pie is filled with vegetables swirled in a savory herbed sauce. Make it for the family or enjoy it all by yourself.
Get the recipe here.
Mushroom Pot Pie
Craving another mouthwatering pot pie? Then whip up this mushroom pot pie, which features a savory gravy of onions, celery, carrots, peas, and mushrooms. Top the pot pie with a crispy puff pastry for the dinner of your dreams.
Get the recipe here.
Vegan Steak Pie
Arguably the savoriest-looking pie on this list—this vegan steak pie is equal parts hearty and flavorf-packed. The plant-based meaty pie features chunks of meatless steak soya chunks. From the masterminds behind the vegan cooking blog Wicked Healthy—chefs Derek and Chad Sarno—you'll be sure to savor every last bite.
Get the recipe here.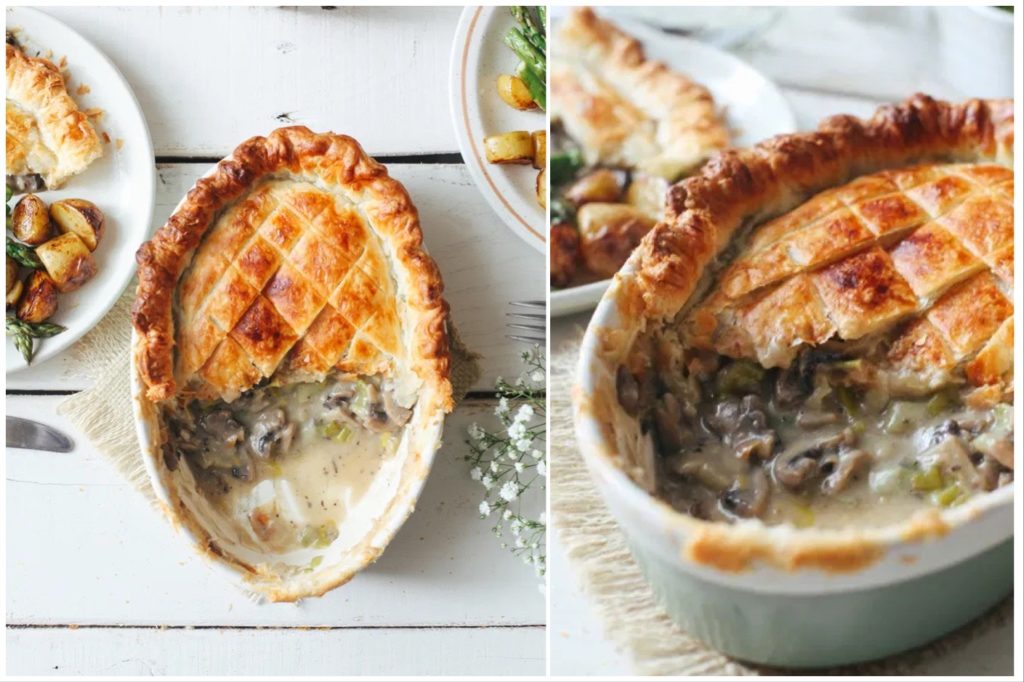 Leek and Mushroom Pie
Golden, flaky pie crust. Creamy mushrooms and leeks. Need we say more?

Get the recipe here.
Vegan Apple Pie
Ah, a dessert classic: vegan apple pie. Sweet and tart; buttery and flaky. This recipe features ingredients that you probably already have in your kitchen, such as white and brown sugar, salt, coconut oil, vegan butter, flour, and—of course—lots of apples.
Get the recipe here.
No-Bake Peanut Butter Pie
You don't need an oven to whip up this peanut butter pie. Plus, you can indulge in this vegan pie guilt-free. The healthy peanut butter mousse pie features a filling of chia seed and peanut butter all atop a chocolate almond crust. You can also opt for a sugar-free Monk fruit sweetener in lieu of maple or brown rice syrup. That's right, go ahead and enjoy a second slice.
Get the recipe here.
Pumpkin Pie
A seasonal classic, you can still enjoy this vegan pie any time of the year. It features a filling of creamy coconut milk and canned pumpkin purée. And you only need six other ingredients to make it: cane sugar, cornstarch, vanilla extract, pumpkin spice blend, salt, and pie crust. Sharing is optional.

Get the recipe here.
Pecan Pie
A quintessential dessert staple, this pecan pie recipe is perfect for a holiday or your average day. Top it off with a dollop of vegan whipped cream for a tantalizing taste with every bite.
Get the recipe here.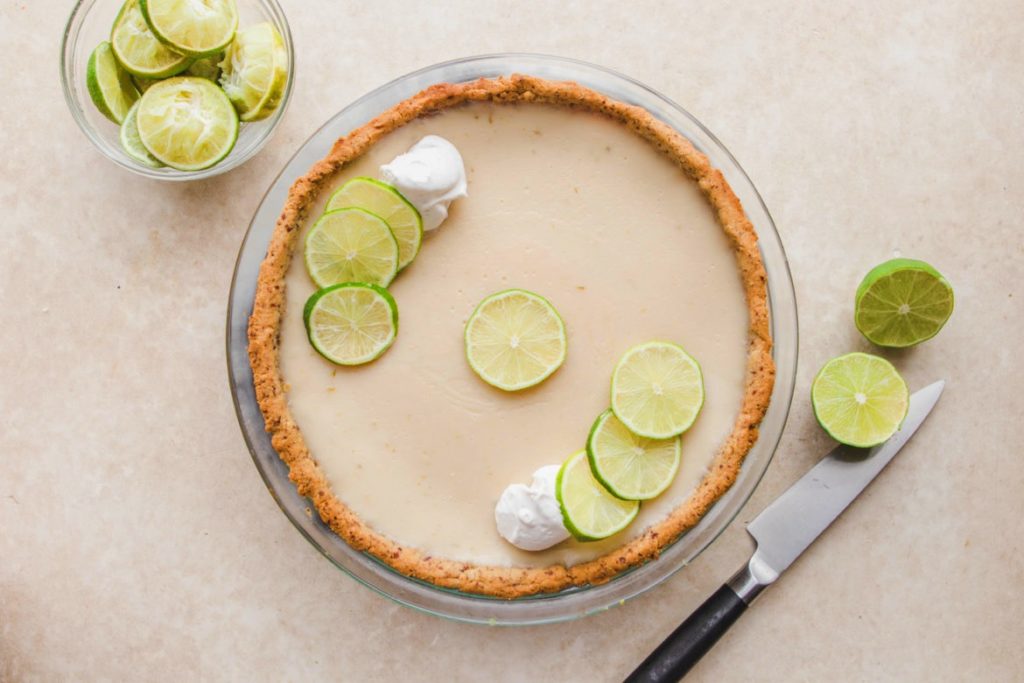 Key Lime Pie
Featuring a harmonious blend in taste of sweet and tangy, you can't go wrong with a classic key lime pie. Conventionally made with condensed milk and eggs, just add cornstarch, coconut milk, and maple syrup for the vegan pie of your dreams.
Get the recipe here.
Chocolate Cream Pie
Chocolate lovers, look no further than this chocolate cream pie. Unlike many other vegan pie recipes, you can make this one sans tofu. The pie texture is rich and decadent. And you only need six ingredients to whip it up! Throw in some added espresso for an energizing kick, if you fancy.
Get the recipe here.
Almond Banoffee Pie
For those who have never heard of this dessert before, a banoffee pie is an English dessert that's traditionally made with bananas, cream, and toffee all on a buttery biscuit crust. Of course, this recipe is 100 percent vegan. It's also refined sugar-free. Top this vegan pie off with coconut whipped cream and dark chocolate shavings.
Get the recipe here.
---
LIVEKINDLY is here to help you navigate the growing marketplace of sustainable products that promote a kinder planet. All of our selections are curated by the editorial team. If you buy something we link to on our site, LIVEKINDLY may earn a commission.