A year of looking at the same four walls has most of us craving some quality time with that big, fiery star in the sky. The sun is responsible for life on Earth—and, oh, how we yearn for a bit of her warmth and glow. But Miss Soleil can be dangerous, too. So like mom always said: use protection. We mean sunscreen. Vegan sunscreen to be precise.
Sunscreen is essential to any skincare routine year-round (yes, you can get sunburned on a cloudy day), but it's especially important during the summer months. With a much-too-anxious nod to our favorite season approaching, we've put together the ultimate guide to vegan sunscreen—because cruelty-free and environmentally-friendly is the way Mama Earth intended. We have offerings for every skin type, too, so go ahead and find your new beach bag staple!
The truth about sunscreen
Moderate exposure to sunlight certainly has its benefits. It helps the body to convert cholesterol to vitamin D—a fat-soluble vitamin that's crucial for building strong bones and teeth. Vitamin D also promotes a healthy immune system. And studies have even linked vitamin D deficiency to depression. Exposure to the sun helps to increase the production of serotonin, a mood-boosting chemical in the brain. No wonder it just makes us feel good!
But sunlight contains ultraviolet (UV) radiation that features different types of sun rays, namely UVA and UVB rays. The sun does emit UVC rays; however, although they are the most dangerous, they are absorbed by the ozone. Too much exposure to the sun's radiation damages cells, which leads to discoloration and premature aging. When the UV rays penetrate cells' DNA, the skin is more susceptible to skin cancer. According to the World Health Organization, one in three cancers diagnosed is a form of skin cancer.
But skin cancer is also among the most preventable cancers. Enter your magical savior: vegan sunscreen. Sunscreen works to block UV rays. It consists of two primary components: an active ingredient and an emulsion. According to Yale Scientific, the active ingredient features mineral or chemical particles that work to reflect and absorb UV radiation, respectively.
UV absorbers take in the UVA and UVB rays and convert them to low levels of heat. UV reflectors—oxides like titanium dioxide and zinc oxide—work to block UV rays. And sunscreen's emulsion—the lotion or cream—is what helps to carry the active ingredient and keep it on your skin.
The American Academy of Dermatology Association (AADA) recommends use of sunscreens that offer broad-spectrum protection against both UVA and UVB rays. It also notes to use a sunscreen that is water resistant with SPF 30 or higher. The number beside SPF, or Sun Protection Factor, represents how effective the sunscreen is at protecting the skin against sunburn. The philosophy behind high SPFs—like 80 or 100—is mixed, but all skin care experts agree that SPF 30 is the minimum to protect your skin from damage.
It's important to note that on cloudy days, up to 80 percent of the sun's UV rays are still able to penetrate the skin. For this reason, the AADA recommends that sunscreen be worn at all times of the day, year-round.
Can sunscreen really prevent skin cancer?
UVA and UVB rays have been shown to cause damage to the skin. The former has a longer wavelength and plays a role in skin aging. According to the American Cancer Society, because UVB rays have more energy than UVA rays, they are the common culprits of sunburns.
Too much sun can damage skin cells' DNA. Studies show that prolonged exposure to sunlight may increase the risk of skin cancer. According to the American Academy of Dermatology Association, approximately one in five Americans will develop skin cancer in their lifetime.
The International Agency for Research on Cancer notes that up to 95% of malignant melanomas are caused by excessive sun damage. The use of sunscreen is especially important because it can help protect the skin from these harmful rays and decrease the risk of sunburn and skin cancer.
"There are carcinogens in nature, and too much UV radiation from the sun is an example of that," Saira George, M.D., a dermatologist at MD Anderson Cancer Center, explained in a blog post for the University of Texas.
"Our bodies have amazing protective mechanisms in place to handle sun damage," George continued. "But they haven't evolved to overcome damage from the excessive sun exposure many of us rack up in our lifetime."
Mineral sunscreen versus chemical sunscreen
With all the different types of sunscreen on the market, you may be wondering which product to buy.
The two main types of sunscreen are mineral, also called physical sunscreen, and chemical sunscreen. Dr. Tyler Hollmig, director of dermatologic surgery at University of Texas Dell Medical School in Austin, again explains the difference, telling CNET: "Chemical sunscreens act almost like a sponge, absorbing UV light, while physical sunscreens act more like a shield, deflecting the sun's rays."
Mineral sunscreens, which sit atop the skin, feature minerals as active ingredients. Whereas chemical sunscreens actually penetrate the skin to dissipate the sun's rays.
Of the 16 active ingredients found in sunscreen, a 2019 ruling by the U.S. Food and Drug Administration (FDA) classified only two of the ingredients as "generally recognized as safe and effective." The two ingredients are zinc oxide and titanium dioxide, the ingredients found in mineral sunscreens.
Two ingredients commonly found in chemical sunscreens—oxybenzone and octinoxate—have also been shown to cause damage to coral reefs. Studies show sunscreens that contain these two ingredients are contributing to the decline of coral reefs. In 2018, Hawaii became the first state to ban the sale of sunscreens containing these two chemicals. The law took effect in January of this year.
10 vegan sunscreens for every skin type
Here are ten vegan, reef-friendly sunscreens to add to your tote bag this summer. Perfect for all skin types, these mineral sunscreens aren't just good for your skin, they're good for the planet, too.
Juice Beauty SPF Sport Sunscreen
This broad-spectrum, SPF 30 sunscreen features mineral zinc and organic ingredients, such as jojoba, aloe, and antioxidants to moisturize your skin. It also comes in sustainable packaging.
Good for: Dry and sensitive skin.
MyChelle Dermaceuticals Replenishing Solar Defense SPF 30
Formulated with zinc oxide, this vegan sunscreen provides mineral-based protection against the sun's harmful rays. It helps reduce premature aging and hyperpigmentation with ingredients like red algae extract, kukui, and macadamia nut oils.
Good for: Dry, blemish-prone skin and dark spots
Black Girl Sunscreen
Made by women of color for people of color, this broad-spectrum SPF 30 sunscreen is infused with jojoba and avocado. The water-resistant, fragrance-free cream is also free of oxybenzone and octinoxate, making it safe for coral reefs, too. The creamy formula blends into darker skin, avoiding the chalky residue found in other mineral sunscreens.
Good for: Blemish-prone and dry skin, uneven skin tones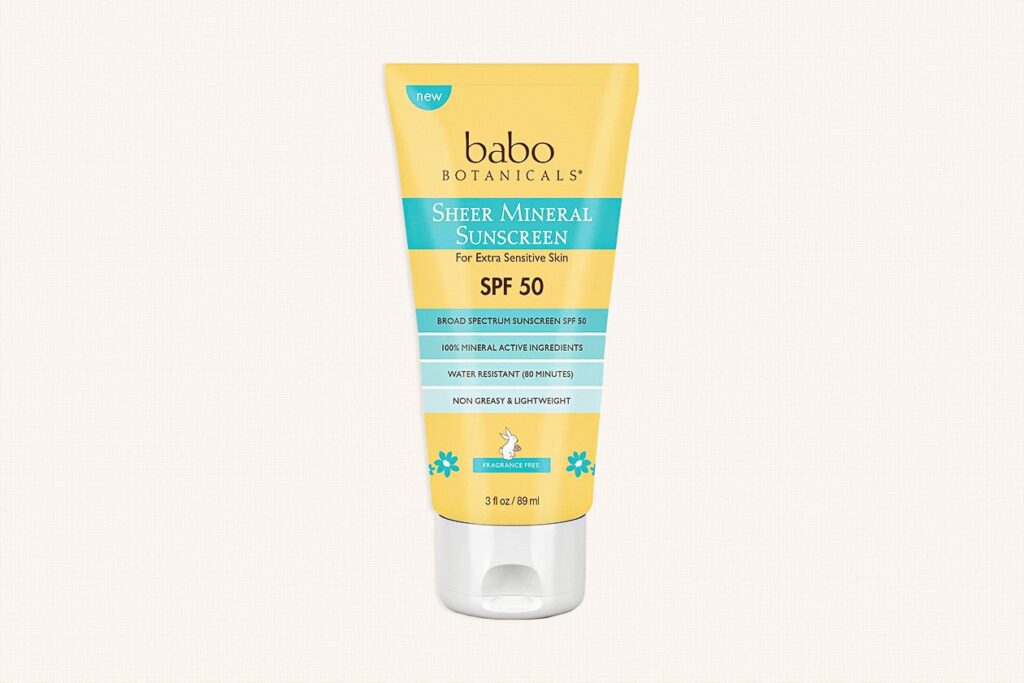 Babo Botanicals Sheer Mineral Sunscreen Lotion
Babo Botanicals' mineral SPF 50 sunscreen features 100 percent mineral active ingredients. The non-greasy, lightweight formula is enriched with calendula, shea butter, and organic cocoa butter for moisturized skin.
Good for: Sensitive, dry, and oily skin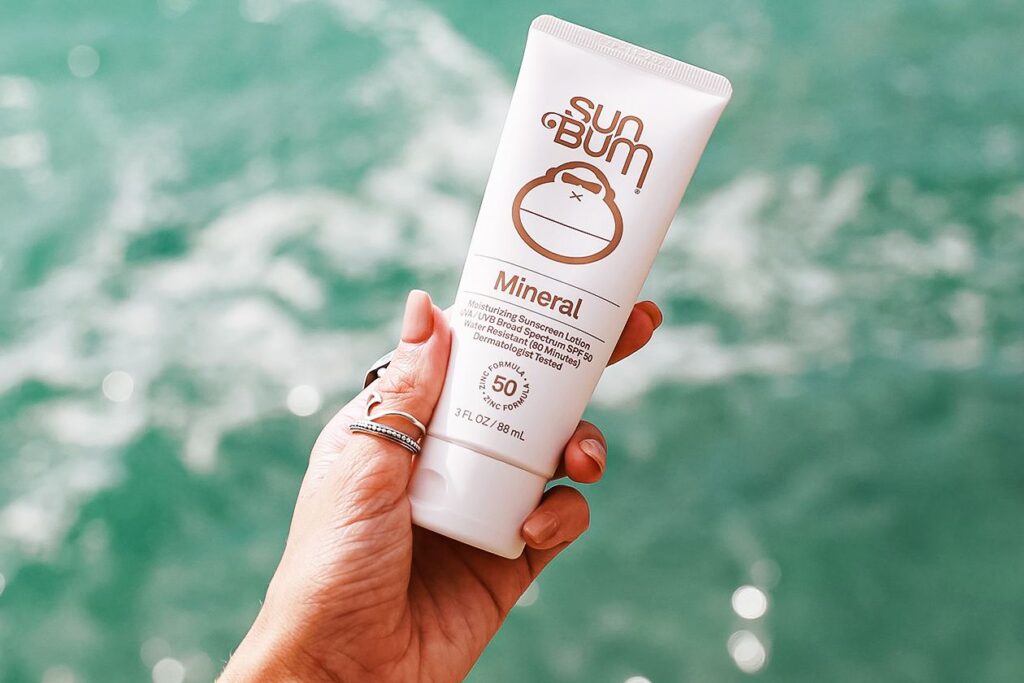 Sun Bum Mineral SPF 50 Sunscreen Lotion
Vegan and reef-friendly, Sun Bum's skin lotion provides 80 minutes of SPF 50 skin protection any time of day.
Good for: Oily skin
Alba Botanica Sensitive Mineral Sunscreen
Alba Botanica's mineral SPF 30 sunscreen is fragrance-free and biodegradable.
Good for: Sensitive skin
Goddess Garden Sport SPF 50 Mineral Sunscreen Lotion
This SPF 50 mineral sunscreen features a new and improved formula provides ultra-sheer coverage against the sun. Featuring organic shea butter and coconut oil, it helps to nourish and protect your skin.
Good for: Sensitive and dry skin
Pacifica Sun + Skincare Mineral Sunscreen
Protect and hydrate your skin with Pacifica Beauty's SPF 30 mineral sunscreen. Featuring a non-aerosol bottle, this vegan and cruelty-free sunscreen contains coconut probiotics to nourish your skin.
Good for: Dry skin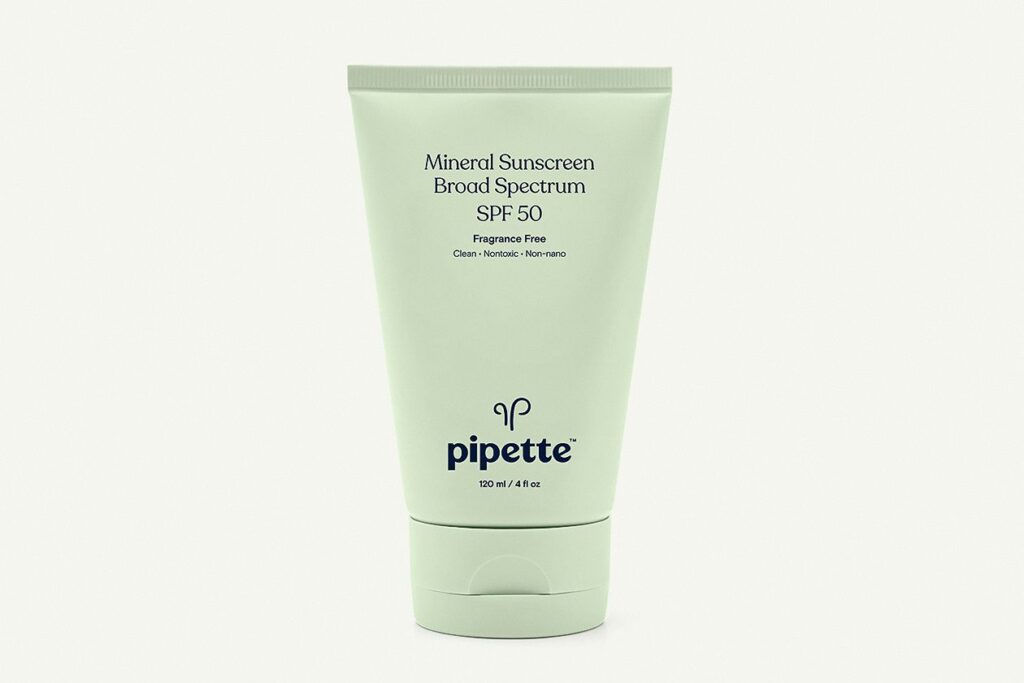 Pipette Mineral Sunscreen
This broad-spectrum SPF 50 sunscreen is formulated for babies, but made for all skin types—especially sensitive skin. The reef-friendly and fragrance-free cream and blends into darker skin tones. It's loaded with plant extracts to moisturize skin.
Good for: Sensitive skin
Biossance Squalane + Zinc Sheer Mineral Sunscreen
For invisible coverage, snag a bottle of Biossance's SPF 30 sunscreen. The non-greasy, lightweight formula features squalane derived from sugarcane for added moisture and water lily to cool the skin.
Good for: Oily and dry skin
---
LIVEKINDLY is here to help you navigate the growing marketplace of sustainable products that promote a kinder planet. All of our selections are curated by the editorial team. If you buy something we link to on our site, LIVEKINDLY may earn a commission.