Looking for the most delicious-looking vegan Super Bowl appetizers to whip up for the big game? We've got you covered. Plant-based influencer Sauce Stache shares three vegan Super Bowl appetizers to keep you satisfied—even if your favorite team doesn't win.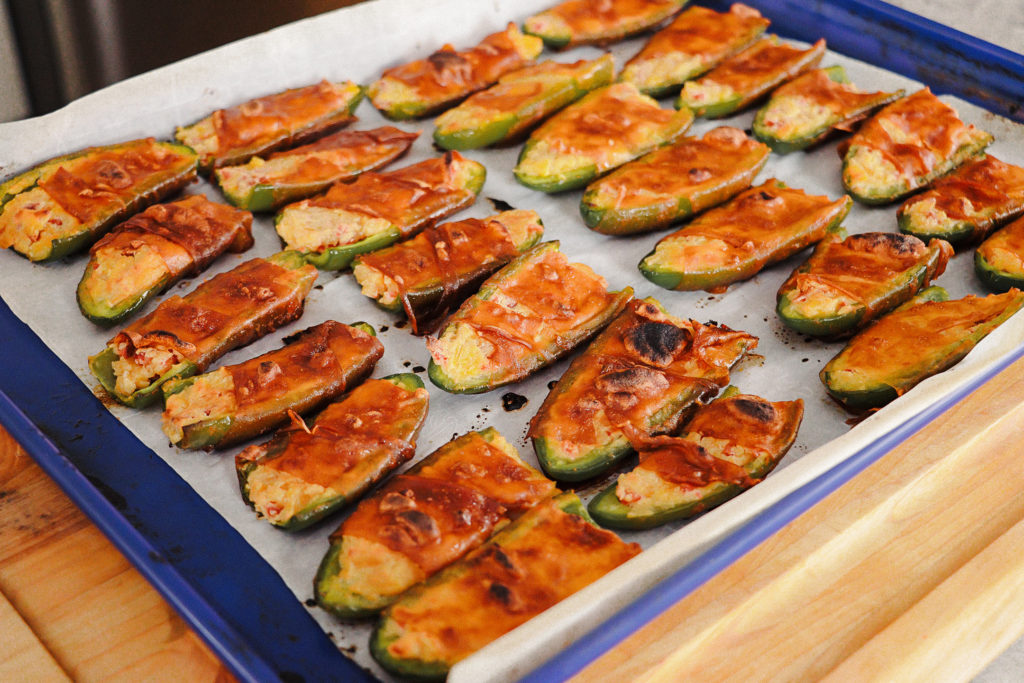 Easy Vegan Super Bowl Appetizers
Bac'un-Wrapped Jalapeños
Serves: 3-4 as an appetizer
Ingredients:
14 jalapeños
For the cream cheese mix:
3/4 cup plant-based cream cheese (cashew-based; Miyokos was used in this recipe, Tofuitti works well also)
1/2 cup plant-based cheddar cheese
2 1/2 tablespoons plant-based bacon bits (preferably McCormick Imitation Bacon Bits)
Salt, to taste
Pepper, to taste
For the rice paper bacon:
6 wet rice paper sheets cut into 1-inch thick strips

Bacon flavoring:
1/4 cup soy sauce
2 tablespoons olive oil
3 tablespoons nutritional yeast
1 teaspoon liquid smoke
1 tablespoon maple syrup
1/2 teaspoon paprika
1/2 teaspoon garlic powder
Salt, to taste
Pepper, to taste
For the jalapeños and plant-based cream cheese mix:
Preheat oven to 375 degrees F.
Line baking tray with parchment paper.
In a bowl, mix plant-based cream cheese, plant-based cheddar cheese, and bacon bits. Add salt and pepper to taste.
Clean jalapeños, remove stems, and slice in half lengthwise. Scoop out seeds from each side using a spoon.
Fill each jalapeño half with cream cheese mix, approximately 1/2 tablespoon to 1 tablespoon.
For the rice paper bacon:
In a large bowl, mix the soy sauce, olive oil, nutritional yeast, liquid smoke, maple syrup, paprika, garlic powder together. Add salt and pepper, to taste.
One at a time, put wet rice paper strips in water, then dip in bacon flavor. Allow to rest in flavoring for at least 5 minutes.
Wrap jalapeños with rice paper bacon strips.
Lay each wrapped jalapeño on baking sheet lined with parchment paper.
Bake for 15-20 minutes, watching carefully that the bac'un doesn't burn.
Remove from the oven and let cool slightly before serving.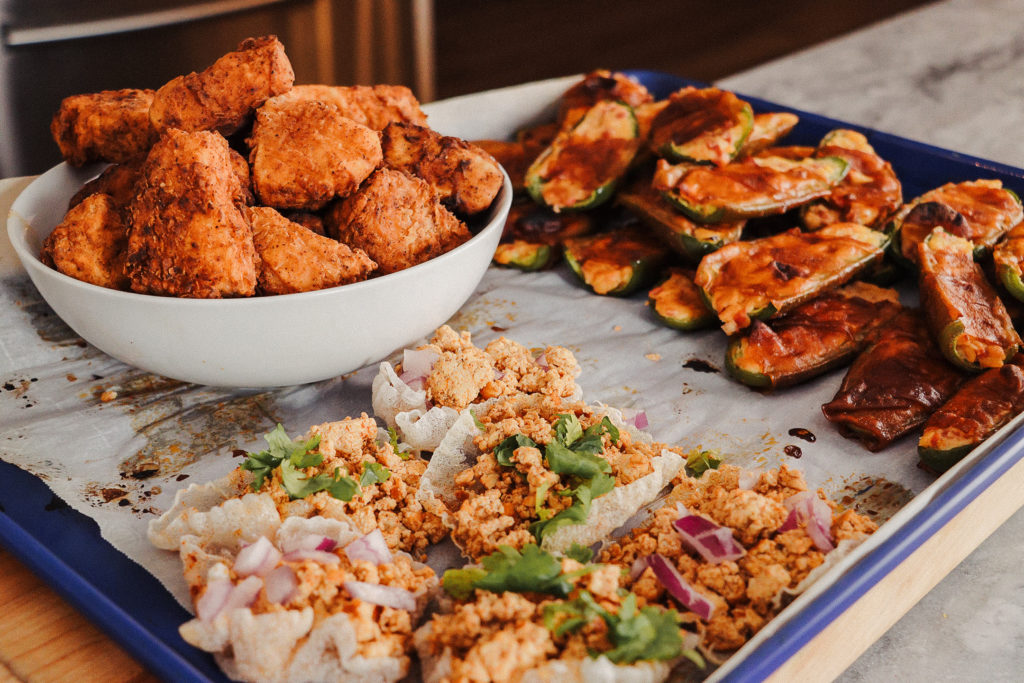 Spicy Jackfruit Nuggets
Serves: 3-4 as an appetizer
Ingredients:
Jackfruit mix:
2 20oz cans young green jackfruit (note: avoid Chaokoh brand, which has been found to employ abusive monkey labor)
1 tablespoon plant-based chicken-flavored broth powder (or 2 teaspoons nutritional yeast)
1/2 teaspoon sage
1/2 teaspoon turmeric
1/4 teaspoon celery salt
Dry batter:
1 cup all purpose flour
1⁄2 teaspoon paprika
1⁄2 teaspoon chili powder
1⁄2 teaspoon garlic powder
1⁄2 teaspoon black pepper
Wet batter:
4 tablespoons plant-based egg replacer
1 cup unsweetened plant-based milk (preferably Ripple Pea Milk or oat milk)
1 tablespoon favorite hot sauce, plus more to taste
For frying:
Enough oil to fill pan 1 inch high (Vegetable or peanut)
Optional garnish:
Chili oil
Preparation:
Drain and wash the jackfruit.
While rinsing under cold water, slightly squeeze the jackfruit to remove any large seeds.
Toss jackfruit in plant-based chicken broth powder, sage, turmeric, and celery salt.
Fill a large iron skillet or Dutch oven with at least 2 inches frying oil. Heat to 350-360 degrees F.
Mix dry batter ingredients together in one bowl: all purpose flour, paprika, chili powder, garlic powder, black pepper.
In a separate, large bowl, mix wet batter ingredients: plant-based egg replacer, plant-based milk, and hot sauce, to taste.
Dip jackfruit into dry mix, then into wet mix, then back into dry mix.
Place jackfruit on a wire drying rack for 10-15 minutes.
Fry jackfruit nuggets in small batches, keeping the oil temp between 350 degrees F and 360 degrees F.
When jackfruit is a deep golden brown, remove nuggets to a wire rack. Immediately add light salt, to taste.
If you want to make it extra spicy, drizzle with chili oil (optional).
Plant Based Pork Rind Puffed Tofu Tacos
Serves: 2
Ingredients:
Plant-based pork rinds:
2 large rice paper sheets
1 tablespoon olive oil for frying, plus extra on hand
Pork rind seasoning:
1 teaspoon smoked paprika
1 teaspoon maple syrup
Salt, to taste
Taco filling:
1 16oz block of firm tofu, drained
1/2 teaspoon smoked paprika
1 teaspoon cumin
1/2 teaspoon chili pepper
1/2 teaspoon salt

Optional taco toppings:
Red onion
Cilantro
Preparation:
Cut your rice paper into circles, 3 inches to 3 1/2 inches wide. If they begin to crack, dampen them slightly. It's helpful to use a ring mold as a guide, and a small sharp knife to cut a groove into the rice paper. Then, slowly cut with scissors along the outside of the grove. In total, you should have 6 3-inch rice paper sheets
Heat olive oil in a non-stick skillet over high heat. Once the oil begins to shimmer and is slightly smoking, lower heat to medium.
One at a time, drop your rice paper sheets into the oil then quickly press the center with a silicone spatula or wooden spoon. This will hold the center of the rice paper flat as the outsides quickly puff. Quickly remove rice paper sheet from pan. The rice paper will look like a flat taco shell with puffed up sides. A little like a mini bowl.
For the taco filling, drain your tofu then crush into a consistency you like, using a fork. A tofu scramble consistency works well in this recipe.
Add smoked paprika, cumin, chili pepper, and salt. Mix together well.
In the same skillet you used for the pork rind shells, heat to medium-high heat and add a touch more oil if needed.
Pour your tofu mixture into the skillet and let simmer for around 3 minutes before stirring. This allows the tofu to brown and release some more liquid. Cook for 3 more minutes (6 total); then it's ready to serve.
Fill the pork rind rice paper shells with your tofu mixture. Top with red onion, cilantro, or any of your favorite taco toppings!