The biggest food holiday of the year is almost here, and frankly, we're excited about it. In fact, we're going to put out a bold statement and say that fall has all of the best flavors. Butternut squash? Yes. Mashed potatoes? Always, but especially at this time of year. Green beans? A green worth fighting for. Notice something, though? All of these are sides. When you really think about it, sides—and spending time with loved ones—are what Thanksgiving is all about. (And the Syfy Channel's James Bond movie marathon.) So this year, make the side dish your main squeeze. Here are some of our favorite recipes: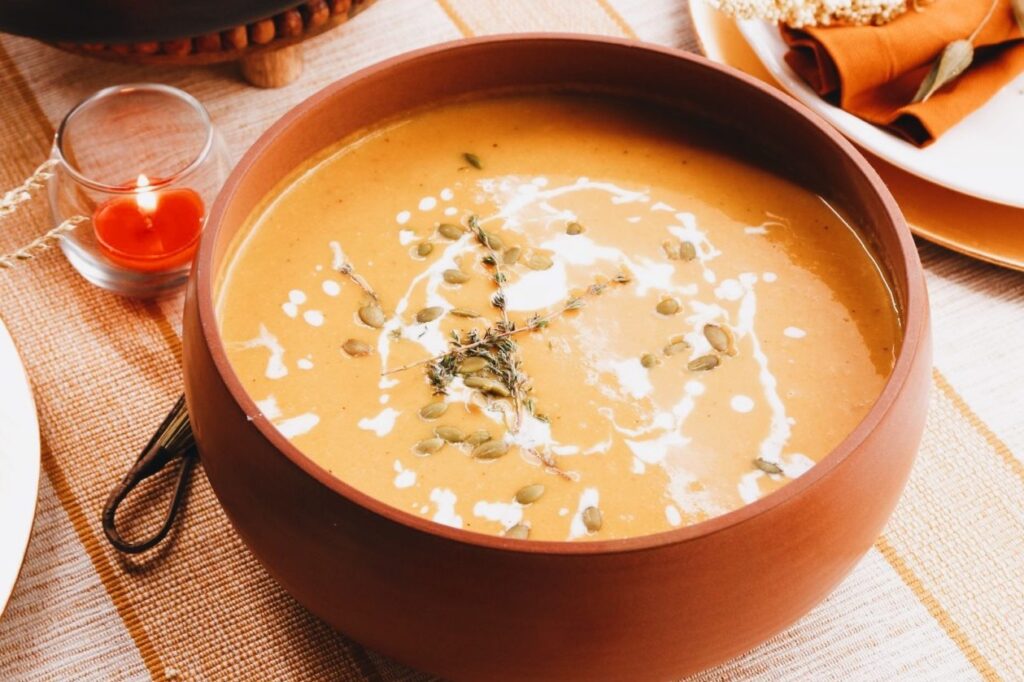 A velvety butternut squash soup
Let us tell you, there's nothing better than hot soup on a cold day. Well, maybe one thing. Soup that has layers of flavors. A lingering spiciness and aromatic warmth with a little bit of the eathiness all balancing out rich creaminess and subtle sweetness. That's this butternut squash soup. It's got everything you want out of a Thanksgiving side: winter squash, onion, garlic, thyme, and plenty of black pepper. Made extra-creamy thanks to coconut milk. Top it with toasted pepitas and serve with bread.
Green beans topped with spicy almond butter
Tired: the same ol' green bean casserole. Wired: green beans with a spicy almond butter drizzle. Just steam those beans until they're absolutely lucious, and in the meantime, whisk up the 5-ingredient almond butter sauce. Top it with flaked almonds for a bit of crunch and a sprinkle of chili flakes for a little more heat.
Miso sweet potato mashed potatoes
This ain't your average sweet potato mash. It has fragrant fall spices like nutmeg and cinnamon, and an unexpected visitor: white miso paste. Trust us, this rare ménage à trois elevates sweet potato mash into a warm, buttery, umami side dish that you'll want to reserve at least half of your plate for.
Hearty sweet potato, kale, and farro salad
Motion to ban iceberg lettuce salads from holiday tables and replace them all with this verdant creation. Baby kale is mixed with tender, paprika and oregano-spiced sweet potato; nutty, chewy farro; chopped pecans for extra crunch; and it's all tossed with a maple-tahini dressing that's equal parts tangy, creamy, and sweet. *Chef's kiss*
Simple, delicious roasted potatoes
You know it. We know it. Samwise Gamgee knows it. Potatoes are food royalty. Even in the humblest of forms, like these roasted potatoes that are bursting with flavor, they deserve all of the love. Use baby potatoes, which are a little more tender than the average-sized spud. All you need are ingredients that you likely already have in your pantry: olive oil, rosemary, thyme, salt, pepper, and smoked paprika.
Sweet potato pecan pie
Even though this is all about sides, we'd be remiss to not say a thing about dessert. This show-stopping classic sweet potato pie features a flaky crust, a layer of creamy, pumpkin pie-spiced sweet potato puree, all topped with candied pecans. The dairy-free whipped cream topping is optional, but highly recommended.