Brits love crisps. And as demand for plant-based food continues to grow, the number of independent and mainstream brands offering vegan crisps is increasing, too.
Potato chips, or crisps, have been mass-produced for at-home consumption since the early 1900s in both the U.S. and in the UK. Traditionally, crisps are exclusively thin-cut potatoes, but the popular definition of the word crisps can also be said to include corn, maize, and other grain-based snacks.
According to The Guardian, British shoppers consume around six billion packets of crisps every year. That's significantly more than the rest of Europe put together, and doesn't include the 4.4 billion other savory snacks — such as crackers and nuts — that are almost as popular.
Market research firm Mintel has said that almost 25 percent of all UK food launches in 2019 were labeled vegan. While Christmas 2020 and Veganuary 2021 saw an unprecedented range of plant-based meals, ingredients, snacks, and more reach supermarket shelves.
Nearly eight million Brits ate more vegan food since the beginning of the coronavirus pandemic. While Sainsbury's has claimed that up to 91 percent of its shoppers are "flexitarian," and regularly consume both animal products and plant-based food.
You might not think it, but crisps can be a minefield for those trying to avoid certain animal products. Here are some of the key ingredients to watch out for, and 99 vegan-friendly options for die-hard crisp fans.
Why put milk powder in crisps?
Milk and dairy-based ingredients top the list of things to look out for in crisps. Milk powder, whey, butterfat, and other dairy products are frequently used in crisp flavorings. They also crop up in a huge variety of other foods, such as bread, and even table sauces.
Lactose is a cheap bulking agent, but it can also impact the texture and consistency of products — such as bread and baked goods — or enhance the flavor. Popular snack manufacturer Walkers began adding milk derivatives to its various crisps around 2009 when it removed the flavor enhancer MSG (monosodium glutamate) from the ingredients.
While many dairy "themed" flavors such as cheese and sour cream actually contain milk, unexpected varieties such as salt and vinegar, pickled onion, and even some root vegetable-based crisps also include milk powder.
Dairy might be the most common animal-derived ingredient in crisps, but it's not the only one. Some varieties can also contain meat extracts, animal fat, and even calf rennet, as part of the flavoring. Honey is also relatively common, particularly in luxury brands and flavors.
99 vegan crisp flavors you need to try
Fortunately, there are plenty of vegan crisps to choose from. Here are some of the best, most popular, and controversial (Marmite), flavors of crisps you can buy in the UK.
Walkers
Like many of these brands, Walkers periodically changes its recipes, so it's always best to read the ingredients closely. Fortunately, sometimes these changes involve veganizing a previously unavailable recipe.
According to Instagram page Accidentally Vegan, Walkers just launched updated versions of its classic Salt & Vinegar and Prawn Cocktail flavor Quavers. Original, cheese-flavored Quavers remain vegetarian but not vegan.
New salt & vinegar flavor Quavers
New prawn cocktail flavor Quavers
Eat Real/Cofresh
Cofresh is the UK's number one Indian snack producer and creates a wide variety of fully vegetarian and mostly-vegan crisps, mixes, and other savory snacks. It also produces health-conscious free-from snacking range Eat Real, made entirely from high protein ingredients such as lentils, chickpeas, and quinoa. Check out the full range here.
Lentil Creamy Dill
Lentil Tomato & Basil
Hummus Sour Cream & Chive
Hummus Chili Cheese
Eat Real Organic Hummus Sea Salt
Quinoa Paprika
Quinoa Mediterranean
Eat Real Quinoa Sweet Chili
Quinoa Jalapeno & Cheddar Corn Puffs
Eat Real Quinoa Sundried Tomato & Roasted Garlic
Cofresh Plain Poppadom Curls
Other brands
A variety of crisp and snack brands produce some vegan options. For many, ready salted and "plain" flavors make up the entire plant-based range. For others, such as Kettle Chips, there are specific vegan flavors that cater to dairy and meat-free consumers.
Scampi 'n' Lemon
Wheat Crunchies Worcester Sauce
Asda
British supermarket Asda produces a range of vegan-friendly crisps, including the popular Free-From Nacho Cheese Tortillas. Perfect with hot salsa.
Aldi
Aldi also regularly changes its recipes, but typically several of its Snackrite snacks are vegan friendly. It also stocks milk-free crackers, snacks, nuts, and ready salted tortilla chips.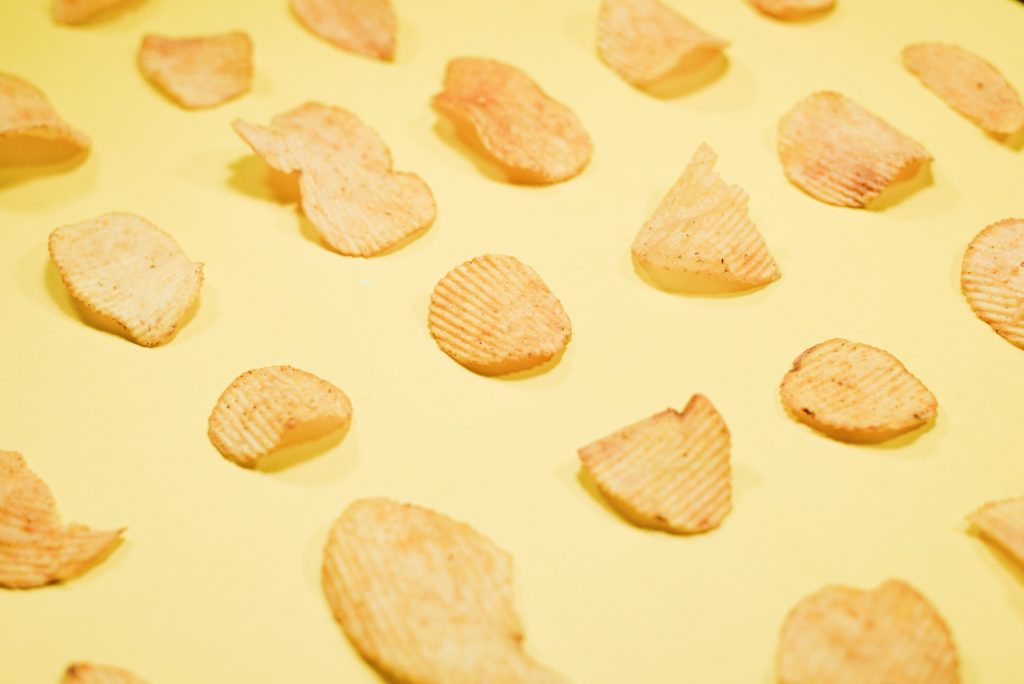 Tesco
Unfortunately, 80s favorites Monster Munch contain milk. But if you're feeling nostalgic, Tesco offers its own version in the Pickled Onion flavor Monster Claws.

Sainsbury's
Like other British supermarkets, Sainsbury's has successfully veganized popular childhood snacks such as Frazzles (Bacon Crispies) and Onion Rings. It also offers a wide range of Taste the Difference luxury crisps, many of which are vegan.

LIVEKINDLY is here to help you navigate the growing marketplace of sustainable products that promote a kinder planet. All of our selections are curated by the editorial team. If you buy something we link to on our site, LIVEKINDLY may earn a commission.