RG Enriquez, who grew up in the Philippines and now lives in the U.S., has assigned herself an important mission: to change the narrative around her home country's cuisine. The founder of recipe blog Astig Vegan is creating flavorful, plant-based Filipino dishes.
"[I want to show] as many people as possible that Filipino food can be vegan, healthy, and delicious, without losing its soul," the recipe developer tells LIVEKINDLY.
Although many traditional Filipino dishes are undeniably meaty (popular party meals like lechon consists of an entire roasted pig), Enriquez has proved that it is more than possible to make healthy, mouthwatering, plant-based versions. Through Astig Vegan and her growing social media platform, Enriquez is spreading the word about plant-based Filipino food beyond her home in the San Francisco Bay Area.

Astig is a slang word for tough, unique, or gutsy in Tagalog, the national language of the Philippines, and that's how Enriquez sees her food. On her blog, you can find new ways of making traditional dishes, like sisig, for instance. The dish, which originates from the region of Pampanga and is popular across the Philippines, usually features pig head and chicken liver. But Enriquez' version uses three different types of mushrooms, with the shiitake, oyster, and beech giving the dish an umami boost.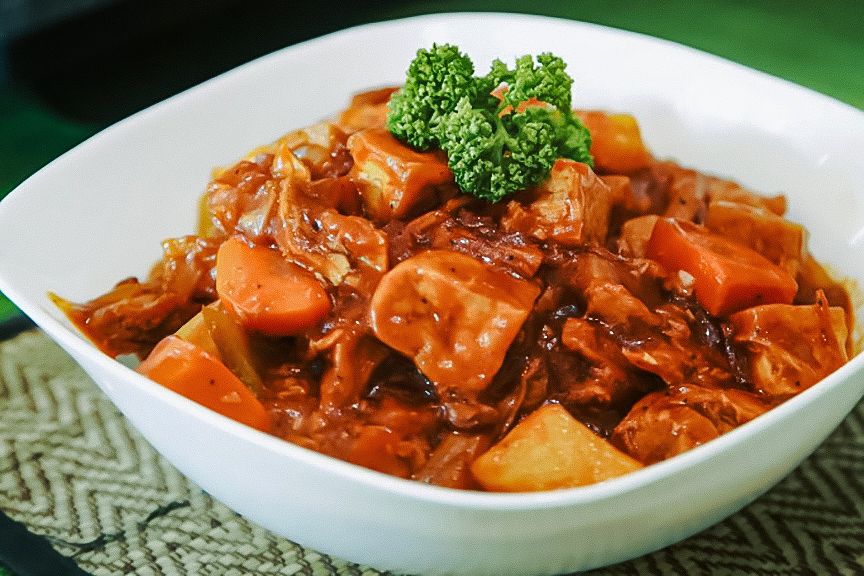 There's also vegan mechado. Traditionally a beef and potato stew, Enriquez uses fried tofu, fried mushrooms, or vegan meat to get those familiar textures. The dish is known for its fatty flavor, which often comes from adding lard during the cooking process. Instead, Enriquez uses cooking oil or vegan butter.

She's even created a jackfruit version of Lechon Paksiw, a sweet and tangy meal that uses up the leftovers from the lechon often served at big gatherings. Native to Southeast Asia, and a staple in the province of Davao, jackfruit is often used as a substitute for pulled pork. In this dish, Enriquez uses a fresh chopped, shredded version straight from the can.
On her YouTube channel, there's a wealth of cooking tutorials and "ask me anything" style videos. You can find tips and tricks on how to plant, grow, and cut Filipino recipe staples, like mature coconuts. (Have you ever wondered the best way to cut one open? Let Enriquez guide you here.)

Food is important to the recipe developer, for obvious reasons. But cooking is more than a career or even a passion. As a Filipina now living in the U.S., food provides Enriquez with a valuable connection to her motherland. But it hasn't always felt that way.
Vegan in California
Before moving to California at the age of 15, Enriquez was born and raised in the Philippines, about 40 minutes outside of Manila. ("My mom was a full time homemaker, and my dad would work. We had a really nice life," she recalls.) Back then, she didn't just eat meat. She lived for it.

"I was the biggest meat-eater among my siblings, who were all four girls," she explains. "I hated eating vegetables. I loved pork and rice drenched in lard, which was my favorite kids' meal. My mom would have to trick me to eat vegetables." When she landed in California, she still loved meat, and food, in general. Partly because it reminded her of where she came from.
For Enriquez, being in America made her suddenly very aware of her identity as a Filipina. And, at the same time, she became very aware of losing it. "It's an ironic thing," she says. "A 'you don't know what you have until it's gone' type thing."
"In the Philippines, you don't really feel the need to represent your heritage because you're already in the country," she continues. "I don't have to question or even represent my identity, I just eat whatever delicious Filipino meal my mom makes. But when we moved to the US, it made me miss my Filipino food. Because now, there's more of a barrier. And I'm surrounded by different kinds of heritage. It's not just mine."

After going vegan — at first for health, and then for ethical reasons — she felt her culture slipping away even more. "I was geographically away from the Philippines," she recalls. "And then to add more to that, I gave up animal products. And Filipino food is predominantly animal products."

But she cared enough about the nutritional and ethical benefits of veganism to stick with it. And by doing so, she found her calling.
It turns out, going vegan wasn't pulling Enriquez away from her roots, it was drawing her closer to them. She began trying to veganize traditional recipes, but to do that, she had to figure out how to capture those unique, Filipino flavors and textures within a new style of cooking. During that process, she started to learn more than ever about her own culture and country.
"Before becoming vegan, I loved Filipino food but didn't go deep into studying and appreciating its cultural and historical context," she says. "Now that I'm vegan and I veganize Filipino food, I find joy in reading about Filipino food literature and studying what makes a dish uniquely Filipino. Because of my vegan lifestyle, I've felt more connected to my culture and community than ever before."
The Filipino Vegan Food Scene
Enriquez is keen to get across that she's not the first to veganize Fillipino cuisine.

The Philippines is home to more than 7,000 islands, each with different cuisines and cooking styles. "We're so tribal," she says. "So we actually have differences in our dishes. Different variations and versions."

When she went back to the country in 2019 to learn more about regional delicacies, she saw those differences up close. "We have a lot of pork, we have a lot of fried chicken, we have a lot of processed meats, but if you really go deeper, if you go to different provinces, there are also vegan dishes," she says.
And there's more. She didn't just discover plant-based meals during her travels, but a flourishing vegan activist community. "It's very strong, vocal, and active in championing the cause," she notes. "They hold vegan festivals, operate vegan restaurants and businesses, and participate in protests and rallies. And this is not exclusive to Manila. Even other regions like Davao and Cebu have a thriving vegan Filipino community."
Enriquez is working to grow this interest, and engage even more Filipinos in veganism. "Filipino organizations both in the US and in the Philippines have invited me to do live cooking demonstrations to help our fellow Filipinos who are looking to transition to the vegan lifestyle and cook their favorite meals," she explains.

To really connect with her audience back home, she's also creating social media content in Tagalog."I understand they can fully understand English, but there's something different when you can relate," she says. "You can put your guard down, and it's not as professional."

Back in the U.S., diversifying the Western vegan movement is also important to Enriquez. She wants everyone to engage with her content, and to show non-Filipinos that her home country's food is more than the stereotype of meat centric dishes.

"I want to share the beauty of our cuisine," she notes. While she believes progress has been made in this space, with more diverse food on offer than ever before, there is more work to be done. "It's a slow progression but it's a progression—I definitely see that now," she says. "I'm really glad that Filipino cuisine is getting more appreciated. It should be."

Check out Astig Vegan here.