The wait is over: Volkswagen is bringing its iconic hippie bus into the 21st century—and this time, it's electric.
The German car manufacturer unveiled the new bus, called the ID. Buzz, in Paris on March 9. The electric bus features a vegan leather interior made with recycled materials, including ocean plastic, and a two-tone paint exterior, channeling the original.
The rear-wheel drive, short-wheelbase model, which seats five passengers, will only be available in Europe, starting later this year. But those in the US eager to get their hands on the retro-style electric love bus—worry not. The longer-wheelbase model, which features three rows of seats, will be available stateside in 2024.
Alongside the ID. Buzz's much-anticipated reveal, Volkswagen also released details of the ID. Buzz Cargo, an electric commercial delivery van that goes on sale in Europe later this year.
"Both versions of the ID. Buzz are pioneering in terms of their sustainability: their manufacture and shipping has a carbon-neutral footprint," said Carsten Intra, Volkswagen's Chairman of the Board of Management.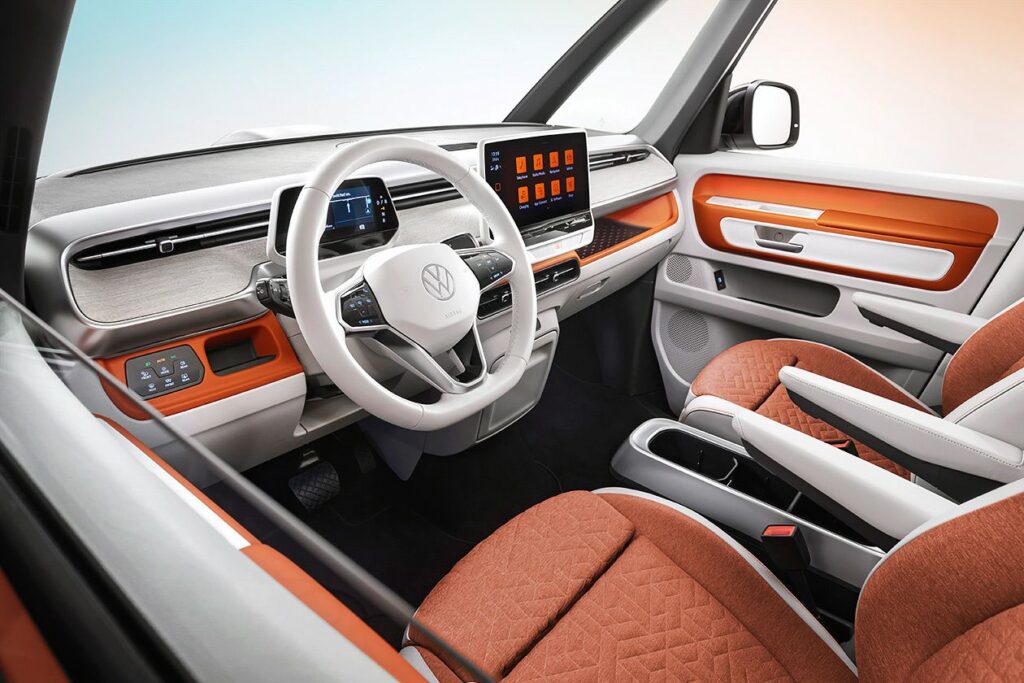 Volkswagen goes electric
The comeback of the VW bus has been a long time in the making. Also known as the Transporter, the Microbus, or just the Bus, the van gained popularity, just like the Volkswagen Beetle, and was associated with the hippie movement of the 1960s.
Volkswagen has dropped hints at reimagining the bus for quite some time. In 2001, the company first unveiled the Microbus concept at the Detroit Auto Show. Two additional concepts followed: 2011's Bulli and 2016's BUDD0e. But it wasn't until 2017 that Volkswagen first debuted the ID. Buzz concept vehicle.
The fact that the new bus is all-electric should come as no surprise. Countries around the world are pushing to electrify their transportation sectors to mitigate the climate change-fueled impact of gas-powered cars. And Volkswagen Group—which in addition to Volkswagen, owns Porsche, Bentley, and Audi brands, among others—projects that 25 percent of its sales will be electric vehicles by 2026.
But the next frontier for Volkswagen is autonomous driving. In Europe, the ID. Buzz Cargo will feature software and sensors for autonomous driving capabilities. Intra said that the electric bus would be used for "future autonomous mobility concepts." 
He added: "The electric Bulli is thus also a part of the future of inner-city transport." The German carmaker, which owns self-driving startup Argo AI along with Ford, has plans to launch a commercial autonomous taxi service in Hamburg in 2025. It began testing the self-driving electric vans last year.
"The ID. Buzz is a genuine icon for the electric era. A car, the likes of which only Volkswagen can build. In the 1950s, the Volkswagen Bulli stood for a new feeling of automotive freedom, independence and great emotion," said Ralf Brandstätter, Chairman of the Board of Management of Volkswagen Passenger Cars. "The ID. Buzz picks up on this lifestyle and transfers it into our time: emission-free, sustainable, fully networked and now ready for the next big chapter: autonomous driving."