If there's one thing all of us need going into a new year, it's a renewed sense of commitment to what matters most: our own wellbeing. "Wellness" may have gained a reputation for being tré woo but in its essence, it refers to the act of tending to your physical and mental health. But what many of us forget is that it's a job, and one we must take on with intention. After a year (or what seems like 10) of feeling at the mercy of forces we can't quite control—from the exacerbating climate crisis to the unending global pandemic, to spending less time with other humans (for better or worse; the jury is still out)—why not resolve to start this new year with a focus on our own wellbeing?.
Wellness comes in many forms—from self-care rituals that calm to mindfulness practices that alter brain waves—but taking on the challenge is worth it. And it's our call to action for you this year. To set you off on the right foot, we've gathered five practical forms of wellness to bring into 2022. We spoke to a wide variety of experts—from a therapist who specializes in helping people with climate anxiety to a horticultural therapist who explained how working with plants can help us relax. Find what works best for you, but commit to a wellness journey for yourself this year. You'll see that taking care of you can be the most radical—and rewarding—act of all.
Also known as ecological gief or eco-anxiety, climate anxiety is a psychological response to the climate crisis. And it can refer to a lot of different feelings that we may experience as a result of what's happening to the planet. This can range from trauma caused by natural disasters to the anticipated loss of something in the local or global environment. It will feel different for everyone. We spoke to psychotherapist Andrew Bryant about how to identify climate anxiety, its emotional and physical impacts, and what we can do to cope.
In psychology research, gratitude has consistently been associated with greater happiness. By practicing gratitude, we are able to show what we're thankful for, be that tangible or intangible. We can be grateful for the unconditional love of our pets, for example, or for 30 minutes of undisturbed silence on a weekend morning. One study has found that showing gratitude even has a biological effect in the brain. Read on to learn more about the fascinating science behind the positive effects of giving thanks.
Cooking is a sensory experience, from the sounds of a knife cutting through produce and the bubbling of broth to the aroma of fresh herbs and spices that fill your home. For many, cooking is more than just making food: it helps satisfy the need to create and accomplish, both of which can boost feelings of happiness. Some professionals even use it as a form of therapy, appropriately called culinary therapy. (To be clear, culinary therapy can have mental benefits but it is not meant to be a replacement for talk therapy.) We spoke to Julie Ohana, LMSW, about how cooking regularly can help improve your mood. Here's what we learned.
Cooking isn't the only activity that's used as a form of stress relief: home gardening is, too. Working with plants, whether indoors or outdoors, can be grounding and restorative. Gardening can also be used as a form of therapy, called horticultural therapy, which can be used to benefit mental or physical health, or both. (And as with culinary therapy, it's important to note that this should not be used to replace working with a mental health professional.) Phyllis D'Amico, a registered horticultural therapist, shared 5 gardening ideas you can chill out to at home.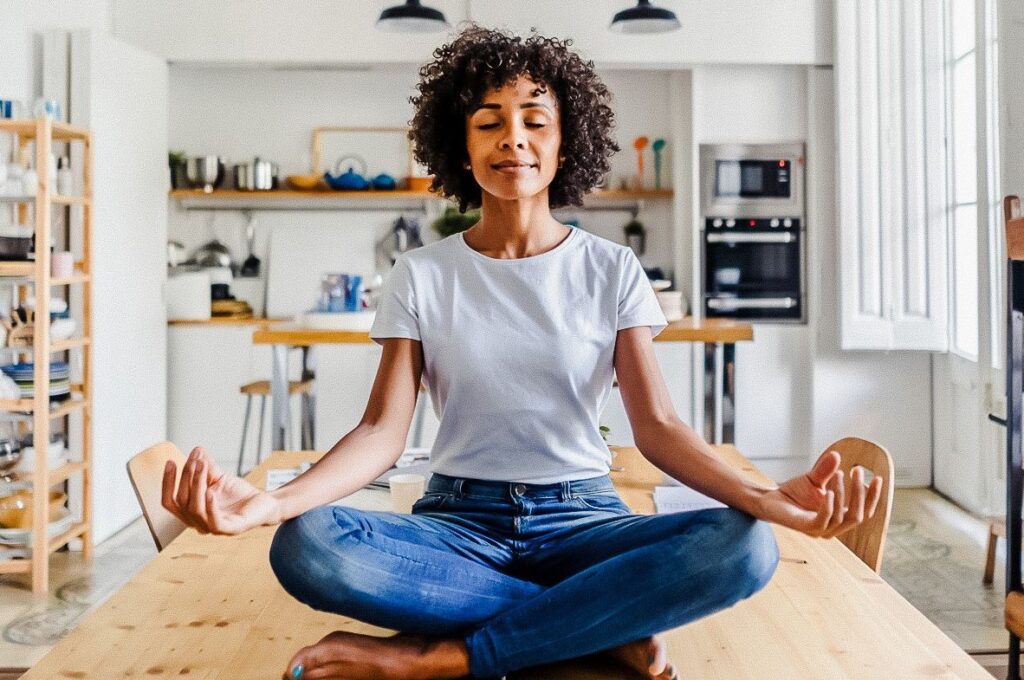 Studies suggest that practicing mindfulness meditation, the practice of experiencing your emotions as they are without judgement, has a positive effect on both physical and mental wellbeing. And, it might even make people live more sustainably. Scott M Pickett, PhD, CBSM, who co-authored a study about that very subject, tells us about the connection between the Buddhist tradition of mindfulness meditation and the way it makes us more conscious of our environmental footprint.