Collagen is everywhere—from beauty products to nutritional supplements—and the messaging is the same: It's the "hero ingredient" of the beauty and wellness industry. Andrew McDougall of the international market research firm Mintel confirmed this in a webinar last year, pointing to its rise in popularity. "Now is the time for collagen," he said. And he's right: The market is growing and the hype around collagen seems to be everywhere. But what actually is it? Is it really made from animal bones? And if that's the case, what are all these vegan collagen supplements about?
We're here to break down some of the confusion around this topic, answer some of your vegan collagen-related questions, and we've even thrown in a few brand recommendations too.
What is collagen?
Considering McDougall's webinar was hosted by the Collagen Stewardship Alliance, his comments are of no surprise. But while his audience was biased, his statements were true. Collagen really is having a moment. Everyone from the Kardashians to Jennifer Aniston seems to swear by it. By 2027, the global collagen market is predicted to soar to a market value of more than $7.5 billion. But what is it?

Collagen isn't just the beauty industry's new "it" product. Whether you're interested in the beauty world or not, collagen impacts all of us, because it's literally part of our bodies.

Collagen is the most plentiful protein we have; it helps to improve skin structure and helps blood to clot. It also helps to build muscle, tendons, and ligaments. Many experts liken it to glue, as the supporting structures it creates give skin elasticity and strength.
As we age, collagen production weakens. From the age of 30, both men and women start to lose about one percent of their collagen each year. For women, this escalates during menopause. This loss of collagen production shows in skin; it becomes weaker and less supple, and this leads to dryness and wrinkles. To keep skin firm and youthful looking, many turn to collagen supplements.
Like human bodies, animal connective tissue also contains collagen, and this is the key ingredient in many collagen supplements on the market. It's also a key ingredient in bone broth, a dish that many believe will boost collagen intake. But it's important to mention here that some experts are skeptical that consuming collagen in this way will actually help the body's own production.
Heart surgeon Steven Gundry, for example, says that the body "doesn't have a system" that means if you eat collagen, your body will remake it. In his opinion, you may as well consume the building blocks for collagen through food or supplements instead. He says the best building blocks are lysine and proline, the two main amino acids in collagen. (Many plant-based foods, like nuts and lentils, are high in these two amino acids — but we'll come back to this later.)
Can collagen be vegan?
Because collagen is found in connective tissue, there is no way that traditional collagen can be vegan. According to this global market forecast by Grand View Research, the four main sources required for manufacturing collagen are: poultry, porcine, marine, and, the most common source, bovine.

The collagen is usually extracted from animals slaughtered in the livestock industry. It is then treated, depending on its end purpose. When it is cooked it becomes gelatin, which is often used in the food industry. (Jelly-type sweets, for example, often contain gelatin.)
What is vegan collagen?
Collagen isn't vegan. Much like vegan chicken isn't really chicken, vegan collagen is advertised as such to give you an idea of what the product is and what it is for. But these products are actually vegan collagen boosters. They contain vitamins and minerals that some experts believe stimulate the body's own collagen production.

But there is also lab-grown collagen. California-based firm Geltor, for example, creates animal-free collagen using microbial fermentation. It intends to launch its first product for the food and nutrition market this summer. And Avant, a cultivated meat company in Hong Kong, recently announced the launch of Zellulin, a cell-based functional protein for the cosmetics market. According to the company, it is more effective than collagen at promoting regeneration and repairing of the skin. If you're curious to try vegan collagen boosters, here are some brands to try.
Vegan collagen: 5 brands to try
For now, vegan collagen boosters are far more widely available than any lab-grown alternative. And, as aforementioned, they are rich in vitamins and minerals, like vitamin C. Vitamin C is particularly important, because it's essential for the synthesis of collagen; in fact, the body can't make collagen without it.
Raw Beauty Lab
Raw Beauty Lab is the "UK's first vegan collagen superfood." The product is designed to work as a collagen "builder." It consists of micronutrients, wholefood sourced vitamins (like C, A, and E), zinc, copper, and complete amino acids.

According to the brand, each of its plant-based ingredients (which include raspberry powder, pink dragon fruit powder, and carrot) is freeze-dried to preserve the quality of the micronutrients. Not only does the product help to build collagen, but thanks to its antioxidant content, it also helps to protect existing collagen fibers in your skin.
Check it out here.
Mykind Organics
From actor Alicia Silverstone's vegan vitamin line, the Plant Collagen Builder contains more than 30 whole foods. It also provides biotin (also known as vitamin H), which helps to support the maintenance of healthy hair and skin, and selenium, which helps to keep nails strong.
Check it out here.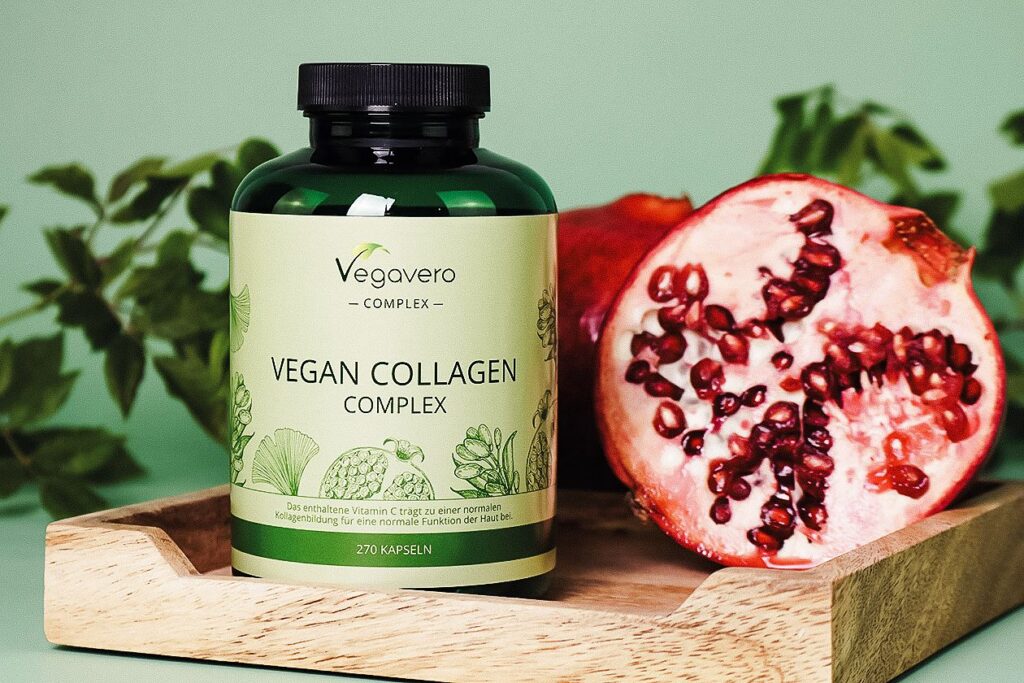 Vegavero
The brand's Collagen Plus Complex 120C contains the amino acids lysine and proline, as well as high-quality plant extracts, including pomegranate, acerola, goji berry, and rosehip. Each plant has been chosen for its healing properties. Acerola, for example, is rich in vitamin C, and rosehip contains flavonoids (plant metabolites that help to fight off oxidative stress-causing free radicals).

Check it out here.
Rae Wellness
This Vegan Collagen Boost Powder contains vitamin C and bamboo powder. It might seem like an unlikely ingredient, but bamboo is actually pretty nutritious. It's high in a number of vitamins, including A, B, and E. Add this powder to hot or cold beverages depending on your preference.
Check it out here.
Fushi Wellbeing
This Wholefood Vegan Collagen Builder, available in capsule form, contains vitamin C, vitamin E, and biotin, as well as green tea extract, Gotu Kola, and horsetail. The latter, a fern that grows in Northern Europe and America, contains both antioxidants and silica. Research suggests the latter may support bone health, increasing density and strength. It may also help to form collagen building blocks (find the 2016 study on the link between silica and collagen here).
Check it out here.
How to get collagen on a plant-based diet
A healthy, balanced diet is also beneficial for collagen production.

Registered dietician Ana Reisdorf writes for Healthline: "Boosters contain various vitamins and minerals, such as vitamin C and zinc that the body needs to make collagen. Some may also include plant extracts and herbs that are also found to help stimulate collagen production."

"You can add these vitamins and minerals through your diet, instead of a supplement, to help you meet your amino acids needs. The most abundant amino acids in collagen are glycine, lysine, and proline," she added, before recommending plant-based foods like tempeh, tofu, black beans, kidney beans, pumpkin seeds, and pistachio nuts, all of which are high in all three amino acids.

Healthy lifestyle changes like reducing alcohol intake, getting enough sleep, staying hydrated, and reducing sun exposure can also help to maintain collagen production, as doing the opposite can cause collagen to break down faster.

Ultimately, if you decide to go down the supplement route, there are plenty of vegan collagen booster options on the market to choose from, many of which are made from plant-based whole food ingredients. But you can also choose to follow a healthy, balanced, vegan diet, and consume those important collagen-boosting nutrients straight from the source. The latter will bring you many health benefits; whole foods, plant-based diet is even linked with a reduced risk of chronic disease. Find out more about what it is and how to follow it here.