Vegan butter tastes amazing on toast, is essential to baking, and adds rich flavor to risottos and sauces. But what exactly is it made of?
What Is Vegan Butter?
Dairy butter has been around for at least 9,000 years, according to Elaine Khosrova, a food history writer and author of the book "Butter: A Rich History."
Conventional butter, which is typically made from cow's milk but can be made from the milk of other ruminants, such as sheep, is made by churning fresh cream or milk to separate the butterfat from the buttermilk.
But the dairy industry is rife with animal welfare concerns, not to mention it has been linked to climate change. According to a 2020 report, 13 of the world's biggest dairy companies have the same combined greenhouse gas emissions as the UK.

On the other hand, vegan butter is free from animal-based ingredients. It is typically made from a combination of water and plant-derived oils like avocado, palm, coconut, or olive oil. It can even be made from ingredients like cashews, almonds, macadamia nuts, and aquafaba, the liquid in a can of chickpeas.
How to Cook With Vegan Butter
Cutting out butter doesn't mean an end to buttered toast and homemade chocolate chip cookies.
Butter's functions vary from adding moisture and flavor to baked goods to being the base for rich buttercream frostings on cakes, adding richness to sauces, as a spread on our morning toast, and more. Vegan butter can be used in place of dairy butter using a 1:1 ratio. Nowadays, there are a lot of brands to choose from and in most cases, it comes down to what's available or, if you're lucky enough to have multiple options, your personal preference.

For those who follow a whole-food, plant-based diet, you can also swap out vegan butter for an even healthier alternative. From fruits to veggies, as long as it has a similar fat-to-water ratio, you can use just about anything in place of vegan butter.

In many cases, you can substitute equal parts avocado for vegan butter in baking. While avocado contains saturated fat, this creamy fruit contains monounsaturated fat, which can help lower bad cholesterol. It works best in recipes that mask its flavor, like fudgy brownies and decadent chocolate cake. It can also replace butter or vegetable shortening to make a healthier, dairy-free chocolate frosting like in this Chocolate Covered Katie recipe.

Swap butter with half the amount of applesauce to cut down on fat and add healthy fiber to your baked goods. It typically works best in cakes or breads like zucchini, banana, or pumpkin. If you use applesauce, you might want to consider reducing the sugar content in your recipe, since it'll add natural sweetness. Other pureed fruits—such as pumpkin, sweet potato, and butternut squash—can also come in handy for vegan baking. Simply use three-quarters of puree per cup of dairy butter.

Unsweetened vegan Greek yogurt can be also used. Dairy-free brand Kite Hill makes high-protein Greek-style yogurt from almonds and almond milk. Daiya's Greek yogurt is made from coconut. While not Greek yogurt, the brands Anitas and CoYo make coconut yogurt that has a rich, creamy texture that could be used in baking.
Vegan Butter Brands
Nutiva
Coconut oil, both refined and unrefined, make great substitutes for dairy butter when it comes to baking all kinds of treats like cookies, crumbles, brownies, cakes, and more. You can even beat it with confectioner's sugar to make a healthier frosting. Refined has a neutral flavor while unrefined works in sweet recipes that pair well with coconut. But, regular coconut oil is missing the classic buttery taste.
Nutiva's Organic Coconut Oil With Butter Flavor is a vegan alternative for when plain coconut oil won't do. According to the brand, it's made from a blend of "pure certified organic non-GMO plants including sunflower, coconut and mint." Like regular coconut oil, it can be used for baking or sauteeing. But it tastes great on toast, bread, English muffins, and bagels. You can also use it instead of ghee to make vegan Indian recipes.
Get it here.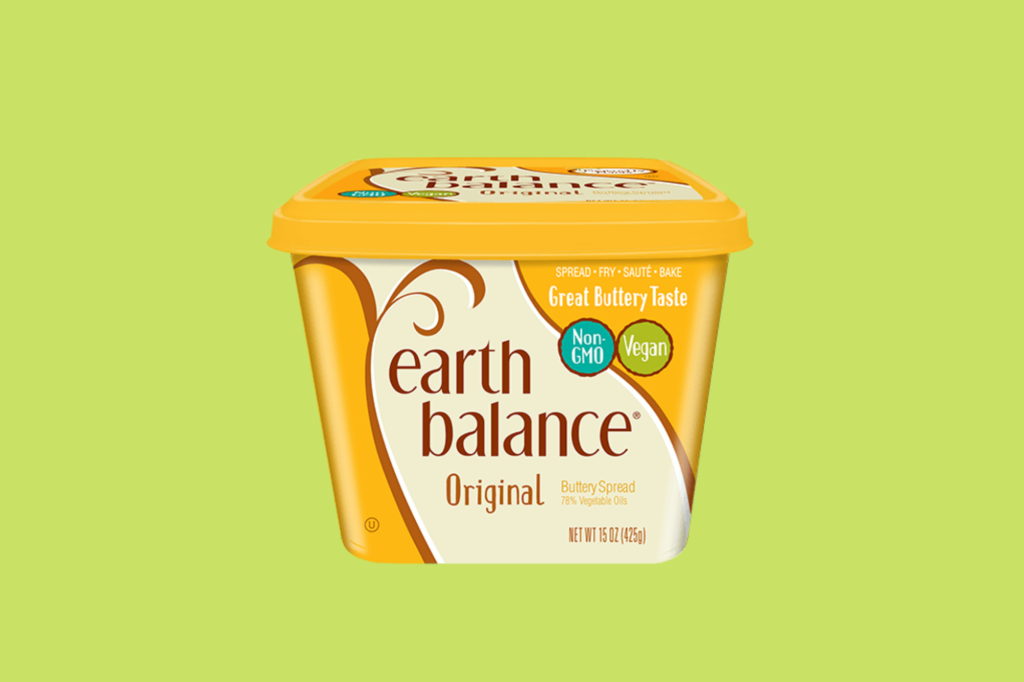 Earth Balance
This vegan brand churns out plant-based butter sticks and spreads. Made from a vegetable oil blend, the company's vegan butters are available in a number of different options, including soy-free, organic whipped, and omega-3.
Get it here.
Miyoko's Creamery
California-based brand Miyoko's Creamery makes its dairy-free butter from organic coconut oil and cashew cream fermented with real cultures. It has a tangy flavor similar to traditional cultured butter, making it an ideal companion for bread and crackers. It also melts and bakes like traditional butter and is free from palm oil.
Get it here.
Melt Organic
Boise, Idaho-based brand Melt Organic makes vegan butter sticks, spread, and a probiotic vegan butter spread, all made from coconut oil, sustainable palm oil, and flaxseed oil. It has a rich, creamy taste like traditional butter and is free from dairy, soy, and nuts. Melt Organic butter also contains half the saturated fat of dairy butter and also contains plant-based omega-6 and omega-3 fatty acids. It can be used to replace butter as a spread or in baking sweets like cookies and brownies.
Get it here.
Culcherd
Toronto-based brand Culcherd makes vegan butter called It's Not Butter from organic coconut oil and cashews. It's free from soy, palm oil, and like the brand's name implies, it's cultured. It comes in four flavors—Original, Garlic, Turmeric Black Pepper, and Cinnamon Swirl—and is a 1:1 replacement for dairy butter.
Get it here.
Flora
UK-based margarine giant Flora removed dairy from its range in 2019, making the brand 100 percent vegan. Made from vegetable oil, Flora's vegan buttery spreads are a source of omega 3 and 6. In April of this year, Flora launched its Plant-Based Bricks in Canada, which feature sustainably sourced plant oils.
Get it here.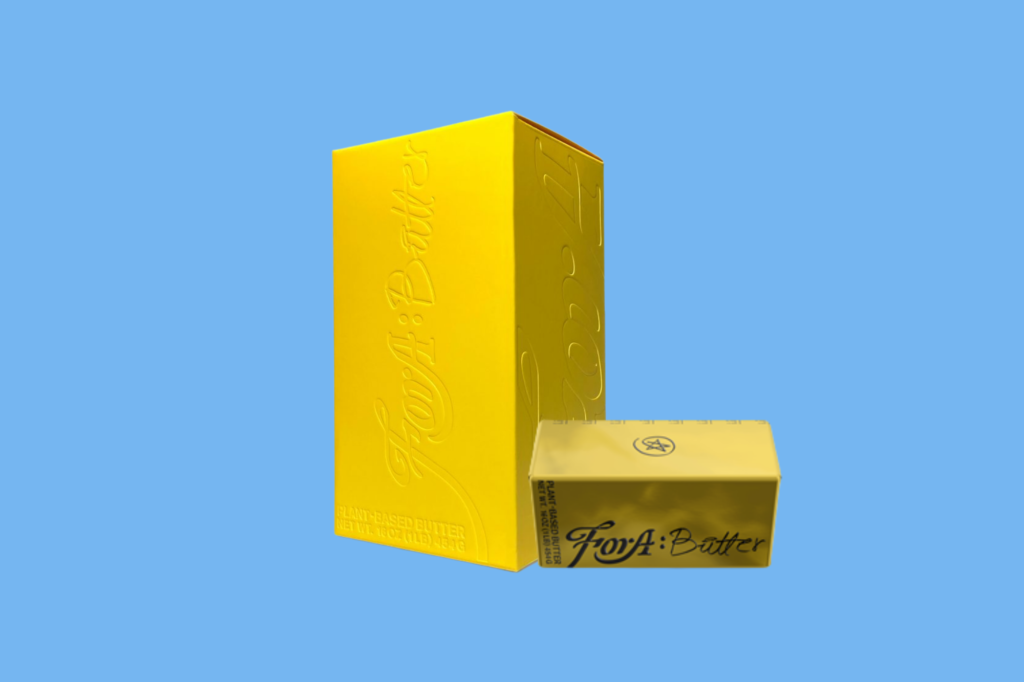 ForA:Butter
For a vegan butter that tastes, cooks, and spreads similar to dairy-based butter, ForA:Butter tops the list. Use it as a 1:1 replacement for its dairy counterpart on everything from bagels to toast and in baking recipes. The plant-based butter is non-GMO, cholesterol-free, and low in sodium. Its shelf life is also two times longer than conventional dairy butter.
Get it here.
Country Crock
Although not a vegan brand, Country Crock debuted its very own plant-based butter in 2019. The company makes its Country Crock® Plant Butter from a blend of plant-based oils, including those from olives, avocados and almonds.
Get it here.
Forager Project
There's no soy in organic, plant-based creamery Forager Project's vegan butter. The company makes its whipped, dairy-free butter using cashews, coconut oil, and sunflower oil. Spread it thick on a slice of toast or use it to make a creamy sauce.
Get it here.
I Can't Believe It's Not Butter
This Upfield-produced spread brand launched its own variety of vegan butter in 2017. Made from a blend of plant-based oils, purified water and salt, the non-dairy butter is free from artificial flavors or preservatives. According to the company, it also contains 40 percent fewer calories and 70 percent less saturated fat than its dairy-based counterpart.

Get it here.
---
LIVEKINDLY is here to help you navigate the growing marketplace of sustainable products that promote a kinder planet. All of our selections are curated by the editorial team. If you buy something we link to on our site, LIVEKINDLY may earn a commission.