Fashion giant Zara is joining the world of beauty.

On May 12, the largest apparel retailer in the world is launching Zara Beauty, a cruelty-free makeup line with an emphasis on sustainable packaging. The company has offered its own-brand fragrances for some time, but this is the first time it has rolled out a dedicated line of beauty products.

The new range will include more than 130 shades of lipsticks, glosses, bronzers, and even 39 nail polishes made with "natural" ingredients. The glosses and polishes come in eco-friendly glass bottles, while the rest of the line features refillable packaging in a sleek, slanted, clean white design.

In addition to sustainability, Zara Beauty emphasizes affordability. Nothing is priced higher than $25.90, while the lowest-priced item in the collection is $7.90. Refills will cost customers upwards of $4.90 each.

To create the range, the fashion behemoth teamed up with renowned makeup artist Diane Kendal. Kendal is highly respected in the beauty world; she works as a beauty product consultant and makeup artist for Marc Jacobs Beauty and also helped develop products for Calvin Klein Cosmetics.
The makeup artist told Harper's Bazaar that Zara Beauty represents a chance to make high-quality, clean beauty products accessible to more people.

"It felt like the right time to collaborate with a brand that has such a diverse and inclusive audience," she said. "Bringing the ethos of high-quality ingredients and clean formulas and making it accessible to everybody – no matter their gender, age, skin color, or personal style."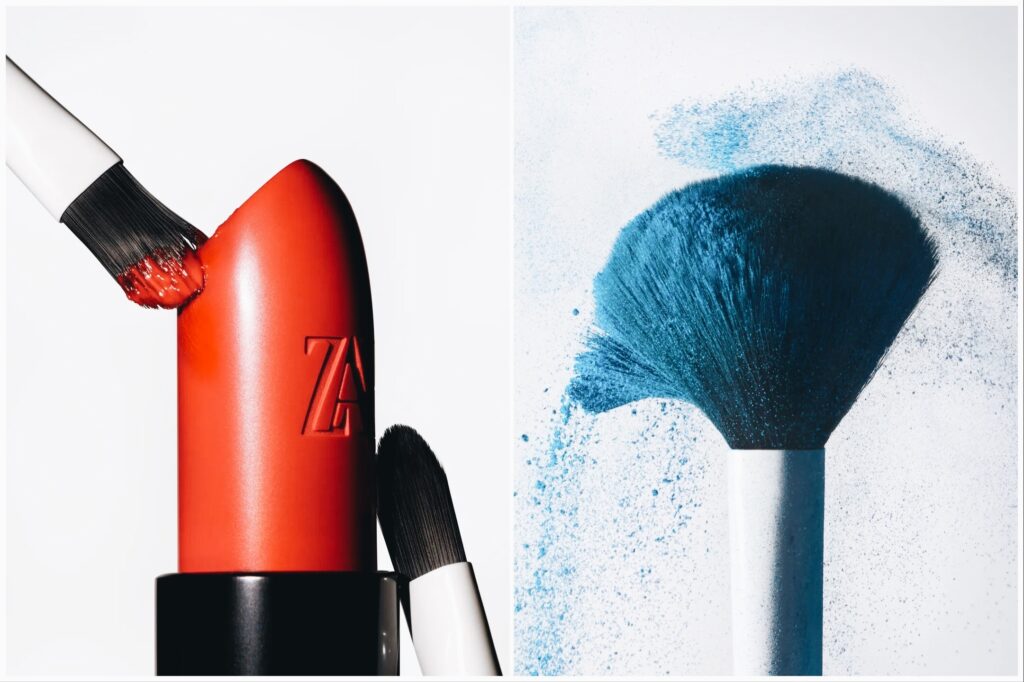 Is Zara Sustainable?
While creating a cruelty-free, refillable beauty line is a step in the right direction for Zara, it's important to acknowledge that the fast fashion model within which the brand operates is highly unsustainable.
Zara has nearly 3,000 stores worldwide, and it focuses on churning out inexpensive clothing at an incredibly fast rate. This production method is incredibly harmful to the planet, as most of these items end up in landfills.

Zara's parent company, Inditex, has made moves to reduce its impact on the planet. For example, it launched Closing the Loop— a repair and reuse program that gives customers the chance to send their used clothing back to Zara so it can be recycled.

Inditex has also announced that by 2023, it "aims" to no longer send anything to landfills from any of its facilities, be that its headquarters or its factories.

While this sounds promising, Good On You, a sustainable brand directory that rates companies and their environmental impact, says it's "not good enough." This is based on Zara's "promotion of rapid consumption" which is "inherently harmful to both people and the planet." (You can find out more about the impact of fast fashion here.)

But Good On You has not lost hope completely. It notes: "As one of the largest fashion retailers in the world, Zara has an opportunity to lead the way into a sustainable future."

Zara's new refillable beauty line will be available in select stores, as well as online, beginning May 12.