In 2019, French chef Dominique Crenn turned her popular San Francisco restaurant pescetarian. Now, meat is back at Atelier Crenn, but not in the conventional sense. In the near future, the world-renowned menu is set to include cultured chicken.
Crenn (who you may recognize from 2016's Chef's Table Volume 2), founded Atelier Crenn over a decade ago. The chef, who is the first woman in the U.S. to be awarded three Michelin stars, also owns and operates Petit Crenn and Bar Crenn.
All three of Crenn's businesses have been pescatarian since 2019 due to the considerable environmental impact of animal agriculture. Atelier Crenn will only be adding cultured meat to the menu due to its relative sustainability and "delicious" appearance, aroma, and flavor.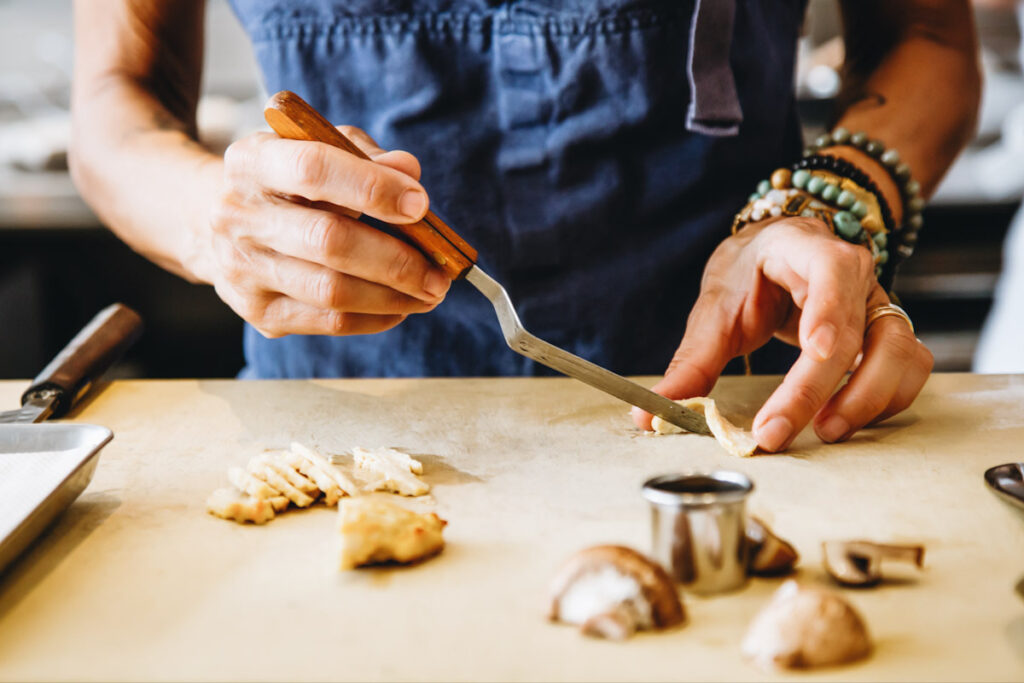 Atelier Crenn to introduce cultured meat
The high-end eatery is partnering with Upside Foods (formerly known as Memphis Meats) to introduce the food-tech company's flagship product: Upside Chicken.
"When I tasted [Upside Chicken] I was like 'OK that's it, I think this is the future,'" said Crenn. "As someone serving food every day, I want to be able to better this world, and that is what I am looking for in companies."
"We are all here because we have one goal," Crenn said of the partnership. "It is to come together to uplift the world. And what you all are doing now, you are setting the bar really high."
Are restaurants already serving cultured meat?
Crenn has already agreed to serve Upside Foods cultured meat at her restaurants, in addition to providing recipe development and "culinary counsel" to the company. However, Upside Chicken first needs to pass a regulatory review.
Upside Foods was one of the first startups to introduce cultured meat to the world, and director of communications David Kay said earlier this year that the company is "working very closely with regulatory agencies in the U.S. so we can bring products to consumers."
Cultured meat (also known as clean, cell-based, or 'lab-grown' meat) is identical to farmed animal products in terms of appearance, flavor, and nutrition, but grown slaughter-free using animal muscle cells and bioreactors in a lab setting.
In a world-first, Singapore approved the sale of Eat Just's cultured chicken in December last year, and the product has since launched in restaurants and even for home delivery.
While cultured meat is not yet on the market elsewhere, Eat Just is also in talks with U.S. regulators about launching its lab-grown chicken to the American market. As in Singapore, restaurants will most likely be the first places that consumers can try cultured meat for the first time.
In a survey published earlier this month, consumer insights company Piplesay reports that nearly 20 percent of Americans and Britons are "eager" to try cultured meat. While approximately 67 percent worry about the environmental impact of traditional meat production.