The weather is getting warm and humid, the days are longer, and the scent of charcoal drifts through the air every weekend: summer is here. It's time to break out the barbecue, kick back, and enjoy the moment. Need a little help getting everything together? Here's your guide to the best vegan burgers for grilling.
The burgers of today are advanced, they're not like the mushy veggie burgers of yesteryear. (If you love those, no shade intended. Some of those veggie burgers made the list!) They've been crafted to look, taste, cook, and smell like meat, right down to that delicious char-grilled magic that occurs when you throw a conventional burger on the barbecue. They might even fool your uncle. (We kid. Gentle reminder to never feed someone food without letting them know what it is.)
Ready to get into the meat of things? Here are the best vegan burgers to grill this summer. We highly recommend sizzling up some hot dogs, too.
The Best Meatless Burgers for Grilling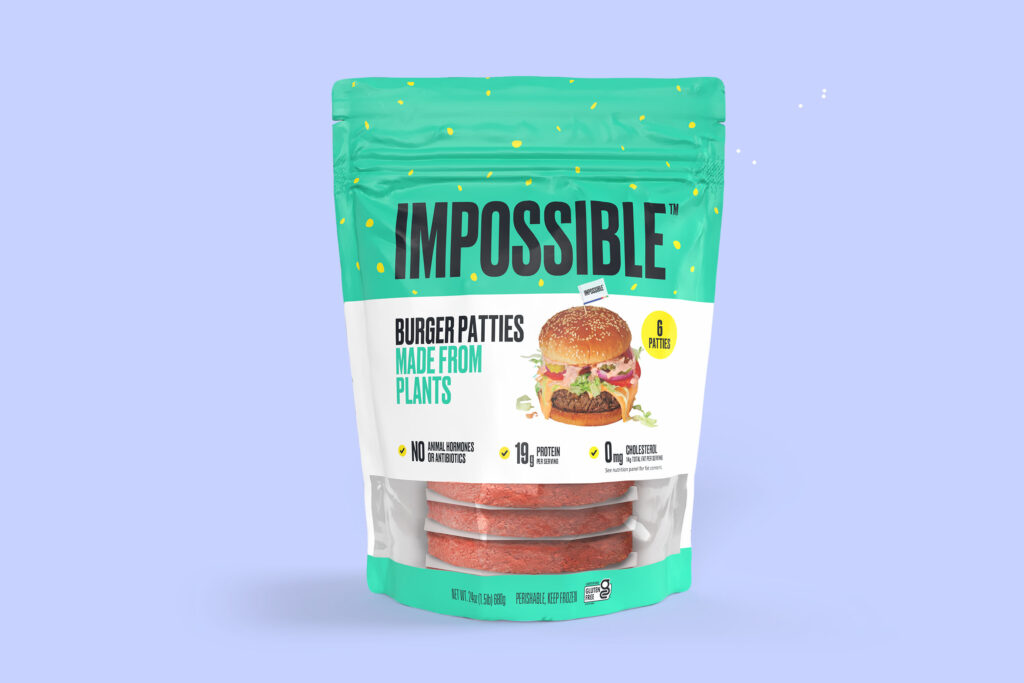 Impossible Foods
The Impossible Burger first sizzled its way into the restaurant scene in 2016, and finally hit retail stores three years later in 2019. Today, you can usually find it in the meat aisle in a number of stores, including Walmart, Target, Kroger, and Wegmans.
It comes in two forms: ready-made burger patties and ground meat, which you can hand-form into patties. Both options have their strong points: the patties are convenient, and the ground meat is customizable, so you can mix in garlic, onion, and spices prior to grilling. You can even make a cheese-stuffed Impossible Burger, aka the Minnesota classic, a Juicy Lucy.
Both options are made from soy and potato protein and use coconut and sunflower oils to give them a juicy sizzle when you throw them on the grill. They get their famously savory, meaty flavor from an ingredient known as "heme," an iron-rich molecule derived from soy. (Heme is made through fermentation, in a similar way to beer.)
Beyond Meat
The Beyond Burger has undergone some updates since it first launched in 2016, like marbling that gives its burger patties a juicy texture. It's made from pea protein, making it soy- and gluten-free.
There are a few options from Beyond Meat. For ready-made burgers, there's the classic Beyond Burger or the budget-friendly Cookout Classic. The latter comes in an eight-pack so it's great if you're having a gathering. (Or if you just love burgers a lot.) It's also made from pea and rice protein, instead of just peas. Then, there's Beyond Beef, the ground meat option, which you can customize ahead of grill time with any additions. This also works fantastically with the aforementioned Juicy Lucy recipe.
Everything Legendary
Plant-based startup Everything Legendary is new to the scene, but it's already made a splash, snagging a $300,000 investment from Mark Cuban on "Shark Tank" earlier this year. Co-founder Duane "Myko" Cheers launched the company after his mother was diagnosed with lupus and changed her diet to alleviate the symptoms.
Everything Legendary's burgers are made from pea protein and free from soy and wheat, and the juicy texture is thanks to coconut and canola oil. The company makes two options perfect for sizzling on the grill: ready-made vegan burgers or ground meat.
Gardein
At nearly 20-years-old, plant-based brand Gardein knows its way around meat alternatives. Its most recent contribution to grilling season, The Ultimate Plant-Based Burger, is made from pea and wheat protein and is designed to look, cook, and smell like meat. If you're more of a fan of classic veggie burgers, give the Ultimate Falafel Burger, the Ultimate Black Bean Burger, or the Ultimate Italian-Style Chickpea Burger a try. They'll be a welcome addition to your meatless barbecue.
Trader Joe's
Need an affordable vegan burger for your barbecue? Trader Joe's Protein Patties cost under $5 for two quarter-pound patties. These burgers are made from pea protein and sizzle deliciously when you throw them on the grill. Pick up a pack or two and then swing by the cheese aisle for some budget-friendly dairy-free cheddar for the ultimate vegan cheeseburger.
Alpha Foods
Made from a blend of soy and wheat protein, the Alpha Burger has a meaty flavor and bite to it, and is a great contender for your barbecue. This burger comes in a two-pack so it's a good choice if you're having a two-person vegan burger grilling get-together. Just let it sizzle on the grill until it's warmed through, then serve as you like it. Can we suggest topping it with some dairy-free cheese?
Fry's Family Food
Made by 30-year-old, family-owned brand Fry's Family Food, The Big Fry Burger sizzles on the grill and tastes like a conventional ground beef burger. This juicy quarter pounder also packs 20 grams of protein per patty, courtesy of soy and wheat gluten, which also help give it a deliciously meaty texture.
Good & Gather
Target is coming through with its Good & Gather Meatless Patties, which are made from pea protein and contain those little pockets of fat that give a plant-based burger that coveted marbling effect and juicy flavor. This range also offers vegan ground meat if you prefer to customize your burgers before you get them on the grill. At under $6 a pack, the Good & Gather range is a great option for affordable plant-based meat.
Dr. Praeger's
Veggie lovers rejoice! Dr. Praeger's Sensible Foods has 16 kinds of plant-based burgers for grilling, from The Perfect Burger made from pea protein, butternut squash, carrots, and sweet potatoes to its Cauliflower Veggie Burger, Mushroom Risotto Veggie Burger, and more. The long-standing vegetarian brand also makes a vegan turkey burger that packs 20 grams of protein per patty.
Tesco
The UK's largest supermarket chain has plenty to offer in the burger department. It offers two kinds of burgers through its Plant Chef range —plain meat-free and barbecue jackfruit — as well as a few flavors through its chef-created Wicked Kitchen range. You'll also find multiple brands in its aisles including Heck, The Meatless Farm, and Naked Glory.
---
LIVEKINDLY is here to help you navigate the growing marketplace of sustainable products that promote a kinder planet. All of our selections are curated by the editorial team. If you buy something we link to on our site, LIVEKINDLY may earn a commission.