There's no better way to cool off during the blazing summer months than with a scoop—or two!—of vegan ice cream. (Okay, maybe also taking a dip in a pool filled with ice cubes, but I digress.) Thankfully, the perks of living in Los Angeles include the city's bountiful oasis of ice cream shops serving up dairy-free frozen goodness daily. This is the best vegan ice cream in Los Angeles.
Best Vegan Ice Cream in Los Angeles
From cookie dough to mint chocolate chip to classic vanilla bean—you can find just about any ice cream flavor of your vegan fancy in the City of Angels. So, what do you say: cup or cone? Here's the scoop on the best vegan-friendly ice cream spots that L.A. has to offer.
Van Leeuwen
With shops nestled in New York, Texas, New Jersey, and Los Angeles, Van Leeuwen takes the cake. Or ice cream, I should say. I visited the chain's trendy Silver Lake location. And although Van Leeuwen isn't completely vegan—they sure do have plenty of dairy-free options to choose from. I opted for the sweet and creamy chocolate fudge brownie. The flavor features chunks of chocolate brownies and lots of fudge. It is very rich, but I *highly* recommend it. (Just make sure you have a cup of water handy.)
The company makes decadent cashew- and oat milk-based flavors, including pistachio, caramel almond praline chip, and strawberry. It even recently launched a limited edition non-vegan flavor that made my stomach roll: Kraft Macaroni & Cheese. Eat your heart out. Or… don't.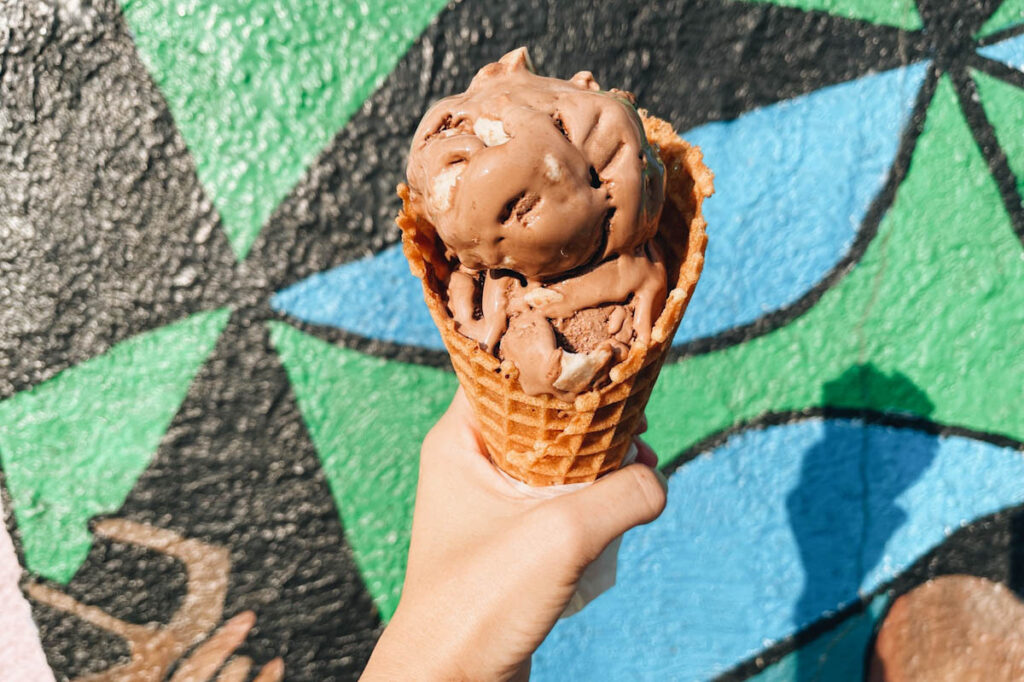 CREAMO by Donut Friend
If you've been in L.A. longer than an hour, you know Donut Friend is *the* place to get vegan donuts. (I mean, come on, donut flavors include Caramel on Parade, Fudgegazi, and Javabreaker. Yes, the latter is infused with coffee and topped with an espresso bean glaze. It's seriously addictive.)
Last year, the donut shop opened the vegan ice cream spinoff in Silver Lake. One foot into the door of this ice cream shop and you'll swear you're at a rock show. The joint serves up 16 vegan flavors named after bands. Don't believe me? Try a scoop of CREAMO's Plain Thai Teas, Paramoreo, or Corn Against. I got three (yes, three. Don't judge) scoops of Rocky Roadolato. The flavor features rich chocolate ice cream, mini marshmallows, and toasted almonds for a little crunch. It tasted just like how I remembered it tasting as a kid. And CREAMO even carries shakes. Mosh to that.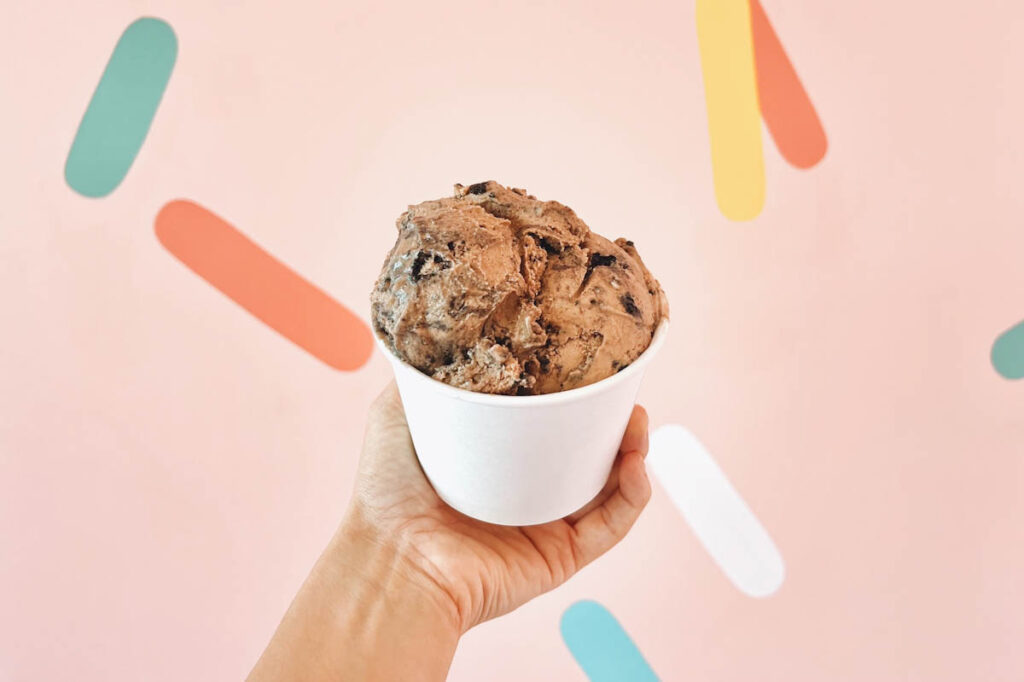 Dear Bella Creamery
Angelenos may be curiously squinching their brows at the name of this one. Known as Cocobella Creamery since its inception in 2017, this vegan ice cream shop recently changed its name to Dear Bella Creamery. But don't worry. The shop is still serving up scoops of its iconic flavors: Cookie Monsta, Honeecomb, Kinda Baked, Strawberry Fields, Rocky Road… yum.
Located right next door to Doomie's Home Cookin' in Hollywood (you bet your bottom dollar that I placed an order for vegan jalapeño poppers), I had to avert my hungry eyes from the freezer of ice cream cakes (those things are deadly). It took me like ten minutes just to pick a flavor: Thick Mint, which features an oat milk base and was surprisingly good considering I'm not a huge fan of mint. (But the fact it's loaded with chocolate sandwich cookie crumbles had me sold.) It took me another five to pick my toppings (because is ice cream really ice cream without toppings?): hot fudge, which I got on the side.
The founders' Taiwanese roots also inspired many of the flavors, including the Taiwanese Pineapple Cake and Mango Sticky Rice. Whether you fancy a hand-dipped cone (yes, please!), a waffle cone, a cup, or a pint to-go, you simply can't go wrong with Dear Bella Creamery's seasonal-inspired flavors. Did I mention this place also carries sundaes, floats, shakes, and soft-serve?
Magpie's Softserve
Okay, so they don't carry ice cream. But the scratch recipe soft serve dessert shop does offer a number of vegan flavors. With locations nestled in Silver Lake, Highland Park, and deep in the valley in Tarzana, you're guaranteed to find a Magpie's Softserve spot near you if you're LA-based.
I stopped by the Tarzana location to snag my favorite vegan item on the menu: Cookies & Cream Softserve Pie. Featuring an Oreo cookie crust topped with vanilla bean softserve, fudge, a cookie and cream whipped topping, and extra Oreo pieces, this pie is seriously good. Like if they'd just given me a cup full of the whipped topping, I would have been happy.
The company usually carries more vegan options than it does dairy-based. Flavors include Thin Mint, Vanilla Latte, Strawberry Banana, and Orange Creamsicle—just to name a few.
Paradis Ice Cream
With countless locations around Southern California—Hermosa Beach, Dana Point, Valencia, etc.—I'm extremely lucky to have a Paradis Ice Cream a few miles away from me in Sherman Oaks. (Their close proximity has no bearing on the fact that I may or may not order from them regularly on Postmates…)
And while this ice cream shop isn't totally vegan (goat milk ice cream?!? Whyyyyyyyy?), they do carry a plethora of delectable sorbet and almond milk-based flavors. So, what's on the menu? The seasonal flavors of avocado and lime (I have questions) and chocolate-dipped strawberry, as well as double almond chip, hazelnut crunch chip, and peanut butter chip (fave), to name a few. I obviously went with the peanut butter chip. And since they were out of vegan cones (grrr), I was generously given two extra scoops at no extra charge. Featuring an almond milk base, the ice cream is loaded with peanut butter and chocolate chips (which it could have used more of). But talk about a dangerous combo.
Still having sugar cravings but not located in Los Angeles? I feel for you. Check out our guide for vegan ice cream in New York City.
And if you are based in LA, I want to hear what your favorite vegan ice cream spots are. Send in your recommendations for the best vegan ice cream in Los Angeles to editorial@livekindly.com. Be sure to include your name and a photo of your tasty frozen treat.