Environmental laws will be at the center of climate change mitigation in 2022.
Last year saw several new pieces of environmental legislation conceived, suggested, and implemented, covering areas as diverse as animal sentience, food waste, and deforestation. These bills have helped to further the protection of animals, mitigation of climate change, and conservation of the environment.
However, it also became clear in 2021 that the vast majority of government action does not go far enough. Instead, it is falling to an increasing number of climate lawsuits seek justice for the negligence of public and private officials on the subject of climate change so far.
The role of climate legislation (and climate litigation) in humanity's shared future is essential, and it is an intrinsic part of countless struggles ranging from fracking to human rights. Here are some of the most groundbreaking environmental bills, laws, and orders to watch in 2022.
NYC will ban new gas hookups
A new bill sponsored by former New York City Council Member Alicka Ampry-Samuel will prevent all new buildings less than seven stories tall from hooking up to gas lines after 2024.
Instead, new structures must rely on electricity for all cooking and heating requirements. Construction projects for buildings above seven stories will have until 2027 to make the change. Hospitals, commercial kitchens, and laundromats are exempt from the restrictions.
While New York state has relatively low CO2 emissions per capita, NYC has the third-largest impact of all world cities, and buildings are responsible for a huge 70 percent of its greenhouse gas (GHG) emissions. According to a study produced by the think tank RMI, the bill will cut approximately 2.1 million tons of carbon by 2040—the equivalent of 450,000 cars. It should also significantly improve the city's air quality, a significant threat to its inhabitants.
Berkeley, California, became the first U.S. city to introduce such a ban in 2019, followed by San Jose, Santa Rosa, Mountain View, and Brisbane. Brookline, Massachusetts, has also introduced legislation, and dozens of other cities are considering similar measures.
Since the announcement of the NYC bill, New York Gov. Kathy Hochul has proposed the first-ever statewide ban on gas hookups in new buildings to further reduce GHGs throughout the region. In 2019, the state was the sixth-largest consumer of natural gas in the country.
New UK homes to have EV chargers by law
Legislation announced by British Prime Minister Boris Johnson in November 2021 will mean that all new homes and non-residential buildings in England, including supermarkets and other workplaces, must install electric vehicle (EV) charge points from this year.
The government believes that this will lead to up to 145,000 additional charge points installed per year in the build-up to 2030, when the sale of new diesel and petrol cars will end throughout the UK. Existing non-residential buildings undergoing extensive renovation or refurbishment may also be required to install EV charge points.
The announcement is representative of the increasing emphasis on EVs and sustainability throughout the industry, with manufacturers from Honda to Sony now consistently launching new designs, making pledges, and displaying prototypes. However, the state must do more than demand charge points from developers to support the widespread adoption of electric cars, which will doubtless be an essential part of cutting emissions and mitigating climate change in the coming years.
Less than one month after hailing the new charging point legislation as part of a national "green revolution," the British government quietly rolled back certain details, including that every shop, office, or factory in England should install at least one, citing potential costs.
For those who will depend on car parks and public settings to charge their vehicles (such as drivers without access to private parking), this rollback means less opportunity for refueling and therby potentially fewer EVs on the road overall. As with the majority of the current party's policies, this rollback prioritizes business interests over those of the less wealthy.
The law that aims to make Europe climate-neutral
Adopted in June 2021, The European Climate Law enshrines the European Union's goal to become climate-neutral by 2050 as a legally-binding obligation. Member states have been working towards the approval of such a law since at least 2019.
The legislation sets a framework to reduce net GHGs across the EU by at least 55 percent ahead of 2030 relative to 1990 levels. According to the European Commission, this will primarily involve "cutting emissions, investing in green technologies, and protecting the natural environment."
The European Climate Law is unlike anything that came before and represents a huge step towards successful climate mitigation. However, as shown by the majority of global policy from the last few years, making pledges and abiding by them are two very different things.
Furthermore, some experts believe that the value of net-zero may be overstated. The majority of net-zero goals made by nations and private companies alike typically require offsetting continued, harmful GHG production in some way (by planting new trees, for example), but this is not as effective as curbing harmful behaviour and cutting GHGs.
Carbon offsetting also depends on partly-developed technology such as carbon capture even though zero-carbon economies are well within sight. Some critics describe the concept of offsetting as a distraction from the growth of existing renewables and sustainable practices.
New Jersey to phase out diesel trucks
New Jersey recently announced plans to phase out diesel trucks by 2025, just three years away. It joins Washington, California, and Oregon, all of which have also set ambitious targets for the electrification of large vehicles. (Substantially sized diesel trucks are key contributers to the transportation sector's emissions.)
The Advanced Clean Truck Rules are modeled after California's regulations. They will make New Jersey the first east coast state to make a move away from fossil fuel-powered trucks and towards making EVs compulsory. The legislation will benefit the state's low-income communities, in particular, who experience the worst of air pollution.
It will also significantly reduce New Jersey's overall GHGs, as 41 percent of its emissions are produced by the transportation sector. The state is already investing heavily in EV and charging station deployment, and Democratic Governor Phil Murphy has announced at least $13.7 million backing for electric buses and trucks.
"New Jersey is already experiencing the adverse impacts of climate change, but we have the power and obligation to reduce its worsening in the years ahead by acting now to limit our emissions of climate pollutants," says Department of Environmental Protection commissioner Shawn LaTourette.
President Biden to drive auto industry towards electrification
Last August, President Joe Biden signed an executive order on Strengthening American Leadership in Clean Cars and Trucks to make 50 percent of all new vehicles sold in 2030 zero-emissions, including electric and hybrid vehicles.
The executive order also "kicks off" the development of long-term fuel efficiency and emissions standards to "save consumers money, cut pollution, boost public health, advance environmental justice, and tackle the climate crisis."
According to the White House, the proposed rulemaking surrounding fuel efficiency and emissions standards could save around 200 billion gallons of gasoline and reduce approximately two billion tons of carbon pollution.
The administration's proposed Build Back Better Act also includes installing the first-ever network of EV charging stations. However, this bill has stalled and Democrats continue to scale it back in order to court skeptics such as West Virginia Senator Joe Manchin.
It's also worth noting that Manchin has family ties to coal production and has accepted more campaign donations from the fossil fuel industry than any other member of Congress. While the future of Build Back Better is uncertain, the White House remains optimistic.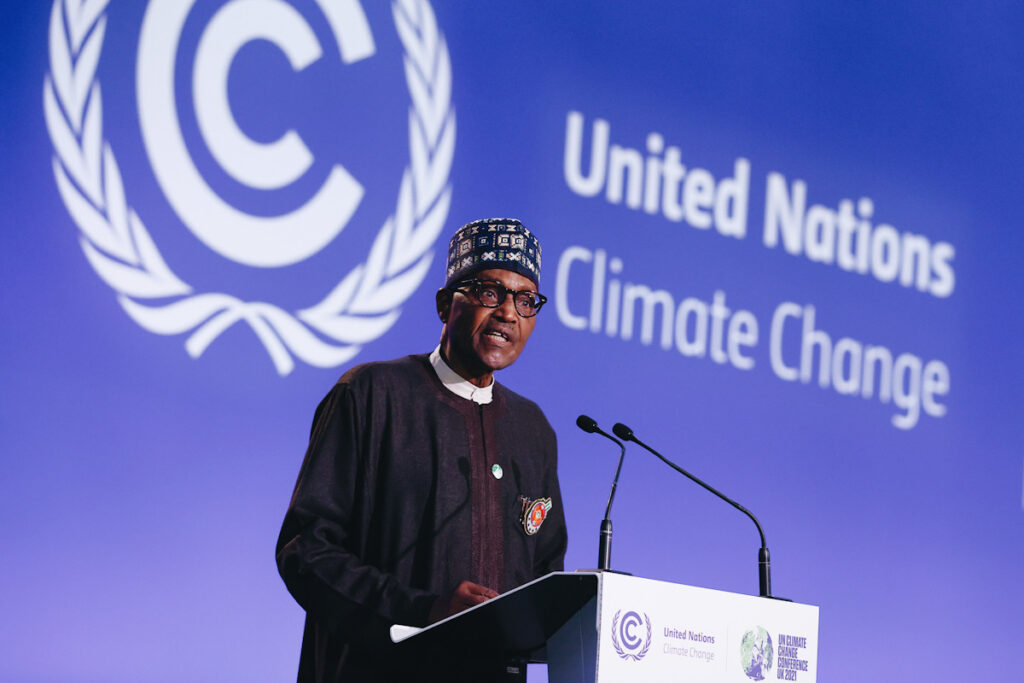 Nigeria's climate bill promises sweeping change
Following COP26, Nigerian President Muhammadu Buhari signed a climate bill into law committing his government to the production of a thorough and far-reaching climate plan.
The Climate Change Act includes a net-zero target of 2050 to 2070 (first announced at COP26) as well as provisions to set five-year carbon budgets. It also established a National Council on Climate Change, which will oversee the implementation of carbon budgets.
The bill's sponsor, Representative Samuel Onuigbo, told Climate Home News that he has been trying to get climate legislation passed for over 10 years, and that progress had been made thanks to momentum from COP26 and support from Environment Minister Sharon Ikeazor.
The first of Nigeria's carbon budgets is set to be announced by November 2022, with both one-year and five-year emission reduction goals. Nigeria is the first developing country to commit to annual budgets, and just a few developed countries set out such targets with regularity.
Climate Action Tracker currently rates the Nigeria as "almost sufficient," and notes that "some information on the anticipated pathway or measures for achieving net-zero is available, but with limited detail." The country's current goal is to reduce emissions 20 percent below projected business as usual for 2030, though international backing successfully increases the target to a significant 40 percent.