Every year, when the holidays roll around, you struggle to find the Goldilocks gift for your beauty-obsessed friend, co-worker, or cousin—you know, the one that fits just right for that person who scours their Instagram feed for the latest beauty advancements. But seeing that smile of surprise and joy upon opening a gift box makes the tireless search all worth it.
But how do you find that perfect gift? We've got options for everyone, including the multitasking boss, the adventurous DIYer, the eczema-prone, the budget-minded, the K-beauty addict, and the environmentalist—and all these gifts are cruelty-free.
While vegan beauty products are great because they avoid any ingredients derived from animals or any ingredients derived from animal byproducts, cruelty-free beauty goes further, avoiding testing on animals during any stage of manufacturing or testing, as well as not conducting business with third-party companies that test products on animals. And the cruelty-free beauty options are more excitingly diverse than ever, offering makeup, perfume, nail polish, skincare, reusable sheet masks, and even subscription beauty boxes.
From that vegan bestie who blasts Rihanna all day long to your project-loving mom, here are the cruelty-free beauty gifts to snap up this season.
The best beauty gifts of 2021
For the Bestie Who Won't Treat Themself: Fenty Eau de Parfum
Your bestie always gazes longingly at the perfume counter, but never gets anything for themself. For the ultimate gift, splurge on this sexy little Fenty Eau de Parfum bottle, featuring magnolia, musk, tangerine, and blueberry, as well as floral additions of Bulgarian rose absolute, geranium, and patchouli. The one you split a gold heart necklace with deserves only the best cruelty-free perfume.
For the K-Beauty Addict: Peach & Lily Glass Skin Refining Serum
Peach and Lily, the first American e-tailer of Korean beauty products, is known for launching the "glass skin" trend, a phenomenon of clear, luminous skin. The company meets certified cruelty-free standards, and all its products are vegan except for the Kbeauty Rescue Balm, which has beeswax. Gift the Glass Skin Refining Serum for instant moisture, brightening, and firmness.
For the Zero-Waste Earth Lover: Honest Reusable Silicone Sheet Mask
If sheetmasking is more their speed but they've been using disposable masks, which are often made out of cotton or hydrogel and soaked in chemicals that are neither compostable nor biodegradable, do both your friend and the earth a solid with the Honest Reusable Silicone Sheet Mask, which can be soaked in essences or serums and used over and over again.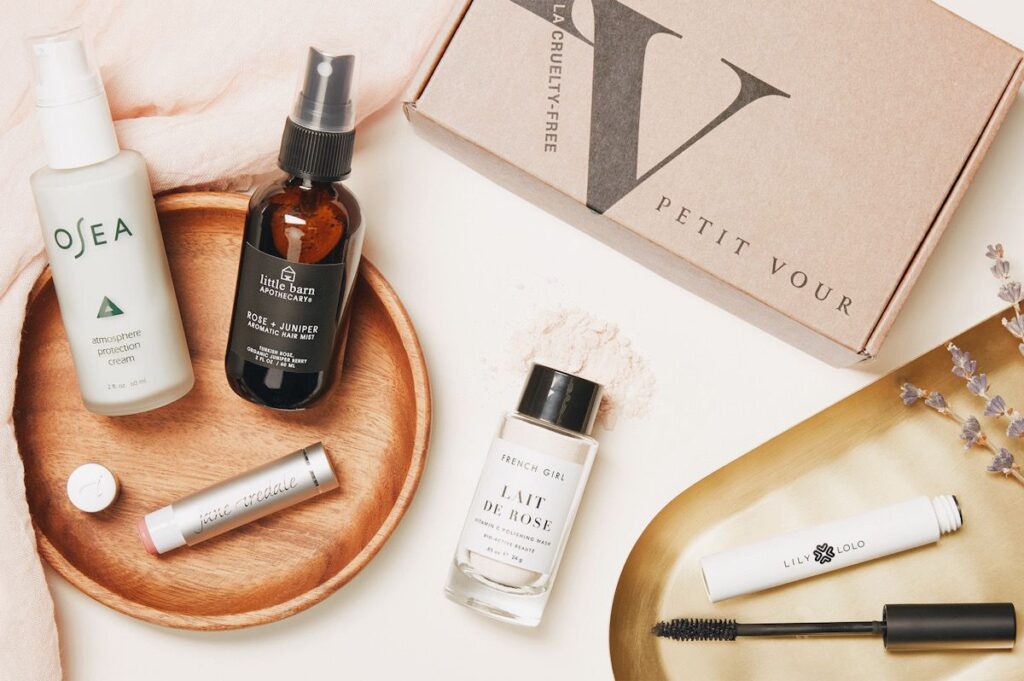 For the Busy Bee: A Cruelty-Free Subscription Beauty Box
You know the friend we're talking about: the one whose calendar is stacked with meetings and whose espresso machine runs into overdrive all day long. Send them an all-in-one, cruelty-free beauty gift that's perfect for their on-the-go life. Kinder Beauty, LoveGoodly and Petit Vour all offer fabulous subscription boxes and gift options for your multitasking pal, so they can pop on some Earth Harbor Mermaid Milk Nutrient Glow during their redeye flight or swipe on the Sappho New Paradigm Maximum Intensity Vegan Mascara before a big meeting.

Something for the Budget-Minded Beautician: OPI Nature Strong Nail Polish
If you want to get your beauty buddy something that they won't hesitate to buy again after it runs out, go for a budget-minded gift. OPI's new vegan nail polish, Nature Strong, has 30 shades in a variety of neutral, earthy colors. The price tag of $11.50 is worth it for the cruelty-free assurance.
For the One With Their Dermatologist On Speed Dial: Blossom Lotus Hydrating Scalp Oil
One thing a lot of people with calm skin don't realize is how itchy eczema-prone scalps can get. Help out your friend with irritated skin by gifting a beauty oil that does triple duty for your skin, scalp, or hair. The Blossom Lotus Hydrating Scalp Oil hydrates, prevents inflammation, and protects against free radicals. The 13 intensely hydrating ingredients include goji fruit, pomegranate, argan oil, and sea buckthorn oil.
For the Adventurous DIYer: Herbal Beauty Books
Is your friend always posting themself trying the latest beauty trend? It's time to give them a boost beyond the latest trend and help them build some deep knowledge in their herbal apothecary. Just order up these plant-based beauty books, which include recipes using herbs and foraged materials. Try Handmade Apothecary and Wild Beauty to have them whipping up herbal-scented soaps, cleansing facial masks, healing poultices, and infused oils and balms.
---
LIVEKINDLY is here to help you navigate the growing marketplace of sustainable products that promote a kinder planet. All of our selections are curated by the editorial team. If you buy something we link to on our site, LIVEKINDLY may earn a commission.