Life is full of silly little annoying things. Spilt coffee, chipped nails, Emily in Paris. But, for me, right now, tiny mirrors take the crown. Stay with me. Actually, don't. Go and inspect your beauty bag. How many tiny mirrors do you see lurking in eyeshadow palettes, blusher compacts, and lipstick lids? If you can't be bothered to move, I'll tell you: there are LOTS. But what makes tiny mirrors more serious than a stubborn stain—or an English character who can't finish a sentence without saying mate or inviting someone to the pub—is that when I sought the advice of my wing woman Google on how to recycle them, she said "nope, can't be done." Blunt, but sadly true.
As a culture, we have a problem with consumption. We want more, new, shinier, faster, better—always. When I started curating my makeup collection all those years ago, I wasn't thinking about recycling or sustainability. I did not think past the point of the new colors I wanted to try, the new formulas I wanted to test, the pretty packaging that caught my eye. I'm far from alone. By 2025, the global beauty and personal care market is predicted to reach a global value of more than $716 billion. But many of those purchases will sit gathering dust in a drawer. A 2014 study by Vaseline (the most recent I can find on this subject) suggested that 77 percent of UK beauty consumers use fewer than 10 items regularly. And when it comes to waste, mirrors are just the tip of the iceberg. The beauty industry produces 120 billion units of packaging annually. Most of that is not recyclable.
But as with all environmental issues, we cannot place all of the blame on consumers. Like fast fashion, there's a growing fast beauty market that encourages us to buy new products all. the. time. This segment of the industry is a beast that survives on us being sucked in by "limited-edition" palettes, mascaras that extend lashes "like never before," and moisturizers that'll leave you with the "most enviable of glows." The fast beauty machine wants us to put everything under the sun on our faces, throw it in the trash, and start again. And, despite the destructive and incessant waste this beast creates, we feed it regularly, all because we're given the message by brands that it's more than ok to do so. In fact, it's necessary, it's fun, it'll make us happy.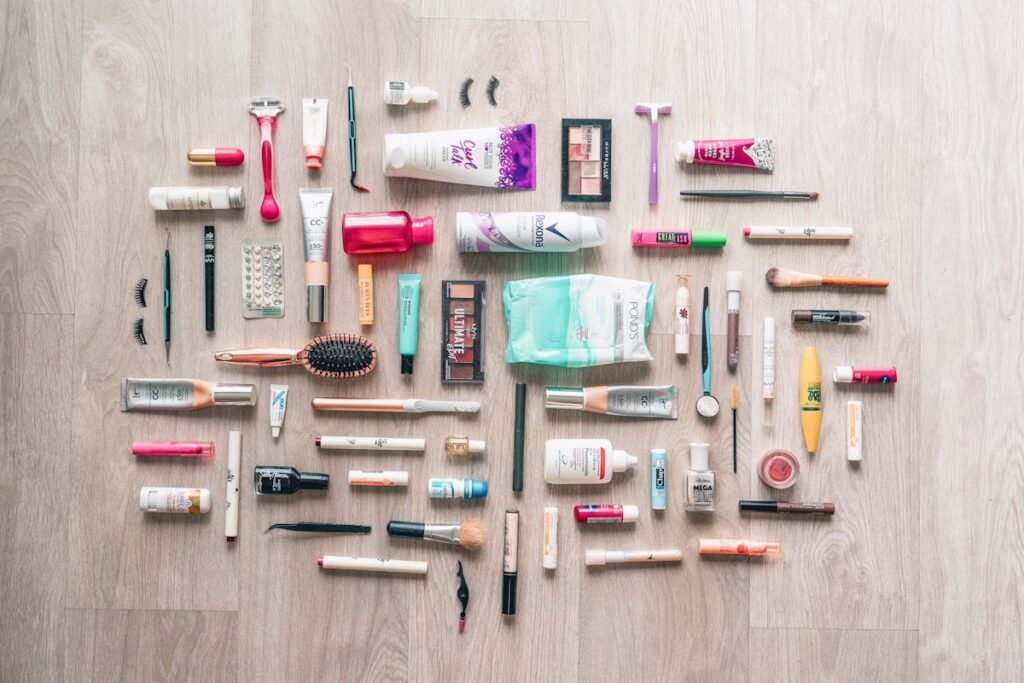 The rise of fast beauty
When ColourPop launched in the mid-2010s, it was, seemingly, an overnight hit. Suddenly, the brand was everywhere, and its social media following, which now stands at 10 million on Instagram, skyrocketed. But while the California-based cosmetics giant's brightly colored, high-performance formulas were fundamental to its success, its business model of fast production, cheap prices, and savvy social media use saw it rise to lofty heights in the cosmetics world. Basically, ColourPop took off by "applying the fast fashion model to beauty," founder Laura Nelson told Fashionista in 2018.

Like fast fashion, fast beauty minimizes the gap between production, sale, and shipping, allowing brands to be nimble in keeping up with ever-changing trends and consumer demand. "Both fast fashion and fast beauty brands pump out new products at warp speed on a continuous cycle," explains Ericka Rodriguez, who founded slow, organic beauty brand Axiology. "They encourage people to always buy new, new, new."

In fashion, this means churning out polyester variations of the latest trends as quickly as possible. In beauty, this often means offering very similar formulas repackaged in new, creative ways. For example: Kylie Cosmetics reveals birthday packaging every year, while ColourPop has become a dab hand at teaming up with movie, game, and even sport franchises to create new collection after collection. (Some of its most notable partnerships include Malibu Barbie, Frozen, Animal Crossing, The Mandalorian, and the NBA.) UK cosmetics giant Makeup Revolution also employs this tactic, consistently rolling out new collaborations with mega-influencers, like Alexis Stone and Weronika Sowa, as well as brands like Bratz and Disney.

The majority of these products are packaged in plastic, and as previously mentioned, very difficult to recycle. But that's just one part of the problem. More than ever, brands also want to get these products to the door of the consumer as quickly as possible. Lush has teamed up with DoorDash to offer same-day shipping, and Sephora can deliver certain orders within two hours. Convenient, yes. But all those extra non-consolidated journeys have a price: the shipping industry emits nearly a billion tons of CO2 every year. That's three percent of global emissions. And, on top of that, the industry contributes 18 to 30 percent of nitrous oxide emissions, a gas that is three times more potent than CO2.

But there is growing consumer awareness around beauty's sustainability problems; a recent poll by WeDo found that more than half of consumers consider the environment to be an important factor in beauty purchases. And so, just like fast fashion with its "conscious" collections that represent no real meaningful change beyond a few more garments made with recycled polyester, sometimes, beauty uses greenwashing to imply its products are better for the planet than they actually are. Sustainability-related buzzwords, like "natural" or "vegan," are often used as marketing terms, but neither always means environmentally-friendly.
Why natural doesn't always = sustainable
"It is frequent to associate synthetic ingredients with bad and nature-based ingredients with good, this is not always true," says Dr. Joana Marto of the University of Lisbon's Faculty of Pharmacy, who co-authored a 2019 study on sustainability in the cosmetics industry. She added that there are several natural ingredients frequently used in cosmetics that "raise several sustainability issues" in terms of the environment and human rights.

Cocoa butter, for example, is natural and vegan, and while it can be produced ethically, its supply chain is linked with exploitation. A 2019 Washington Post investigation shed light on a child labor epidemic in the cocoa industry on the Ivory Coast. And in 2018, leading research firm Verisk Maplecroft conducted a study into harmful ingredients in cosmetics, and found cocoa used in blusher, bronzer, body lotions, and hand creams.

Palm oil, with its renowned links to deforestation, is another example. It's found in 70 percent of cosmetics. And mica, a mineral often used for shimmer and pigment, has child labour connections. In 2019, Dutch child rights organization Terre des Hommes Netherlands found 11,000 children employed in the mica mining industry in Madagascar. Verisk Maplecroft found mica in 100 percent of the blushers tested, as well as 40 percent of the mascaras, and 60 percent of the foundations. It did not name the brands used in the test.

"The use of mica as a pigment raises several issues related to the social domain of sustainability, as child labour remains predominant in mineral mining, not to mention the environmental impact of mining itself," says Marto. But she also noted that progress is being made in this area: L'Oréal has pledged to ensure traceability and transparency in its supply chain, with 98 percent of its mica coming from "secured sources."

But ultimately, Marto says that "if companies aim to be truly sustainable, they must take a holistic view and feature the multiple dimensions of sustainability." This encompasses everything, from raw materials, to manufacturing, packaging, and distribution. But the truth is, fast beauty brands just don't care about hitting every one of these notes. As long as they have something "good" to shout about, like some naturally derived ingredients, the greenwashed distraction process is complete. But everything has its antidote. Slow beauty brands prioritize sustainability over profit, from start to finish.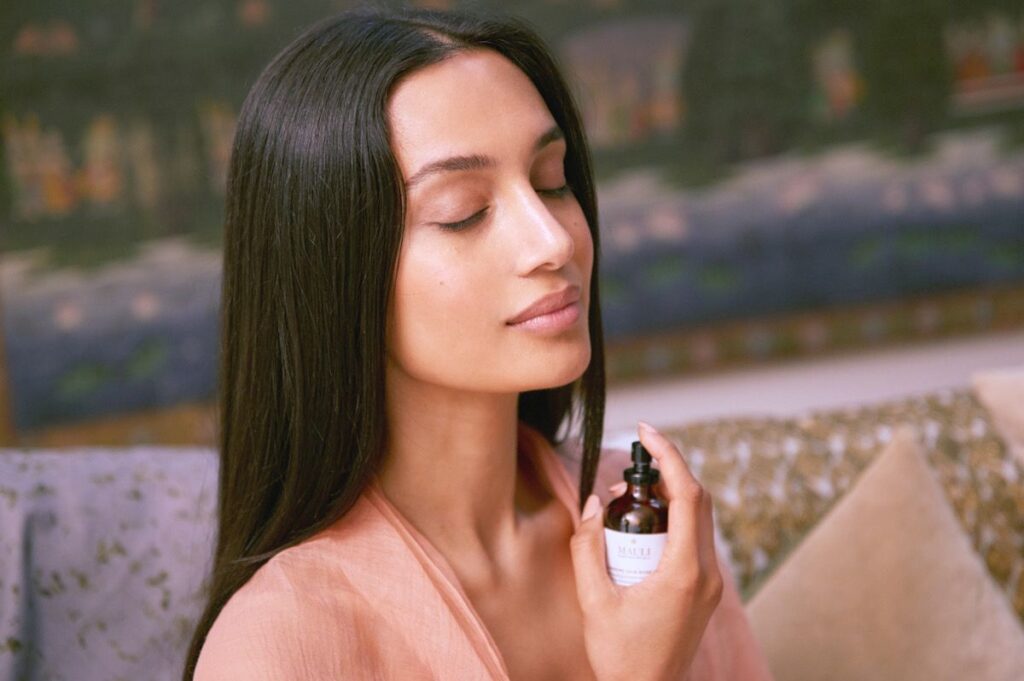 The brands slowing down the beauty industry
Beauty, by nature, is ritual. Whether you meticulously apply false eyelashes and the perfect cat eye or simply stick to a tried-and-true skincare routine, the process, when done to optimal satisfaction, is slow. The supply chain should mimic this. And like pretty much all sustainable solutions, the idea of taking things slower isn't new. Just like sustainable fashion has its roots in a simpler way of living, before clothes were seen as disposable, slow beauty's principles can be traced back to a time before makeup giants even existed.

UK brand Mauli Rituals, which produces items in small batches, allowing time for careful and considered product creation, is built on the concept of Ayurveda, an alternative medicine system developed on the Indian subcontinent thousands of years ago. "We are all connected. To look after the wellbeing of our people and planet is to look after our own wellbeing," explains Anita Kaushal, the brand's co-founder. "We've lost touch with the value of slow—be it beauty, fashion or food."

Fundamentally, slow beauty is based on the idea that less is more. Like Mauli Rituals, this has led several brands to look past the traditional makeup and skincare product formulas. Many have developed multipurpose products, reducing waste and boosting efficiency simultaneously. Karen Lee-Thompson, the founder of slow, multipurpose skincare brand Wo Skincare, says: "We see a lot of waste in the beauty industry, always creating loads of new products and encouraging consumers to buy or use more. We want to introduce a different way of thinking." And Rodriguez takes a similar view with Axiology. "We only launch what is needed and in a slow, conscientious way," she explains. "The goal is to mimic nature—to make sure nothing ends up in landfills, incinerators, or the ocean and can be reused in some way."

Dew Mighty's focus is also on multipurpose (Its Bloom Jelly Serum Bars take the place of up to eight products in a beauty routine) as well as refillable containers, and compostable packaging. It embodies a rejection of the fast-paced beauty industry. "Like fast fashion, fast beauty is made for the sake of consumption," says founder Tiffany Buzzato. "But trending product launches every few months are not necessary if you are creating well tested efficacious powerhouse products to maximize results for all skin types."
These indie brands are incredibly influential. Increasingly, bigger, faster brands are looking to smaller brands as leaders in the beauty space, supporting them with investments and mentorship, as they demonstrate new innovative, sustainable ways of approaching the industry. Take clean beauty, for example. "It started as a small movement by indie beauty brands," recalls Rodriguez. "Now, it's estimated to be an $11.6 billion industry by 2027." Bigger brands are already experimenting with multipurpose, zero-waste, and low-waste products. Garnier launched solid shampoo bars last year, Charlotte Tilbury offers refills for many of its moisturizers and cleansers, and while it isn't plastic-free, Milk Makeup's Lip + Cheek is at least multitasking.

And we must support positive changes, by rejecting the fast beauty approach. It's easy to fall into a rhythm of consumption, hoping that the next eyeshadow palette or concealer could be the game-changing holy grail your face is craving. But we're simple creatures, really. We don't love beauty for the sake of buying new things. We love it because it's about us. It's about taking time for ourselves in a world that demands so much of our time and energy in so many different directions. By embracing the slowness of beauty, in the rituals we follow and the brands we use, we can take control back. We can empower not just ourselves, but our precious planet at the same time.