Is wine vegan? At its core, wine seems like something that should always be vegan. After all, it's just fermented grape juice, right? While this is true, sometimes winemaking involves animal products, like egg whites. It's one of those facts that gives you pause and makes you ask—wait, really? Egg whites? In my wine? Really. As bizarre as it sounds, the cultural phenom known as wine is not always vegan.
Why Wine Isn't Always Vegan
Due to a process known as "fining," which filters out the sediments—protein and yeast—that make it hazy, wine is not always free from animal ingredients.
These sediments are primarily dead yeast cells (yeast is used to ferment wine and an increasing number of vegan animal proteins) and grape solids such as skins, stems, and seeds. It can sometimes also include crystalline formations called potassium bitartrate, or just "tartrates," but more on that later.
Traditional fining agents include gelatin, egg whites, milk proteins (casein), and isinglass, a type of collagen derived from the dried swim bladder of certain types of tropical fish. This same process is also typically used to clarify beer.
Thankfully, vegan wine isn't rare. Kaolin clay, bentonite clay, pea protein, activated charcoal, and even Irish moss, a type of algae, can be used to filter wine. But according to the Washington State University manual, "A Guide to the Fining of Wine," non-vegan fining agents are byproducts of factory farming and tend to be more affordable.
A technique called "racking" can also be used to partially remove sediments, which is when wine is siphoned from one barrel to another during the fermentation process, allowing gravity to do the work in leaving unwanted particles behind.
But fining wine isn't actually necessary. You can buy unfiltered wine, it's all a matter of consumer preference. Some producers don't fine their wine because they want it to have a richer mouthfeel. For example, a full-bodied Cabernet Sauvignon may have only been racked.
What Are the Sediments in Wine?
Now, back to the sediments, like tartrates. Tartrates form during the fermentation and aging process and affect the acidity of wine. They occur naturally in grapes as tartaric acid.
"Potassium bitartrate (cream of tartar) precipitates out of the wine as crystal structures at prolonged periods of cold storage, known as 'cold stabilization,'" Chris Scholomiti, owner and winemaker at CJS Vineyards in New York's Finger Lakes region, tells LIVEKINDLY.
Phenolics are another type of sediment found in wine. These "are naturally occurring compounds in grapes that are found in the juice and subsequent wine," says Scholomiti. The types of phenolics sound like something out of chemistry class: complex phenols of non-flavonoid compounds (hydroxybenzoic acids and hydroxycinnamic acids) and flavonoid compounds (anthocyanin, and tannins), and tannins. These compounds will not be removed by filtering—they simply exist, and add to the flavor and color of the wine.
"Tannins give us astringency and bitterness in wines," Sholomiti continues. "That's why we oak barrel age red wines to decrease tannins via slow oxygenation."
Sweeter wines also require filtering to prevent the re-fermentation of sugars in the bottle, which also removes sediment.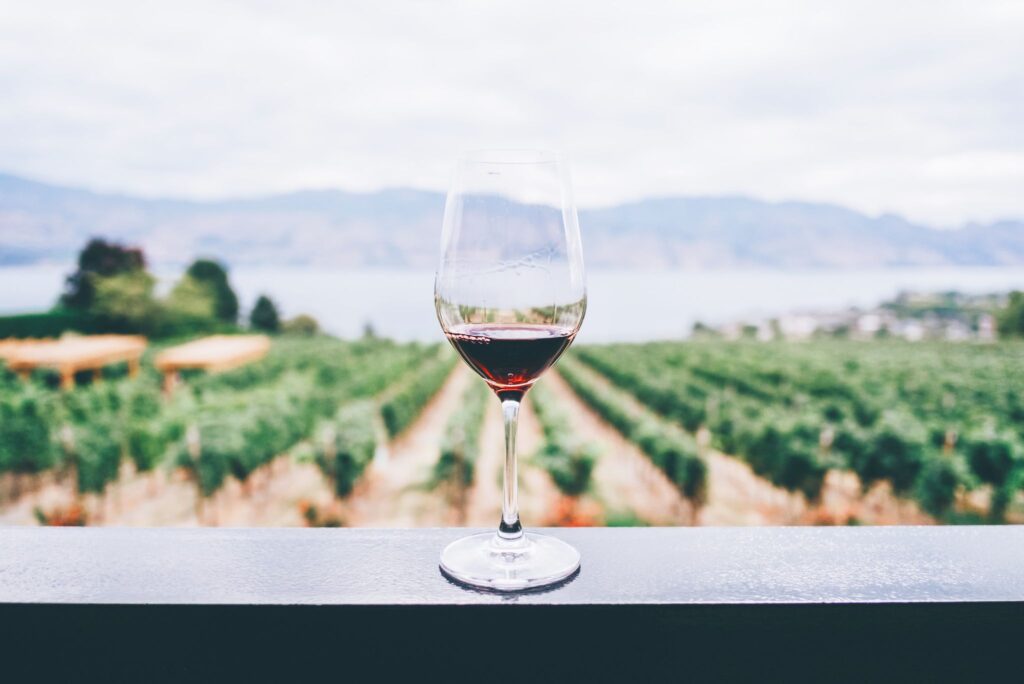 How to Tell If Wine Is Vegan
So, how can you tell when wine is free from animal ingredients?
The term vegan is not regulated by the USDA, FDA, TTB (Alcohol and Tobacco Tax and Trade Bureau), or any government entity, for that matter. According to the TTB, there are 62 ingredients that can be added to wine without requiring disclosure from the company, ranging from fining agents to color additives such as MegaPurple, a grape concentrate added to "color correct" wine and oak chips. The latter helps to replicate the flavor of aging in an oak wine barrel.

So, it's tough to know when wine is vegan. But, there are a few ways to tell. Barnivore is a database of nearly 53,500 alcoholic beverages that actively reaches out to producers to confirm if a beverage is vegan. Or, you can buy from a source that only offers vegan wine, like Vegan Wines, an online shop and subscription service.There's also BeVeg, an accredited vegan certification company and law firm that grants brands the license to use its logo if a product is free from animal products. It also has an app that makes determining whether or not something is vegan easy.
Frances Gonzalez, co-founder of Vegan Wines says that more wineries are moving away from non-vegan fining agents due to demand: "They're aware of the trend and are now starting to embrace it."
Avaline, a "clean" wine brand (as with "vegan," there is no FDA or USDA regulation for what constitutes a "clean" food or beverage) founded by Cameron Diaz, lists its wines as "vegan-friendly." Querciabella, a renowned biodynamic winery based in Milan, Italy, also calls out that its wines are vegan on its website. UK retailer Marks & Spencer committed to making all of its wine vegan by 2022.
But, you might not always see "vegan" on the label, Monique Soltani, executive producer and host of the award-winning show, Wine Oh TV, tells LIVEKINDLY. "Most wine could be considered vegan, but it's not branded as such. A lot of winemakers find the use of animal products to be antiquated," she said.
If you're strict, then there are other things to look for, such as the glue, which can sometimes contain ingredients derived from animal bone or connective tissue, used for the label.
If a wine isn't labeled vegan and if you can't find it on Barnivore or Vegans Wines, then the best way to find out is to ask.
Top 7 Vegan Wines
We asked Soltani for her top picks for vegan wines, what she loves about them, and how to pair them with food.
Dry Creek Vineyard, Sonoma County Heritage Vines Zinfandel, 2019
This vintage from fourth generation family-run Dry Creek Vineyard is described as silky and smooth, with a bright acidity and round, rich mouthfeel. It has notes of boysenberry, black cherry and raspberry with nuances of toasty cedar, warm spices, and cocoa powder. Based in Sonoma County, this vineyard is Certified Sustainable by the California Sustainable Winegrowing Alliance (CSWA), a third-party certification earned by vineyards that produce high-quality grapes while preserving natural resources, improving air and water quality, and protecting natural ecosystems.
Soltani says that this "easy to find, easy to drink, well-made wine is perfect for a newbie, run-of-the mill, or know-it-all wine drinkers alike."
Food pairing: A vegan burrito bowl with black beans and quinoa.
Merry Edwards Winery, Klopp Ranch Vineyard Russian River Valley Pinot Noir
Founded in 1997, Merry Edwards Winery produces critically-acclaimed wines on 80 acres in the Russian River Valley in Sonoma County. Its estate vineyards, which were planted in the late 1980s, are Certified Sustainable by the CSWA.
Its Klopp Ranch Russian River Valley Pinot Noir is described as having lush tannins and a bright acidity with aromas of raspberries, Kir liqueur, macerated cherries, cola, and licorice and notes of plum, baking spices, and cinnamon.
"Merry Edwards and Pinot Noir go together like mushrooms and Pinot: a perfect pairing," says Soltani, who calls this red wine approachable and pleasurable for any wine drinker.
Food pairing: These butternut squash and mushroom enchiladas, swapping in your favorite vegan cheese or these vegan mushroom meatballs.
Di Costanzo, Farella Vineyard, Cabernet Sauvignon, 2018
The Farella Vineyard located in Coombsville in California's Napa Valley, America's most famous wine region, has been in production since the late 1970s. For the Di Costanzo Cabernet Sauvignon, all of the fruit is sustainably grown and hand-harvested from a single vineyard known for its volcanic soil. No fining and filtration is used.
"I'm going to let you in on a little secret, this is one of my favorite wines from one of my all time favorite families," says Soltani, adding that the DiCostanzos are one of the most under-the-radar winemakers that the Napa Valley has to offer. This Cabernet Sauvignon is truly something that everyday wine drinkers and star sommeliers will both enjoy.
Food pairing: Porcini mushroom tagliatelle or this pasta dish with creamy cashew sauce, mushrooms, and asparagus.
Foursight Wines, Charles Vineyard Sauvignon Blanc, 2019
The 2019 Sauvignon Blanc was harvested from Foursight Wines estate vineyards in Boonville, California located in Anderson Valley in the north. The 2019 release is fermented with wild yeast and malolactic bacteria, a strain of bacteria used in wine production to reduce acidity. It is aged in stainless steel and neutral French oak barrels. According to the vineyard, this is a fruit-forward wine brimming with notes of citrus and florals.
"What I love about a Sauvignon Blanc is that it's pretty much everyone's entry level wine," says Soltani, adding that it pairs beautifully with brunch. "A well made Sauvignon Blanc like this one is bright and fun and can be a porch pounder or a shining star on the darkest of days."
Food pairing: Avocado Toast, topped with a citrus vinaigrette. Or, your favorite brunch recipe. Vegan waffles and egg muffin cups, anyone?
Bodegas Volver, Spain, Tempranillo, 2018
Located in the La Mancha region of Spain, Bodegas Volver was founded by fourth-generation viticulturist Rafael Cañizares, whose work centers around recovering old vineyards. Today, his daughter Sofia Cañizares is preparing to take over her father's work and continue his vision. Its Tempranillo is harvested from an organic, dry-farmed vineyard first cultivated in 1957. It has a fruity aroma with hints of plum, black cherry, and toasted oak.
Soltani sings the praises of this easy-to-drink wine, which also comes with an affordable price tag at $16 a bottle. "I love a good well made wine under 20 bucks and if the wine is organically farmed and vegan then all the better," she says.
Food pairing: Sweet corn succotash.
The Vice, Orange of Semillon, "Brooklynites," 2020
The Vice Wine is a BeVeg-certified, organic, biodynamic winery located in the Napa Valley. Its Orange of Semillon wine, aka the "Brooklynites," is made from Semillon grapes grown on a single vineyard. This golden-hued wine has bright acidity and a full-bodied mouthfeel with notes of papaya, banana, kumquat, and ginger, and the wine gives way to citrus and dried apricot.
Soltani recommends this adventurous wine for all: "An unfiltered orange wine is something that gets somms and influencers alike excited. While you get to sit back and enjoy this fun and full of life wine, and feel good knowing it was made thinking about pleasing the planet and your palate at the same time."
Food pairing: Red lentil dhal or an Indian curry.
Sans Wine Co. Poor Ranch Vineyards Carbonic Carignan, 2019
Located in the Napa Valley, this canned wine is produced from the Coyote Rock Block, the oldest block of Carignan grape on the Poor Ranch Vineyards, which was planted in 1943. Sans wine is certified by the California Certified Organic Farmers and no sprays of any kind are used on the vines or soil. It is also dry-farmed, which means that the vineyard relies on rain for water. This canned red wine is unfined, unfiltered, and contains no additives. It has aromas of plum, Provençal herbs, violet and rhubarb, with flavors of raspberries, cranberries, blueberries, and notes of cinnamon.
"You can't go wrong with Carignan in a can, can you? It's appealing to entry level wine drinkers or I even know a few sommeliers with thousands of bottles under their belt who can't get enough of this high quality, ethically made canned wine," says Soltani.

Food pairing: Roasted eggplant along with your favorite backyard BBQ accompaniments.
---
LIVEKINDLY is here to help you navigate the growing marketplace of sustainable products that promote a kinder planet. All of our selections are curated by the editorial team. If you buy something we link to on our site, LIVEKINDLY may earn a commission.