Cooking without the right equipment is like trying to make sugar cookies without a rolling pin—it can be pretty dang difficult. So this holiday season, the best gift of all for your foodie friend is most likely going to be a tool that makes their time spent in the kitchen a little easier (and tastier). Not sure what to get for the ones in your life who seem to live in their kitchen? We've got you covered. From a beloved Dutch oven to a self-watering herb garden, here are our top picks for foodie gifts.
For the one who always burns rice: An Instant Pot
Show of hands, who else can't cook rice on the stovetop without burning it? It's more people than you think—and that's why we have rice cookers and multi-purpose gadgets, like the Instant Pot. This cult-favorite pressure cooker is foolproof when it comes to making fool-proof rice as well as easy suppers like soups and stews.
For the homebody: Le Creuset Dutch oven
The Le Creuset Dutch oven is the technicolor cast iron cookware that's on every home chef's wishlist. Its icon status is well-deserved. Its versatility makes it ideal for a wide range of dishes, from slow-cooked stews to braises, desserts, breads, and more. (And not only can it be used in the oven, but it's also suitable for all stovetops. Swoon.) These enamel-coated pots are easy to clean, conduct heat evenly, and the tight-fitting lid helps circulate steam, which helps lock moisture into your food. And if you take proper care of them, then they last for decades.
Plus, these enameled cooking vessels come in so many shapes and sizes in candy-colored hues (or muted tones, for fans of neutral colors). What's not to love? We recommend the classic round Dutch oven (technically, Le Creuset makes French ovens), which is the perfect shape for a multitude of culinary creations. The 5.5- and 7.25-quart Dutch ovens are just the right size for families and batch-cookers but for smaller households, we suggest going for the 3.5-quart version.
For the amateur pastry chef: Nordic Ware stackable cooling racks
It's a tough rule to follow, but you should always let your baked goods cool before you take a nibble. And sadly, cooling racks don't always have enough space to fit even a basic batch of cookies, which means that some need to stay on the sheet pan while the others rest. If you have a small kitchen, cooling down your baking projects has another level of difficulty added on because you need to free up precious cooling rack space before you can move on to the next batch.
This two-tiered cooling rack is the gift that the friend who's always got a fresh batch of treats to share will love you for. And when they're done with it, this pretty, space-saving copper rack disassembles with ease and stores easily in a cabinet, just awaiting the next batch of vegan chocolate chip cookies.
For the vegetable butcher: A nakiri knife
A staple of Japanese cooking, a nakiri knife is designed to slice through thick-skinned vegetables like pumpkins and butternut squash with ease and precision. This is because the thin blade cuts straight through them–no rocking needed, like you would need to do with other blades. This nakiri knife from Bernal Cutlery is forged and hand-finished in the city of Seki, Japan, which is considered the home of modern, state-of-the-art Japanese cutlery. This 6.5-inch knife holds a nice edge and is easy to sharpen, making it a great gift for home cooks and professionals alike.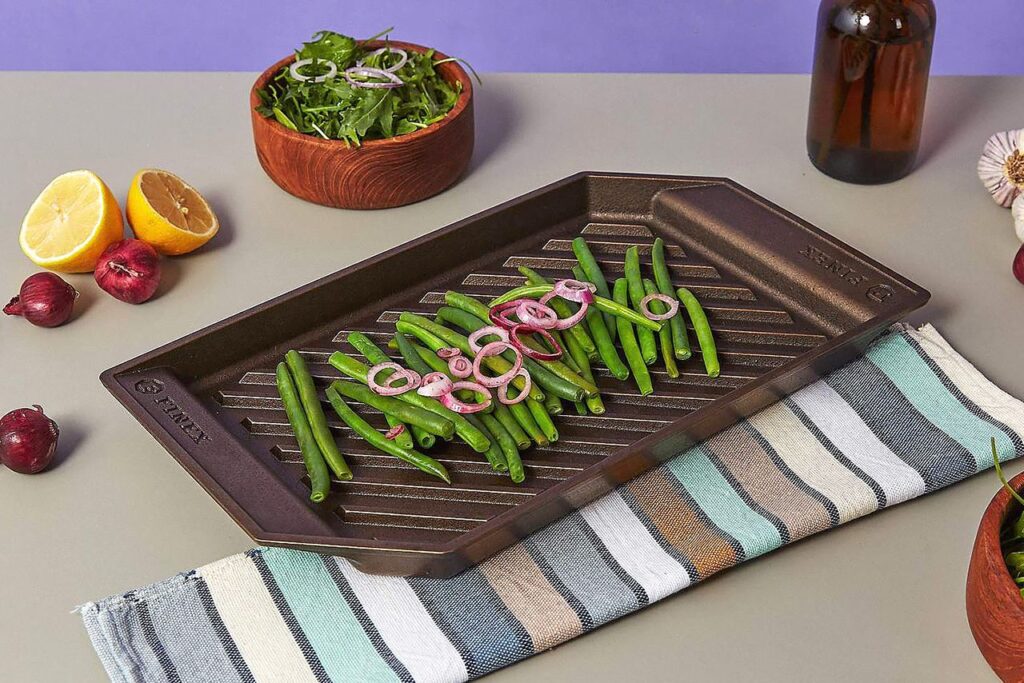 For the indoor grillmaster: Finex cast iron grill pan
Grilling isn't just for indoors (cue cheering from everyone who doesn't have a backyard). This cast iron grill pan features BBQ-width grill ribs that give you those 'gram-worthy cross-hatch marks from searing. Each rib is a quarter-inch tall, providing enough room for excess fats and juices to drain away, so veggie burgers will sizzle, rather than fry. (But it's for more than just burgers and sausages–hello, grilled vegetables all year round.) The thick, heavy base distributes heat evenly, whether it's on the stovetop or on the grill.
For the DIY geek: Ohio Stoneware fermentation crock
Know someone who eschews store-bought pickles and 'kraut in favor of making their own? Then they'll probably love this handmade stoneware fermentation crock. This versatile vessel, made out of American-made stoneware, is fairly unchanged from the crocks used to store and preserve food before refrigeration became the norm. Your giftee will be making sauerkraut and kimchi or preserving vegetables like cucumbers and cabbage in no time. (Hello, gut-healthy probiotics.)
For the coffee connoisseur: A Fellow French press
In case you didn't know, some people take coffee seriously. And if you're not one of those people who insist on drinking French press or pour-over coffee daily, then you probably know at least one person like that. This 24-ounce French press makes enough coffee to caffeinate a grown human until lunchtime and it does it all while looking good, with a matte black exterior and walnut wood details. The double-walled stainless steel exterior helps keep coffee hot while you go about your morning business.
For the college kid: Bodum electric kettle
Dorms don't allow much but chances are, your college-bound nieces, nephews, and niblings can keep an electric kettle on hand. This electric kettle was specially designed with coffee and tea lovers in mind, as some teas like green and jasmine are too delicate for boiling water. It has five temperature settings, from 140ºF to 212ºF, so you can pick the perfect setting for your beverage of choice. It has a sturdy double-walled glass carafe and a warming plate function to keep water hot. But it's good for more than just teas–it can also be used for instant noodles, soups, and more dorm-friendly foods where you need only add hot water.
For the bread baker: Emile Henry clay loaf pan
Eating freshly-baked bread is one of the most life-changing experiences in the world. And the right equipment can work wonders on homemade loaves. This pan is handmade in France from Burgundy clay, which retains heat while the vented lid sends excess moisture packing, resulting in a wonderfully crisp crust and a fluffy interior that absorbs butter like it's nobody's business. This pan fits loaves up to 1¾ pounds or a half a dozen dinner rolls.
For the plant parent chef: Click & Grow Smart Garden
Fresh herbs are one of the simplest ways to elevate a dish. But the price of fresh herbs can add up fast—especially if you need only a few basil leaves to complete your creation. This self-watering smart garden is equipped with specs that keep herb plants happy and healthy all year round, like a self-watering mechanism, an energy-efficient LED lighting system, and a companion app to ensure that your plants get the care they need. Plus, this set comes with a complementary set of seed pods to get the garden started: tomato, basil, and lettuce.
LIVEKINDLY is here to help you navigate the growing marketplace of sustainable products that promote a kinder planet. All of our selections are curated by the editorial team. If you buy something we link to on our site, LIVEKINDLY may earn a commission.