Gordon Ramsay once declared on Twitter that he was "allergic" to vegans, but the MasterChef host's "allergy" seems to be a thing of the past. In fact, in recent months the professional chef, who is known for his colorful language and propensity to yell at reality show contestants, has developed and shared several plant-based recipes.
For example, in January 2021, Ramsay shared two videos on his YouTube channel dedicated entirely to vegan recipes in honor of Veganuary. "Here are a few vegan-friendly recipes to help make Veganuary that much easier," he explained in the caption. "Remember you can swap out items for alternatives if they don't suit your dietary needs."
Among the culinary professional's favorites are gazpacho made with overripe tomatoes, and an especially flavorful take on avocado toast topped with lemon zest, sesame seeds, and chili flakes. In another YouTube series on winter vegetarian recipes, also shared in January 2021, Ramsay cooked several recipes including roasted squash hummus and olive, tomato, and rosemary focaccia. A few of them just so happened to be vegan.
Since changing his tune with regards to meat-free meals, Ramsay has sampled vegan food, created a plant-based menu for one of his London restaurants, and participated in a vegan MasterChef cook-off with Riverdale star Madelaine Petsch, who follows a plant-based diet and co-produced the recent flexitarian documentary Meat Me Halfway.
"Veganism is on the rise—we've got to adapt and eat a slice of humble pie," Ramsay told talk show host James Corden in March 2019, acknowledging his own past issues with the diet.
The reality star later added in a blog post: "If the roast is going to survive, it needs to evolve to meet the expectations and diets of our generation. Hence the rise of the vegan and vegetarian roast."
Gordon Ramsay loves experimenting with flavorful vegan recipes
These days, the Hell's Kitchen host has renewed his commitment to veganism and is currently partnering with Silk to help launch the plant-based brand's new oat milk. "From a restaurateur's point of view, I could see a more creative demand for [plant-based cooking]. It keeps chefs on their toes. And then when I got to delve into the details of what that movement meant, I had gone on to oat milk," Ramsay explained to Delish in July 2021.
For Ramsay, consuming less dairy was an easy decision to make. "With the sort of demanding times in my schedule, cutting dairy out of my diet on a day-to-day basis was absolutely crucial." In addition to Ramsay's vegan and vegetarian YouTube videos, he's also taken to Instagram to share vegan versions of dishes that are typically made with meat.
The chef, who has completed several marathons in the past, is currently training for an Ironman. He credits some plant-based staples (as well as a rigorous exercise routine) for helping him get fit. "No milk. Just because it's sluggish," he told Men's Journal in August 2021. "Almond milk with Weetabix for breakfast. Smoothie with frozen berries, yogurts. Dropping milk and cheese has made a massive difference."
In March 2021, Ramsay announced that he was "going vegan" and whipped up a charred eggplant steak with mushrooms in a beet juice and red wine reduction. He doubled down in July 2021 when he created a BLT sandwich using seasoned tofu strips in place of traditional bacon. While the Brit hasn't made any permanent changes to his diet, his willingness to embrace veganism is a big step forward, especially considering his former vegan "allergy."
Furthermore, Ramsay also understands that given his role as a respected chef and TV star, it's important that he give veganism a fair shake. "I think we need to be front runners, and we need to be example-setters," he explained to Delish. "Getting creative with plant-based is equally as important as cooking fish or meat. And I think giving the customers the balance [makes sense], but it needs to match the standard. And that's what we worked extremely hard at."
How to cook vegan like Gordon Ramsay
Ramsay loves to share a peek at some of his favorite vegan meals via his YouTube channel. He's particularly fond of dishes that combine unusual flavors, but are simple to make. He also loves to share recipes for dishes that are naturally vegan and don't use any alternative meats or common vegan substitutions. Here are some of Gordon Ramsay's favorite vegan recipes.
Avocado toast with lemon and black sesame sprinkle
Ramsay shared a YouTube video of himself whipping up some of his favorite vegan recipes in honor of Veganuary in January 2021. First up was the breakfast and brunch staple, avocado toast, which the culinary pro made by topping grilled sourdough bread with ripe avocado slices, which he garnished with a refreshing yet spicy mixture of black sesame seeds, chili flakes, lemon zest, salt, and pepper.
"The crunch from the sesame seeds and the heat from the chili flakes just wakes up the avocado," Ramsay explains. "That, for me, is a delicious and light start to the day."
Homemade crunchy granola
For a little treat, Ramsay loves to throw together some "stunning get-up-and-go granola" using fresh vanilla from a pod, oats, puffed rice, wheat bran, pumpkin seeds, almonds, dried cranberries and goji berries for a "chewy" texture, and more. His sweet and satisfying recipe also calls for the granola to be coated in honey before it goes into the oven, so just make sure you use vegan honey if you make this at home.
"My homemade crunchy granola looks good, tastes good, and it's packed with healthy grains, superfood berries, and seeds," Ramsay declares. "It's incredibly good for you too—a breakfast for champions."
Spicy fruit salad with chili
Fruit salad is nothing new, but Ramsay upgrades his by adding a flavorful (and still vegan!) dressing to the mix. The spicy dressing is made with finely-chopped chili pepper, tamarind paste, palm sugar, lime juice and zest, and toasted peanuts. According to the chef, the dressing really complements the fruit salad, which includes diced pineapple as well as sliced apples and pears. He also tosses in some mango chunks and de-seeded cucumber for a "fresh, light note."
"The secret of a good fruit salad is not drowning it in the dressing," Ramsay adds. "Don't worry about just having it for breakfast, because this is the kind of tangy fruit salad you can have for lunch or for a healthy snack in the afternoon. [The dressing] transforms a traditional fruit salad into something really delicious."
Banana fritters
In part two of his Veganuary recipe series, Ramsay whips up vegan banana fritters using a batter that includes ripe bananas, flour, baking powder, sugar, coconut flakes, a pinch of salt, and lime zest.
"The lime really elevates the richness and the denseness of the banana," he explains. Once the fritters are fried, Ramsay sprinkles them with a bit of sugar.
Gazpacho
According to Ramsay, the "secret" to a great bowl of gazpacho is all in the fresh fruits and vegetables you use. His version of the chilled soup is made with overripe tomatoes, bell peppers, cucumber, scallions and basil. Ramsay is also partial to making gazpacho with garlic and chunks of bread—for added flavor and texture, respectively.
The key to this dish, he notes, is allowing all of the ingredients to marinate together, including olive oil, salt, black pepper, and sherry vinegar. "When you blend it, it just comes together like this sumptuous, rich, delicious, chilled soup."
Pineapple carpaccio with pomegranate seeds and vanilla salt
What really makes this healthy, plant-based dessert stand out is the inclusion of vanilla salt, which is simply vanilla seeds and sea salt combined. The unusual topping is then sprinkled on thin pineapple slices, pomegranate seeds, and fresh mint.
Olive, tomato, and rosemary focaccia
In addition to sharing many of his favorite vegan recipes on YouTube in January 2021, Ramsay also shared some of his go-to vegetarian recipes. Not surprisingly, some of those dishes were coincidentally vegan.
For example, the renowned chef, who loves to bake, made a focaccia dough with bread flour, semolina flour, dried yeast, olive oil, and water. He then topped it with more olive oil, tomatoes, olives, and fresh rosemary. "You can't beat a nice warm, fresh slice of home-cooked focaccia," he declared. "It's rustic, charming, and it's the perfect way to start baking,"
Roasted squash hummus
For something "amazingly aromatic" and plant-based, Ramsay suggests roasted squash hummus, another vegetarian (and coincidentally vegan) favorite. In addition to the titular squash, this satiating dip is made with a blend of spices including cinnamon, paprika, fennel seeds, cloves, cumin, and more.
To give the hummus it's traditional texture, Ramsay roasts and blends the squash, and adds cooked chickpeas, tahini, lemon juice, and olive oil. "Spices toasted for maximum flavor [results in] amazing roasted squash hummus," he shares.
Eggplant Steak
In March 2021, Ramsay shocked the internet when he declared: "After three decades of cooking—hundreds and hundreds of thousands of hours behind the stove—I'm turning vegan."
The chef later clarified that his veganism applied to one meal only; however, he did whip up a meat-free eggplant steak by charring an eggplant, coating it in spices such as peppercorns, mustard seed, smoked paprika, and rosemary, and then roasting it in a pan with a beet juice and red wine reduction.
To make the reduction even richer, Ramsay threw in vegan butter and bouillon. He also served his plant-based steak with seasoned mushrooms and vegan mashed potatoes. "Vegan steak dinner happily done," he shared.
Summer BLT
Ramsay (briefly) "went vegan" again in July 2021 when he prepared a plant-based lunch via Instagram that took the form of a vegan summer BLT. While standard BTL sandwiches are made with bacon, Ramsay's vegan version included bacon-like tofu strips seasoned with cayenne pepper, maple syrup, soy sauce, and more. The sandwich also included sliced heirloom tomatoes, vegan brioche bread, a plant-based basil aioli, and crispy lettuce.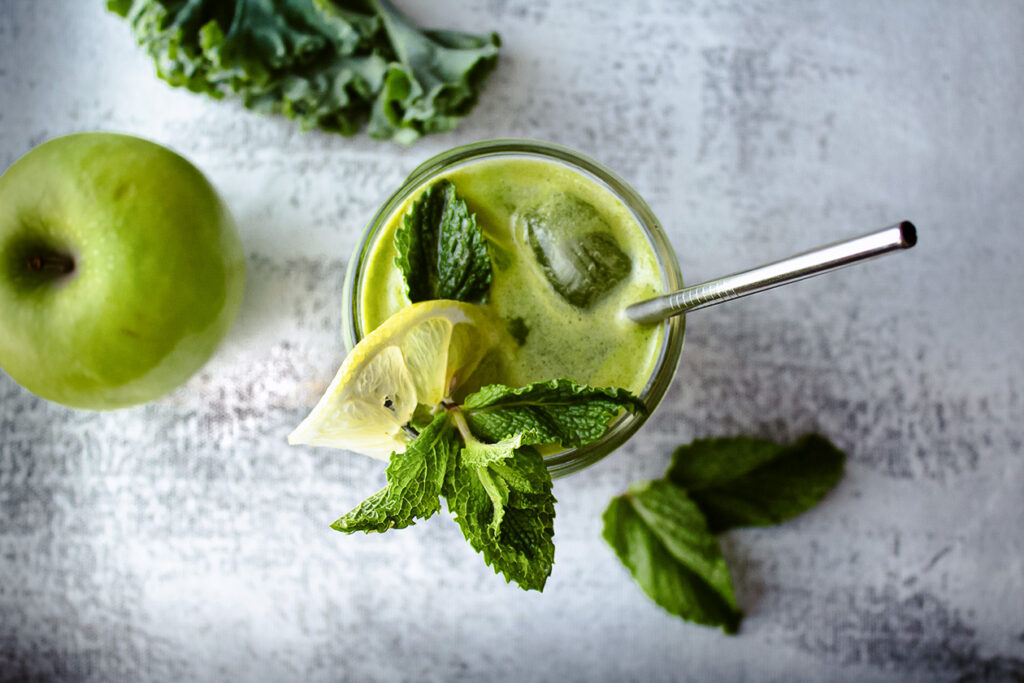 Apple, mint, and lime juice
On his eponymous website, Ramsay has a handful of vegan recipes. One of them is for a healthy green juice made using a delicious combination of fruits and vegetables, including apple, mint, spinach, lime, and cucumber. Simply blend the ingredients together and you'll be ready to run a marathon, revamp a nightmare kitchen, and cook vegan just like Ramsay.