Is Jennifer Lopez's beauty brand, JLO Beauty vegan? Launched on January 1, 2021, the cruelty-free brand includes a handful of vegan products.
Jennifer Lopez debuted her long-awaited JLo Beauty line on New Year's Day after teasing her latest venture on social media for months. The range includes products such as a multitasking skin serum dubbed "That JLo Glow" and a complexion booster named "That Star Filter." The line also includes a hydrating face cream, a gel cream cleanser, an eye cream, a broad spectrum moisturizer with SPF protection and a multitasking face mask, each with clever monikers.
According to the JLo Beauty website, none of the products in the line are tested on animals. The site states: "JLo Beauty is a cruelty-free line. We do not test products on animals or use raw-material suppliers that test on animals. All of our products are Leaping Bunny certified (the gold standard in ensuring no animal testing) and are included in their Compassionate Shopping Guide."
However, that distinction, though important, doesn't mean that all JLo Beauty products are vegan.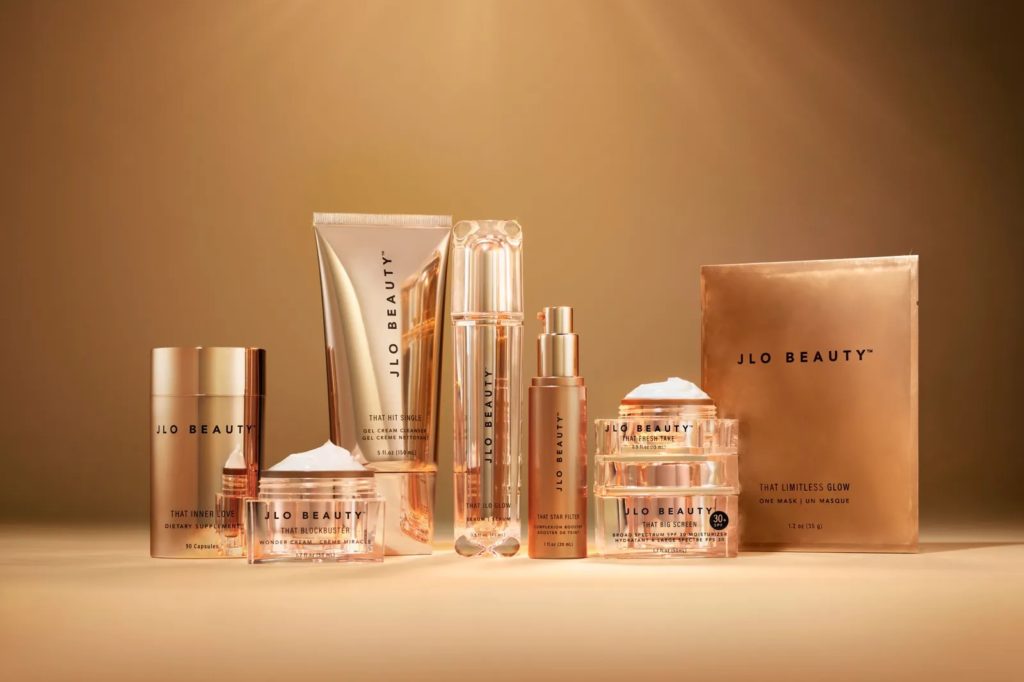 Which JLo Beauty Products Are Vegan?
Out of the seven products in the JLo Beauty range, only two of them are vegan, according to the website. It states: "Currently, two JLo Beauty products are vegan: our That Fresh Take eye cream and That Star Filter complexion booster. Neither contains any animal byproducts."
The other five products contain a host of animal byproducts, including but not limited to: honey extract, carmine, and caprylyl glycol — a fatty acid found in the milk of some animals. Other ingredients, such as trehalose, squalane, and glyceryl stearate, may or may not be vegan depending on whether they originated from plant or animal sources.
By contrast, other beauty brands such as Aveda and Rare Beauty by Selena Gomez have taken steps to ensure that their products are vegan. Aveda removed beeswax and other animal-derived ingredients from its range earlier this year, thus making it fully vegan. Rare Beauty launched as a vegan line in September 2020.
Lopez is committed to making sure the line is sustainable, mainly via its packaging. "Our cartons and shippers are sustainably sourced and contain recyclable materials. Empty cartons and shippers may be recycled according to local regulations. Check your local recycling facilities to see what is accepted. Packing materials are necessary to protect products from damage in transit; we aim to use recyclable materials when possible," the site states.
Lopez, who has released more than two dozen perfumes, confirmed the launch of her beauty line in an August 2020 Instagram post. "Sunset glow. #JLoBeauty coming soon," she captioned a series of photos showing off her radiant face.
In a subsequent Instagram post shared three months later, the Second Act star opened up what the brand means to her. "This isn't just a passion project, it's a 30-year dream," she captioned a video ad for JLo Beauty. "I can't wait to share my skincare secrets with you!!"