Two new vegan meat brands launched by LIVEKINDLY Collective aim to capture the hearts (and taste buds) of consumers in China.
Named Giggling Pig and Happy Chicken, flagship meatless meat brands are designed to cater to Chinese culinary preferences. The brands feature seven products, including dumplings, seasoned mince, and several mushroom-based dishes. Each dish, which is now available across mainland China, provides a modern take on heritage cuisine.
"We worked with a local innovation chef during the product development process, and have taken into consideration the most relevant consumption habits for Gen Z consumers so it's highly relevant to Chinese taste," says Joanna LiuQiao, Regional Director of Greater China at LIVEKINDLY Collective, adding that the younger generation is an early adopter of plant-based foods.
"We see that the younger generation is leading the trend of changing their diets to achieve health benefits and feel better about what they eat," says LiuQiao. "They are in the life-transition moment, like leaving home for dorm living or they're living alone and working their first job after graduation. Lots of consumers told us they have started to shift to eating plant-based food during these life-changing moments."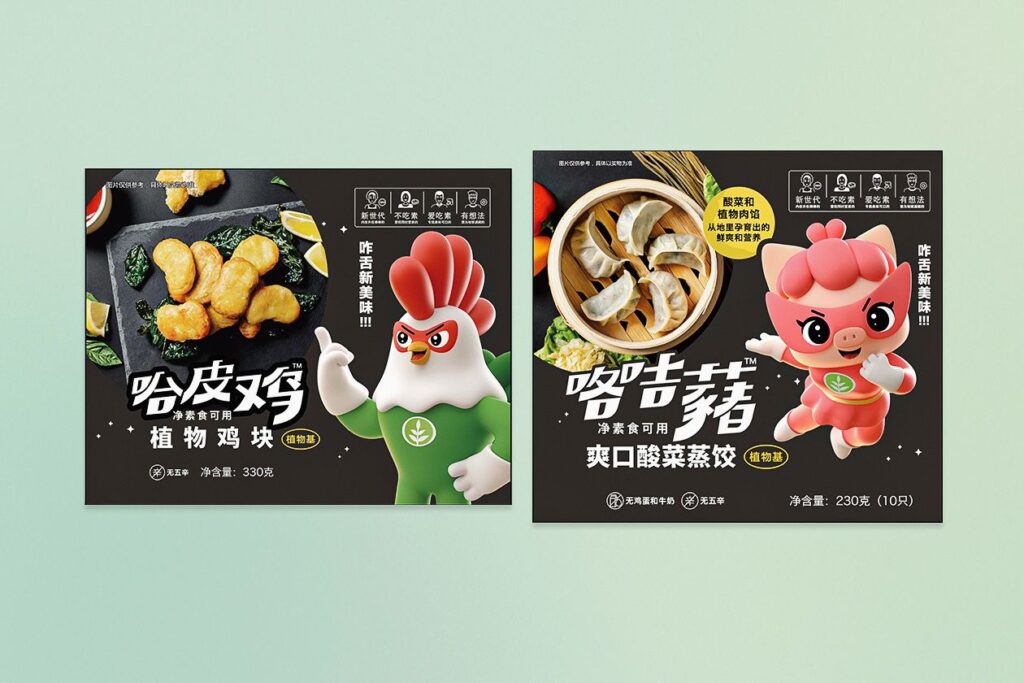 LIVEKINDLY Collective Moves Into China
Giggling Pig and Happy Chicken are the first developed in-house brands from LIVEKINDLY Collective, a collection of plant-based food brands that includes The Fry Family Food Co., LikeMeat, Oumph!, No Meat, and The Dutch Weed Burger, which it acquired earlier this month. (LIVEKINDLY Collective also owns LIVEKINDLY Media.) Since its launch in March 2020, the NYC-based company has raised over half a billion dollars to fund its international expansion, which includes opening its first offices in China.
"China is one of the most exciting and strategic markets for the plant-based revolution, and a key pillar of our growth strategy," says Kees Kruythoff, CEO and Chairman of LIVEKINDLY Collective. "We are proud to launch these new flagship brands, which have been developed and manufactured for Chinese consumers, by Chinese experts, as we say, China for China and at China speed."
Plant-based protein is nothing new in China, where tofu and seitan have existed long before vegan burgers went mainstream. But, like in the West, meat is still at the center of many dishes. The market is changing, though. A new wave of protein alternatives has sprouted up in recent years, delivering meaty beef, pork, chicken, and more made from plants.
The Chinese plant-based food market is fast-growing—and promising. The nation's vegan meat market reached nearly $1 billion at the end of 2018, according to the Good Food Institute (GFI), a nonprofit that promotes alternative protein. That demand is projected to skyrocket 200 percent over the next five years as consumers increasingly seek out healthier foods, per DuPoint Nutrition & Biosciences.
The challenge, however, is giving consumers what they really want. According to a report from GFI Consultancy, the GFI's strategic partner in China, adapting to local taste preferences is the key to success. That's why when developing Giggling Pig and Happy Chicken, LIVEKINDLY Collective turned to Chinese food experts.
China's government is also well aware of the shift toward vegan food. The Chinese Institute of Food Science and Technology, a government-affiliated industry group, established the nation's first standard for labeling plant-based meat.