Waiting for summer to arrive this year feels especially… slow. It's not just the sun we're pining for, but the freedom. We're slowly getting a little bit of normal back and we can't wait to indulge in a few of our favorite summer things: shorts and skirts, beach hats and swimsuits, sandals and sunglasses—and a new beauty routine to enhance our forthcoming natural glow-up.

There are a few reasons why changes to your makeup and skincare are necessary when the season transitions from cool to hot. For one, we sweat more, which means dirt, makeup, and grease gets stuck in our pores more easily. With that in mind, exfoliation should move higher up the priority list. Our day-to-day activities also change. Trips to the beach, the park, and alfresco meals may become more frequent, and if you don't want to go bare-faced, waterproof mascara and lightweight lip gloss are practical choices. (A sweaty face of heavy makeup is not the one when you're sitting in the sun for long periods, trust.)

Lastly, hydration is key. A (plastic-free) bottle of water is a summer essential, but you should factor hydration into your skincare routine too. These must-have summer skincare products (all vegan and cruelty-free!) will help you do just that, plus protect your skin from the sun, keep it clean, and have you looking dewy and fresh, too.
Get Your Skin Ready for Summer: 10 Products We Love
Pai Skincare Soothing Tonic Face Mist
Who's it for? People whose skin is feeling a little bit dry and sensitive.

If you struggle with constant parched, dry, and tight skin, firstly: drink more water. Secondly, add a vitamin-rich face mist into your beauty routine. This one by Pai Skincare is designed to soothe and hydrate, and if you have redness, it will calm that down too. It's packed with antioxidants, which guard against free radicals (those nasty skin cell-damaging molecules that can cause dark spots, fine lines, and blemishes). Plus it also smells delicious, thanks to the floral scents of orange blossom and lotus.
You can use it after cleansing, and after that, just give your face a spritz as and when you feel you need it. 

Check it out here.
bareMinerals Complexion Rescue Tinted Moisturizer Hydrating Gel Cream
Who's it for? Summer-ready skin that only needs sheer to medium coverage—and a boost of hydration.
When the weather is heating up, a full-coverage foundation is a no-no. This is because when our skin sweats, heavy foundation can clog pores and make problems like acne and blackheads worse. If you're not ready to go bare-faced, a tinted moisturizer is your BFF. Complexion Rescue by bareMinerals is available in 20 shades, and protects against harmful UV rays with SPF 30. And, because it's oil-free and water-infused, it's ultra-hydrating too.
Check it out here.
Fenty Beauty Pro Filt'r Instant Retouch Concealer
Who's it for? Anyone who wants to cover up a pimple, dark circles, or fine lines.
Some days, we get pimples. It's a fact of life. It's extra annoying when this happens on the day of a summer date, or the same evening we've planned dinner out with friends and we want to look nice but without the heavy makeup. Enter Fenty Beauty's Pro Filt'r Concealer. Just a dab on red spots or dark patches will help to even out your skin tone. It's a far lighter option than foundation, available in 50 shades, and is sweat-resistant.

Check it out here.
Lush Cherry Lip Scrub
Who's it for? Those with dry, chapped lips, or anyone who wants to upgrade their lip care routine.
Chapped lips are often associated with winter, but lips can dry and crack in the summer months too. A lot of sun exposure can worsen chapped lips, as can dehydration (another reminder to up your intake of water). One way to give your lips some TLC is with a lip scrub, and this one by Lush does the trick nicely. Made with castor sugar and cherry kernel, it's delicious exfoliation at its finest. When you're done buffing off the dry skin, just lick off the excess!

Check it out here.
Kitaka of London Natural Gloss
Who's it for? People looking for a boost of lip hydration, or anyone after a new natural gloss to add to their makeup bag!
Sweeping a light gloss over your lip is a great way to add a touch of glamour to your look during the summer months. This one by Kitaka of London is perfect for hot weather. It has the shine of a normal lip gloss, but the texture is actually more like a balm—no sticky lips here. And thanks to the addition of shea butter and organic meadowfoam, you can expect your lips to feel conditioned and hydrated after use. Plus, it comes in 5 colors.
Check it out here.
Herbivore Coco Rose Body Polish
Who's it for? Anyone who wants to rid their skin of grime, and keep it feeling soft and smooth.
During the summer months, it's best to exfoliate once or twice a week, and that's because sweat and SPF can clog up your pores, leading to a higher risk of blemishes. This body polish by Herbivore is a great option for an evening of self-care. It contains fatty acid-rich coconut oil—which will help to boost hydration—as well as detoxifying pink clay and exfoliating sugar. Once you've massaged a scoop onto your skin, wait a few minutes, then rinse. You'll notice an immediate improvement in how soft your skin feels.

Check it out here.
Blinc Original Tubing Mascara
Who's it for? The swimmers and the beachgoers! Plus, anyone who sweats a lot or mists their face regularly (see point 1).
Long, dark mascara-brushed lashes are all beauty goals… until the heat and SPF starts sweating off your face and dripping into your eyes (ah the joys of summer). Good news: with Blinc Original Tubing Mascara, you don't have to worry so much about rubbing your eyes or your lashes coming into contact with water. Using tube technology, the mascara forms a tiny protective layer around your eyelashes, helping them become smudge- and water-resistant. Magic, right?

Check it out here.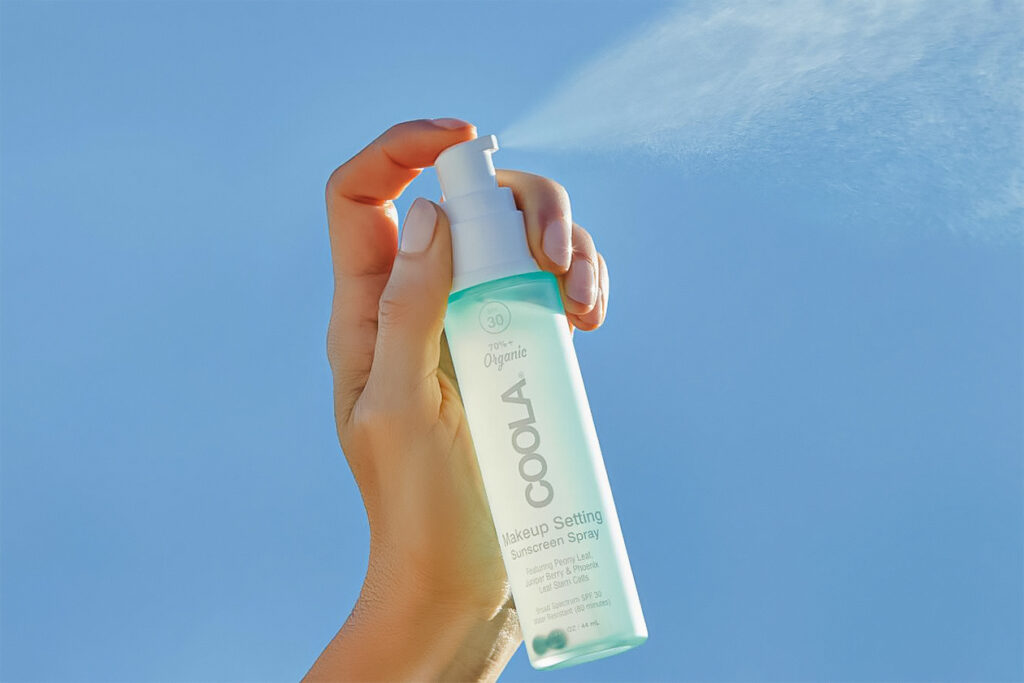 Coola Makeup Setting Spray SPF 30
Who's it for? Anyone who wants to keep their makeup flawless and their face protected against UV rays with one product.
After spending time on your makeup, do yourself a service and make sure it stays perfect for longer with a setting spray. This one is extra summer-friendly because it contains SPF 30 (although it's worth noting here that you should be wearing SPF on your face all year round, find our recs here). It also contains hyaluronic acid, for cell-plumping, cucumber extract, for that super fresh feeling, and aloe vera, so your skin feels soothed.

Check it out here.
Glow Recipe Blueberry Bounce Gentle Cleanser
Who's it for? Anyone suffering from breakouts, or in search of a deeply hydrating cleanser. Suitable for dry to oily skin.
Blueberries are not only delicious; they're also antioxidant powerhouses—yes, even on your skin. This delicious-smelling cleanser contains an added boost of hydration thanks to hyaluronic acid and micro foaming bubbles that remove makeup and grime but don't strip your face of natural oils and hydration. Even better, if your skin really needs a pick-me-up, you can use it as a deep cleaning mask by leaving it on your face for up to eight minutes.

Check it out here.
Peach & Lily Matcha Pudding Antioxidant Cream
Who's it for? Anyone suffering from dullness, acne, redness, or sensitivity. Suitable for dry to oily skin.
A lot of sun exposure can lead to more free radical damage, but antioxidants can help to repair it. This Peach & Lily cream will bathe your skin in antioxidants, from sources like matcha, cape lilac extract, and niacinamide, helping to leave your skin looking brighter and feeling firmer. It also smells amazing, just like a breezy summer's day.

Check it out here.
LIVEKINDLY is here to help you navigate the growing marketplace of sustainable products that promote a kinder planet. All of our selections are curated by the editorial team. If you buy something we link to on our site, LIVEKINDLY may earn a commission.