My Trader Joe's shopping habits have gotten just a tad bit out of hand lately. So, on my last jaunt over to the vegan food oasis, I opted for a kids' shopping cart to help keep my purchasing down to a minimum this week. (Did I have to wrangle the last pint-sized shopping cart out of a toddler's bare hands? Maybe. But I have no regrets…)
Although I'm normally miffed by the assault of the air conditioning blowing at the door (besides being energy inefficient, the breeze usually sends my hair flying), I welcomed the cool bursts of air with open arms. (This heat wave is no joke.)
Inside, I immediately made my way to the "new" section nestled in the back of the store. And my mind. was. blown. Vegan ghee? Meatless chili? Sweet and spicy pickle chips?! I'm going to need a bigger shopping cart.
Keep reading for all of the chain's newest vegan products. You won't be disappointed.
New at Trader Joe's August 2021
The grocery chain has done it again. Every month I think they can't top their last haul of new vegan offerings. And then they do. Here's what's new at Trader Joe's for August 2021:
Jiant Hard Tea
Freshly-brewed oolong tea. Lemon. Sugar. Champagne yeast. I mean, they had me at tea. Available in a variety of flavors—mango lime, blood orange grapefruit, and raspberry mint—this is your new favorite boozy beverage of the summer.
Vegan Cream Cheese Alternative
Y'all know the love I have for a good bagel and cream cheese. And Trader Joe's original vegan cream cheese was the best around. But it appears they updated their product to remove the excess liquid and make the cream cheese firmer. (It's a LOT more firm.) Don't worry, it still has the same great taste. You just need to use a little muscle to spread it.
Organic Coconut & Avocado Oil Blend Vegan Ghee
Slather it on bread. Sauté veggies with it. Admittedly, my vegan ghee melted sitting out on the counter (I told you, it is hot). But I threw it in the fridge and it was a-okay.
Pineapple Fruit Spread
Featuring pineapple and a hint of coconut milk, this fruit spread will have you daydreaming your beachside in the tropics. Spread it on pancakes or English muffins, or use it to sweeten up your banana split sundaes.
Organic Peach Fruit Spread
Trader Joe's fruit spread offerings don't stop at pineapples. The chain also launched an organic peach spread. Mix it into your favorite coconut yogurt, spoon heaping globs of it over cheesecake. Or eat it straight out of the jar. We won't judge you.
Mini Coconut Non-Dairy Frozen Dessert Cones
Trust me: These. things. are. dang. good. Small, but good. I managed to inhale six of these bad boys as soon as I got home from grocery shopping. The creamy dessert features waffle cones filled with coconut cream and lots of chocolate. Trust me when I say you will not want to share.
Taiwanese Green Onion Pancakes
I was hesitant about snagging a package of these, because #pickyeater. Not to be confused with the chain's scallion pancakes, this new product has a thinner dough and is loaded with green onions. I admit it, they were quite tasty.
Sweet & Spicy Pickle Chips & Onions
This jar of sweet and spicy goodness was made for veggie burgers. While at Trader Joe's, I snagged a bag of Impossible burger patties and made a vegan cheeseburger like no other. The sweet and spicy pickles were a wonderful addition. Though they weren't lying when they said spicy.
Organic Vegetarian Chili
Packed with 13 grams of protein, this vegetarian chili also happens to be vegan. The ingredients list includes red beans, tomato paste, bell peppers, and jalapeño peppers. Fair warning: You'll need to add extra seasoning to this. The flavor was a tad bit bland.
Crispy Thai Chilies & Sesame Seeds
Probably the most interesting of Trader Joe's new vegan products, this treat combines Thai chilies and sesame seeds that are equal parts spicy, crispy, and savory. But you've been warned: They're hella addictive.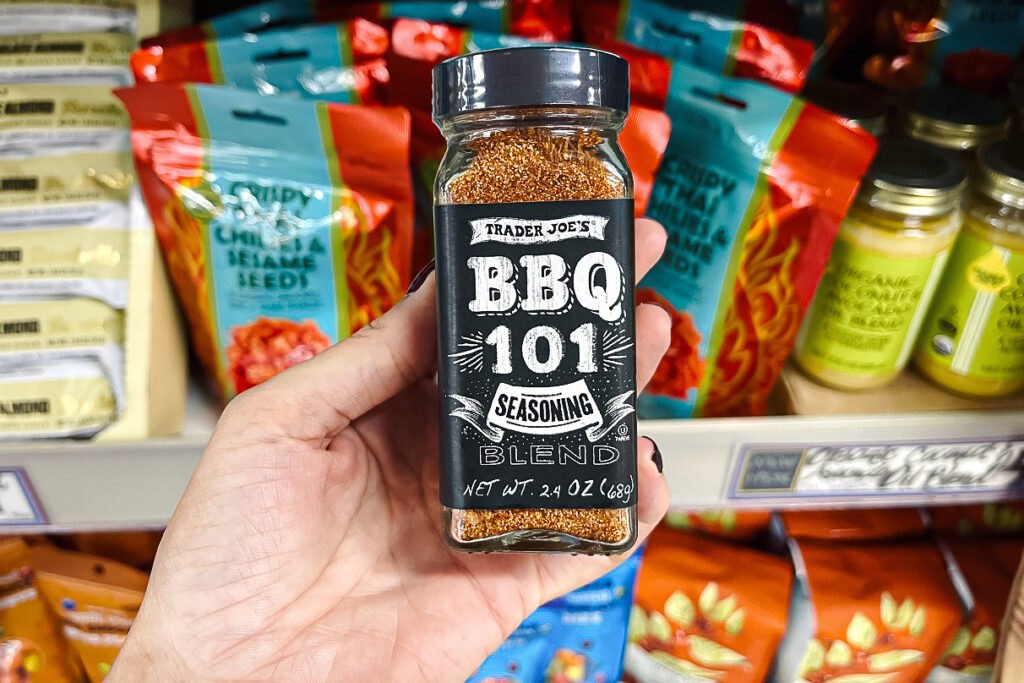 BBQ 101 Seasoning Blend
Your summer vegan barbecues just got a serious upgrade. This seasoning blend features brown sugar, smoked paprika, dried roasted garlic and chile pepper, salt, dried onion, and black pepper. Whether you're making a seitan steak or veggie kabobs, it's honestly the only seasoning you'll ever need.
Cold Brew Coffee BBQ Sauce
Loaded with cold brew coffee concentrate, this barbecue sauce is not for the faint of heart. (Hello, caffeine.) In addition to coffee, other ingredients include dark brown sugar, molasses, apple cider vinegar, and an array of seasonings like garlic and onion powder, cumin, and smoked paprika—plus chile de arbol powder for a nice kick.

Can't get enough Trader Joe's? Check out our complete (yes, complete) guide to everything vegan at TJ's, which you'll want to bookmark. You're welcome. Got a hot tip for a new vegan item spotted at a Trader Joe's near you? Send in your pics and store location to editorial@livekindly.com. Include Vegan Trader Joe's Finds in the subject line.