Ah, my love: Trader Joe's. The burst of dopamine I get when I walk through your doors is simply euphoric.

I may or may not visit my neighborhood TJ's once a day. (I literally live like right. next. door.) But I am committed to finding what's new and plant-based at Trader Joe's every month. Is it July 2021 already? It seems like only yesterday when I last jaunted over to the affordable vegan haven to stock up on the seriously awesome new vegan products I wrote about last month: vegan pasta bolognese—check. Porkless rinds—check. Cookies and creme vanilla bon bons—check check check.

While perusing through TJ's glorious aisles, I also spotted *several* new plant-based products. Hallelujah. (More on those later.)

And with my shopping cart brimming with vegan delicacies (grocery shopping should seriously be an extreme sport), it was time to checkout. Obviously, I picked register número dos. Oh, hey, Andrew. Fancy seeing you here. He definitely peeped my watermelons.

Ready to learn what new vegan goodies I scooped? Keep reading for all of the chain's newest plant-based products. We'll be updating this guide on the regular, so keep an eye out for new product finds.
What's New at Trader Joe's July 2021
What better way to celebrate the dog days of summer than a trip over to your neighborhood Trader Joe's? The chain just launched some tasty new vegan products that should find their way into your recipes—or just straight into your mouth. Here's what's new at Trader Joe's for July 2021:
Spicy Mango Lemonade
I hate mangos. Okay, hate is a strong word. I greatly dislike mangos. So the thought of drinking them in spicy liquid lemonade form makes my stomach curl. But whatever floats your boat, I guess. Alas, I snagged a bottle of this questionable liquid for guests. The summer beverage features a blend of lemon juice, mango puree (gulp), jalapeño pepper puree, and cayenne pepper powder to turn up the heat.
Cassava Cauliflower Blend Baking Mix
Gluten-free vegans, rejoice! You can make just about anything with this flour mix: pancakes, waffles, muffins, cupcakes, heck… even tortillas. It features a blend of baking powder, salt, and three gluten-free flours: cassava, cauliflower, and fonio—a nutrient-packed super grain. Happy baking.
Bloody Mary Salsa
You had me at Bloody Mary. Salsa?! Icing on the cake. This limited time product is a mashup between the classic brunch beverage and your favorite chunky dip. Tangy tomatoes, horseradish, jalapeños, green chili peppers, Worcestershire sauce, capers, onions, lemon juice, and a touch of vinegar make up this fancy concoction. Sorry, no vodka here. Still… please eat responsibly.
Vegan Bolognese Style Pasta Sauce
If this sauce tastes anything like the one used in TJ's new frozen Vegan Pasta Bolognese Bowl—you have me sold. That thing was the bomb dot com. This savory sauce features tomatoes, pea protein-based meatless crumbles, mushrooms, carrots, and more. Enjoy it with your favorite pasta. Or spoon it straight out of the jar. No judgment here.
Dark Chocolate Coffee Buzz Bars
Your mornings just got an upgrade. Indulge in your coffee fix in chocolate bar form. Featuring a blend of Colombian cocoa nibs and coffee beans, this four-pack of dairy-free dark chocolate bars is packed with 70 milligrams of caffeine per bar. Eat your caffeinated heart out.
A Dozen Cousins Mexican Cowboy Pinto Beans
Mexican food is my *absolute* fave. So you know I bought a bag (four) of this new product (though the name has me ?). Granted, it's not a TJ's brand item. The minority-owned "soulfully seasoned beans" brand churns out ready-to-eat beans that are authentically seasoned with real vegetables and spices, including crushing green chili pepper, dried cilantro, and jalapeño powder. Add these pinto beans to a burrito bowl or serve over (obviously) nachos.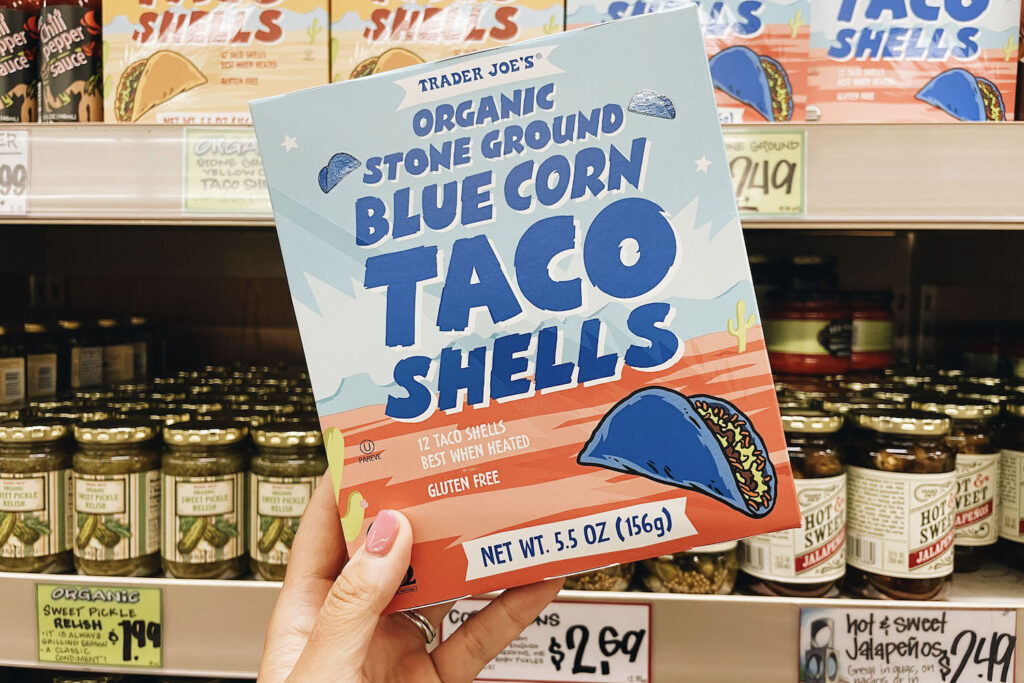 Organic Stone Ground Blue Corn Taco Shells
These shells are definitely Taco Tuesday-approved. They're like TJ's organic stone ground yellow corn taco shells, only blue.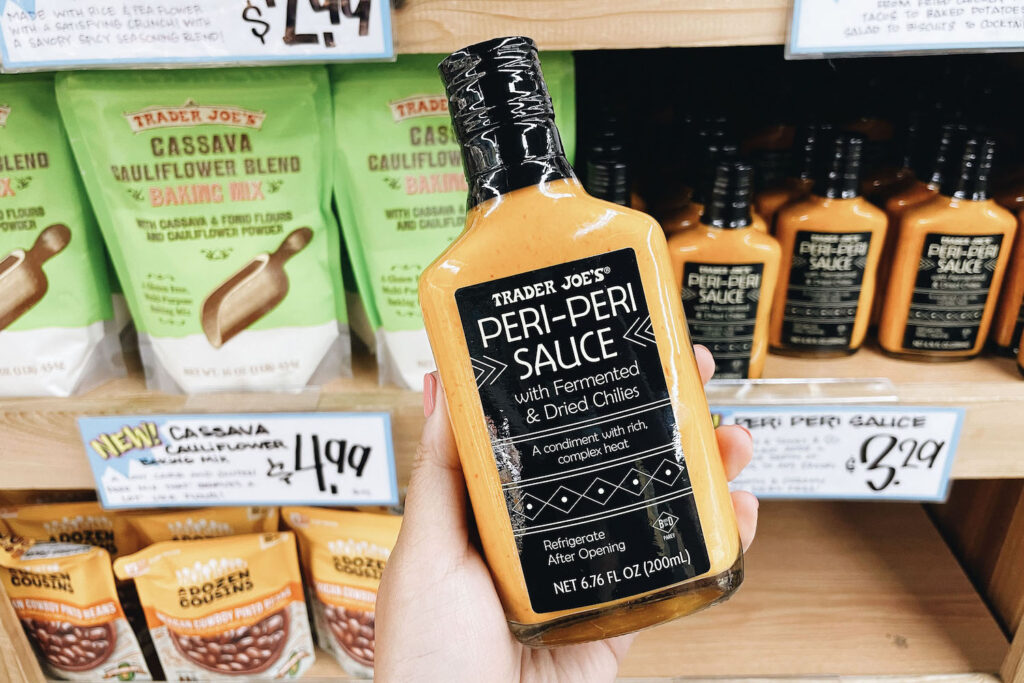 Peri-Peri Sauce
Take your meals up a notch. Featuring fermented and dried chilies, this peri-peri sauce certainly has a spicy kick to it. It contains lemon juice, sunflower oil, garlic salt, and dried chili flakes.
Organic Smoky BBQ Flavored Coconut Aminos
Another win for the gluten-averse! Use this wheat-free seasoning sauce as you would tamari or soy sauce or barbecue marinade. It's smoky and slightly spicy. Featuring only a handful of ingredients—organic coconut sap, water, organic garlic, organic ginger, sea salt, and natural smoke flavor—you won't be able to put this bottle down.
Sparkling Lemonade
Sparkling water is a serious delicacy in Los Angeles where I live (yes, we have seasons… sometimes). Needless to say, I definitely swooped up several cases of this bad boy. The crisp, refreshing beverage features a divine blend of carbonated water and lemon juice concentrate. Serve it on the rocks.
Can't get enough Trader Joe's? Check out our complete (yes, complete) guide to everything vegan at TJ's, which you'll want to bookmark. You're welcome. Got a hot tip for a new vegan item spotted at a Trader Joe's near you? Send in your pics and store location to editorial@livekindly.com. Include Vegan Trader Joe's Find in the subject line.