Panda Express and Beyond Meat just announced that their vegan orange chicken is coming to 70 locations nationwide.
The companies initially introduced the new dish at select stores in New York City and southern California for a limited time over the summer. Now, Beyond The Original Orange Chicken is coming to additional Panda Express locations in Georgia, Illinois, Texas, Florida, Washington, Pennsylvania, Virginia, and Maryland, as well as New York and California.
"We received an overwhelmingly positive guest response when we introduced Beyond The Original Orange Chicken at select locations earlier this year," says Panda Express' Executive Director of Culinary Innovation Jimmy Wang. "In fact, we wok-fired more than 1,300 pounds of Beyond The Original Orange Chicken in just the first day."
The vegan dish was designed to cater to customers' "evolving preferences" as more people are embracing plant-based and flexitarian diets and Panda Express billed it as a "delicious and innovative take" on an iconic meal. As you may have guessed, the new dish features crispy pieces of plant-based Beyond Chicken, wok-tossed in Panda's signature (vegan-friendly) orange chicken sauce.
Beyond The Original Orange Chicken boasts a crunchy texture like the original all coated in a sweet, tangy, slightly spicy sauce. The updated dish was also designed to pair well with Panda's veggie-based sides. Important note: The plant-based chicken is prepared on shared equipment with other products that do contain animal-based ingredients.
Panda Express and Beyond Meat join forces
With the new menu item launched in July, Panda Express has become the first national Asian restaurant concept to serve Beyond Meat.
"As the creator of The Original Orange Chicken, Panda has significant brand equity in this staple American Chinese comfort food. We know guests' tastes and preferences have evolved and [that they] look to us for variety," said Wang at the time.
"Creating a fresh new take on a classic favorite is a great and accessible way to introduce plant-based proteins to our guests and perhaps even draw a new audience for Panda," he added.
Other vegan menu items currently available at Panda Express include Eggplant Tofu, Super Greens, Chow Mein, Vegetable Spring Rolls, and steamed white and brown rice.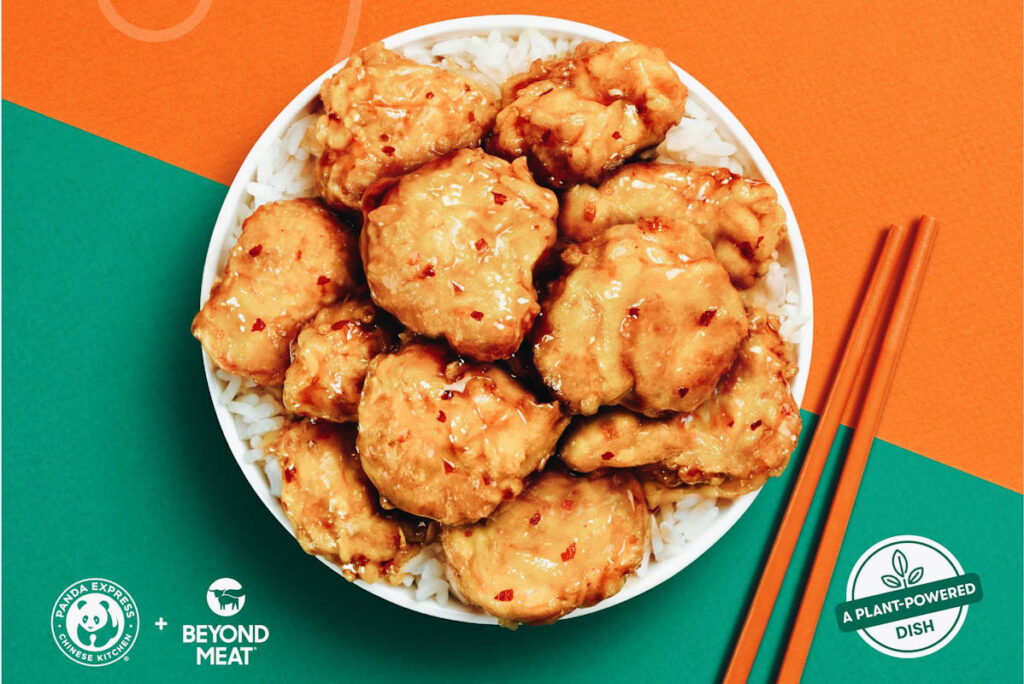 Beyond Meat fast food items
The original debut of Beyond The Original Orange Chicken marked the second time in as many weeks that Beyond Meat unveiled a new product that can help transform the fast-food and fast-casual vegan dining space.
Also in July, the California-based brand launched vegan chicken tenders at nearly 400 restaurants around the country, including Next Level Burger/Next Level Clucker, Dog Haus, and Detroit Wing Company.
Additionally, Beyond Meat partnered with McDonald's, Pizza Hut, Taco Bell, and KFC in February to expand each chain's plant-based menu offerings. And earlier this year, Beyond Meat and PepsiCo joined forces to develop vegan products that have yet to be announced.
And that's not all. The meat-free brand collaborated with KFC China last month to unveil a Plant-Based Spicy Beef Wrap that combines vegan beef, a soft tortilla wrap, salad, and egg-based mayonnaise.
"We are honored to be KFC China's chosen partner to introduce the first plant-based meat version of the Spicy Beef Wrap, one of their most iconic and popular menu offerings to consumers," said Ivy Xu, Brand & PR Director of Beyond Meat China.
Last but certainly not least, in November 2020 Beyond Meat began testing minced vegan pork in restaurants across Shanghai, China. Beyond Meat created the vegan meat specifically for the Chinese market, as animal-derived pork is the most popular meat in the country.