Craving a cheesy slice of pizza? Just head on over to Pizza Hut. The chain carries a number of vegan offerings that you definitely want to dig into. Here's the ultimate Pizza Hut vegan menu guide.
Founded in Kansas back in the 1950s, Pizza Hut has turned into an international success. With more than 18,000 locations worldwide, it's one of the biggest pizza chains in the world. The chain is loved for its deep-dish Italian-American style pizzas, as well as its salads and wide range of sides and desserts. In the last few years, it's become a haven for vegans too—particularly in the UK and Australia.
Pizza Hut UK gets vegan cheese
In 2017, Pizza Hut launched vegan cheese across the UK after "an amazing customer response" to its initial trial. It was one of the first Italian-American style pizza chains in the country to add dairy-free cheese to its permanent menu.

One year later, Pizza Hut launched vegan cheese Down Under. And at the end of 2019, the option became available at every location in the country. Pizza Hut U.S. is yet to roll out vegan cheese. Rumors that the dairy-free option was on the way started swirling in 2019, however, the chain soon put these to bed.

"While we're proud of our dedicated vegan menu in the UK, the report is inaccurate and we have no plans at this time to carry vegan cheese at our U.S. locations," a representative for the chain said

In the UK, Pizza Hut offers Violife vegan cheese and in Australia, Dairy Free Down Under vegan cheese is available. Aside from cheese, there are a number of vegan options available at Pizza Hut. From nuggets to cheesecake, here's everything you can order that's completely animal-free. We'd like delivery, please.
How to eat vegan at Pizza Hut
Pizza for dinner? We think yes. Here's your guide to all the vegan menu options at Pizza Hut. (These menu items may be prepared on shared equipment with animal products.)
Vegan at Pizza Hut U.S.
In 2020, Pizza Hut locations in the U.S. upgraded their meat-free menus with the launch of vegan sausage by Beyond Meat. The Beyond Pan Pizzas range included the Beyond Italian Sausage Pizza, topped with dairy cheese and vegan sausage, and the Great Beyond Pizza, which featured an array of veggies toppings. Unfortunately, Pizza Hut has yet to release vegan cheese. (But we'll keep our fingers crossed.)
This year, Pizza Hut partnered with Beyond Meat to launch the Beyond Pepperoni Pizza. The new pizza, which features plant-based pepperoni, is available in nearly 70 locations across the country. Here's to hoping they launch vegan pepperoni everywhere.
Although they don't have a dedicated vegan menu, the chain's Original Pan, Thin 'N Crispy, and Hand Tossed crusts are free of egg and dairy products. Opt for the marinara or buffalo sauce, and top with all of your favorite veggies. And don't forget about dessert! You can order the Cinnamon Sticks without the icing. Score.
Vegan at Pizza Hut Canada
According to Pizza Hut Canada's allergen menu, pizza is off the menu as the dough contains milk. And while the gluten-free crust is free from dairy, it apparently contains eggs. Good news is, those looking for a vegan option can snack on the chain's French fries or warm spinach salad. Just be sure to order the latter without chicken. (The French and poppy seed dressings are vegan-friendly.) Or just skip right to dessert. The brownies are also free from dairy and eggs.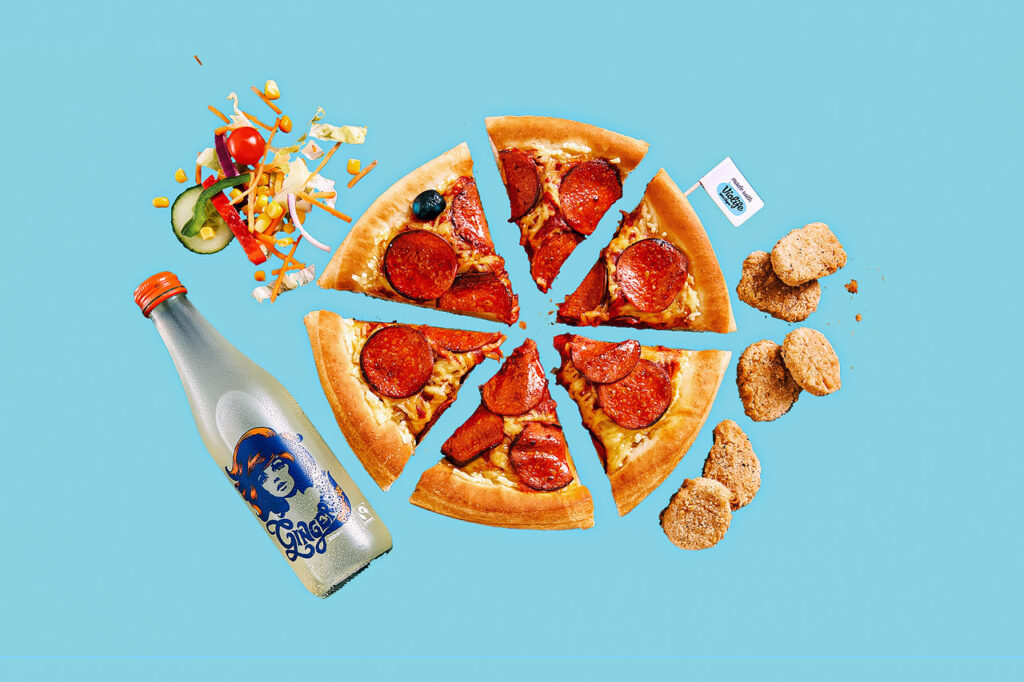 Vegan at Pizza Hut UK
In 2020, Pizza Hut UK launched not one but three vegan meats. The ​​Beyond Pork Crumbles, Beyond Beef Crumbles, and Beyond Italian Style Sausage were developed by Beyond Meat in partnership with Pizza Hut. Although the meatless meats were only available for a limited time, Pizza Hut UK still has a dedicated vegan menu. The chain carries Violife vegan cheese and even has a few delectable vegan desserts. Here's what's vegan in the UK:
Pizzas
Vegan Pepperphoni – Tomato sauce, Violife cheese, and meat-free pepperoni
Vegan Veggie – Violife cheese, spinach, sweetcorn, mixed peppers, red onions, and mushrooms
Virtuous Veg – Violife cheese, spinach, mixed peppers, red onions, mushrooms, cherry tomatoes, topped with rocket
Margherita – with vegan cheese and tomato sauce
Vegan Hot 'N' Spicy – Mushrooms, peppers, red onions, jalapenos, and Violife cheese
Vegan Stuffed Crust – Classic dough stuffed with Violife cheese
Starters and Sides
Vegan Virtuous Flatbread – Violife cheese, spinach, peppers, red onions, mushrooms, topped with rocket and Balsamic
Southern Fried Nuggets – Quorn plant-based chicken
Mini Corn on the Cob
Dessert
Raspberry Ice (Raspberry sorbet)
I Can't Believe It's Not Cheesecake
Vegan at Pizza Hut Australia
Here's what's vegan-friendly Down Under. For pizza, order ​​either the Traditional, Deep Pan, or Thin n Crispy dough. The marinara, BBQ, smoky BBQ, buffalo, chipotle, hickory and brown sugar, and hot chili are all vegan. Top with vegan cheese and your choice of veggies for a true slice of heaven.
Pizza
Vegan Deluxe – Pineapple, mushrooms, green capsicum, tomato, onion, vegan mozzarella, with oregano and garlic
Vegan Mediterranean – Tomato, mushrooms, Kalamata olives, onion, and vegan mozzarella
The Vegan Margherita – Diced tomato and vegan mozzarella with oregano and garlic
Vegan Cheese Lovers
Vegan Mediterranean Personal Pan
Starters and Sides
Garlic Bread
Vegan Cheesy Garlic Bread
Spud Bites (Bite-sized potato with tomato dipping sauce)
Hot Chips (French fries)
Dipping sauce (tomato and sweet chilli)
Dessert
Cornetto Vegan Vanilla 4 Pack
Magnum Dairy Free Almond 3 Pack