At Porsche, electric cars are a key part of its plan to achieve carbon neutrality by 2030.
While it is far from the first car manufacturer to announce additional electrification and reduced emissions targets, reaching zero carbon by 2030 will involve Porsche's entire supply chain.
"Sustainability is an important part of our Strategy 2030 – holistically: on economic, ecological, and social terms," said Oliver Blume, Chairman of the Board of AG, in a release. "We launched a comprehensive decarbonization program with a firm target in mind: Porsche wants to have a CO2-neutral balance sheet throughout the entire value chain in 2030."
According to the German company, both its Leipzig and Zuffenhausen facilities are already carbon neutral through their use of renewable energy and biogas. "In the next step, we will also demand this from our suppliers," continued Blume. "Anyone who develops battery cells for us must manufacture them exclusively with sustainable energy."
Can car production be carbon neutral?
Battery production, in particular, is extremely resource and energy intensive. But by requiring the use of renewables from all of its suppliers, Porsche will still be able to improve its overall carbon footprint significantly.
In the release, the company suggested that batteries could be over 90 percent recyclable by the early 2030s. "At the same time, we will reduce polluting substances such as cobalt in batteries in the future," added Blume.
Some aspects of car creation cannot be carbon neutral and require offsetting through planting trees or investing in renewable infrastructure. However, according to Porsche, avoiding CO2 emissions in the first place is the company's priority, with reduction and compensation making up a relatively small part of its overall sustainability plan.
"We don't want to compensate, but to avoid. We don't want to buy CO2 certificates from other companies, we want to avoid CO2-emissions wherever we can. Where energy cannot be saved, we use electricity from renewable sources," explained Blume.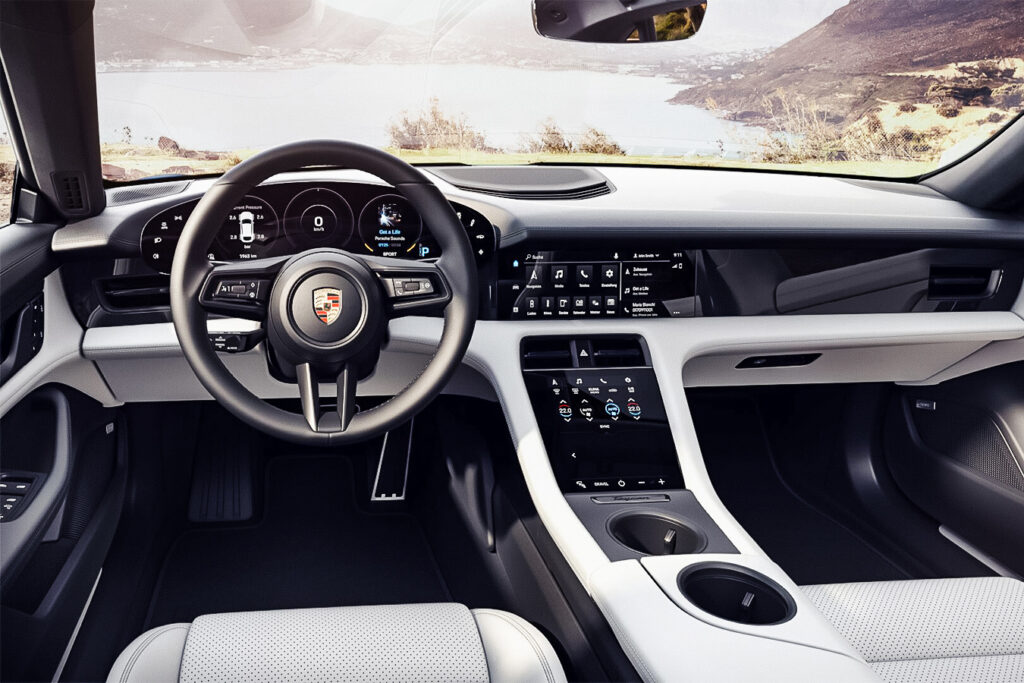 Porsche electric cars
In Zuffenhausen, Porsche's overall move towards renewables coincided with the initial production of the Taycan, the company's first-ever fully electric car.
The vehicle even includes an optional vegan interior made with partially recycled Race-Tex microfiber, resulting in an 80 percent reduction in carbon production compared to traditional leather options. It also featured Econyl rubber flooring, produced using recycled fishing nets.
The upcoming Taycan Cross Turismo — a more "practical" take on the original — will be the company's first carbon-neutral vehicle, and includes expanded boot space and optional roof rails. According to the Porsche website, the new model of the electric car also features a leather-free interior option.
Following the release of the Turismo, Porsche plans to electrify its popular Macan compact crossover, which could reach the market in the next few years. In general, the company plans to electrify 80 percent of its vehicle sales by 2030 as part of its bid for carbon neutrality.
Earlier this month, Volvo announced plans to completely replace its fossil fuel-powered vehicles by 2030 with electric cars. While Ford plans to replace combustion-engined cars in Europe by the same year.
In general, the automobile industry has begun to move away from traditional vehicles, in part prompted by increasing legislation to cut down on pollution.
"There is no long-term future for cars with an internal combustion engine," says Henrik Green, Volvo's chief technology officer.