A new study shows that pumas support an astounding 485 other species through their role as "influential actors" in the ecosystem, prompting renewed calls for conservation.
Meanwhile, in England, Brighton city council just made it a legal requirement for all new buildings to protect essential pollinators by providing shelter for bees.
Charges against Greenpeace activists for their anti-bottom trawling direct action (which took place not too far from the Brighton coastline) have finally been dropped, thanks to the judge.
Notorious for its complex roads and congestion, Paris is investing millions of Euros in order to make the entire city cyclable by 2026, and Huanggang, China, is getting a vertical forest.
Here's this week's good climate news.
Brighton City Council makes 'bee bricks' compulsory
The good news: Brighton and Hove Council's new policy dictates that all new buildings above five meters must include bee bricks, which contain small holes that provide shelter to nesting and hibernating solitary bees. Properties must also have bird nesting boxes suitable for swifts, who are urban avians, and return to the same nest spot between May and August to breed before returning to Africa to escape the UK's colder months.
The impact: The council hopes to incorporate eco-friendly designs into all new buildings, ensuring homes and habitats for valuable wildlife. While bees typically conjure mental images of hives with queens and honey, the solitary variety make up nearly 250 of the UK's 270 bee species, meaning they provide almost incalculable ecosystem services nationwide. Cornwall and Devon, also on the south coast of England, have adopted similar policies on bee bricks.
Did you know? Some experts have suggested that bee bricks may increase the risk of mites or disease for pollinators. And admittedly, more meaningful and far-ranging action—from rewilding and sustainable agriculture to a ban on harmful pesticides—is undoubtedly needed to save bees and support biodiversity. But it appears the potential benefits of these new homes outweigh the risk, and the program is certainly a step in the right direction.

How to help: Solitary bees are the perfect candidates for building your own bug hotels and habitats at home. Sussex Wildlife Trust suggests drilling different sized holes into an old fencepost for cavity-nesting bees, making sure they face in various directions.
Other bees nest at ground level, and poking a few holes in a crumbly or sandy bank will encourage pollinating visitors. If you do live on the south coast, the trust also has some wildflower suggestions here, which will help encourage and support your local bees.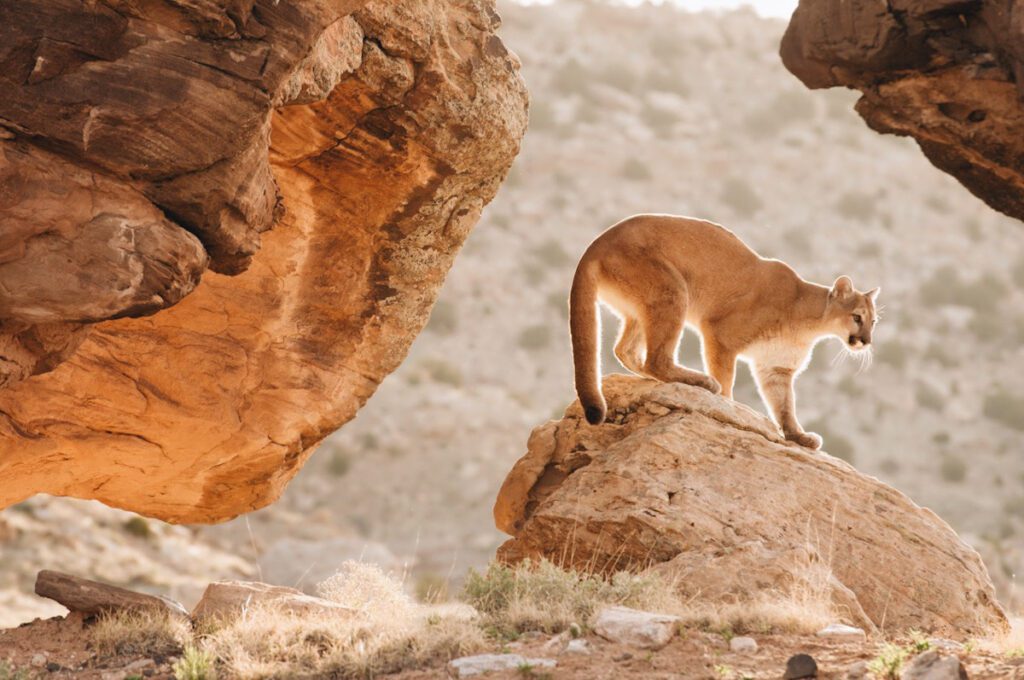 Puma conservation would help nearly 500 other animals thrive
The good news: A new study, published in the scientific journal Mammal Review, shows the true extent of pumas' influence throughout their various, wide-ranging habitats. The authors describe how pumas are "important brokers of energy and nutrients throughout ecosystems in the Western Hemisphere," and conclude that protecting and restoring the species will aid biodiversity and environmental health throughout the Americas. This means that puma conservation is even more important than previously thought.
The impact: Pumas are a predatory keystone species that help feed 281 other species via the carrion of the 203 species they hunt for food. Their presence also influences the behavior of 40 species, such as elk, who will avoid risky areas associated with pumas and other predators.
Finally, seven different species (four mammals and three plants) benefit from various other ecosystem services pumas provide, such as disease limitation, through their pursuit of certain pests as prey and regulation of environmental health as a whole.
Did you know? The puma (also known as a mountain lion, cougar, or panther), can be found throughout the Americas, from Canada to Patagonia. They have the largest terrestrial range of any native mammal on the continent, meaning their impact is absolutely enormous. While their current conservation status is "least concern," numbers are decreasing.
North American male pumas are around four feet long and 135 pounds, but rarely seen by humans. Much like sharks and insects, public opinion of mountain lions is not great. But despite the odd hair-raising, hiking-related urban legend, you are more likely to be struck by lightning than attacked by a puma, and the animals are typically fearful of humans.
How you can help: Habitat loss and overhunting are the most pressing threats to puma populations. Roads and other human encroachments on the natural world break up and isolate existing groups, also contributing to falling numbers and failing health.
Let your local and state representatives know about the importance of wildlife highways, improved hunting restrictions, and habitat protection, or support pumas directly through organizations like the Mountain Lion Foundation.
UK government drops 'absurd' charges against activists
The good news: The Marine Management Organization (MMO), a non-departmental UK government body, has finally dropped its charges against several members of Greenpeace. Activists had taken action to prevent the highly destructive fishing practices that are (for some reason) still allowed within Marine Protected Areas (MPAs), such as bottom trawling.
Greenpeace members "installed" the "natural rock protection" in 2020 and 2021 by dropping large, naturally occurring granite boulders overboard in the MPAs, causing minimal disruption to the ecosystem but preventing bottom trawlers from passing through.
The impact: While the MMO was still technically entitled to pursue prosecution, the judge suggested that the organization review whether that would be in the public interest, which it did, and then soon chose to drop the charges. It's worth noting that the MMO's primary responsibility is ensuring all marine activities are carried out sustainably, and the judge suggested that the "absurd" case was a waste of resources that would be better used protecting said MPAs rather than targeting those picking up the government's slack.
Between the draconian and nearly-successful Police, Crime, Sentencing and Courts Bill (PCSC), general Tory party vitriol against protestors, and perpetually violent policing of peaceful demonstrations, this is a much-needed win for UK environmentalism, for the oceans, and of course, for those involved.
Did you know? Many of Greenpeace's notable recent victories were wrought by lobbying campaigns, but the organization has a history of direct action dating back to its late 1960s roots. Some stand-out actions from the last few years include activists' occupation of a BP oil rig and their gatecrashing of a bankers' banquet, both in 2019.
While the legal system does not typically favor environmental activism (see everything from the Hunt Saboteurs Association to Insulate Britain), even actions that end in arrests help to bring attention to important issues. Greenpeace's natural rock installation was already a victory, but the fact that individuals were recognized for their work rather than reprimanded is a rare win for common sense.

How you can help: The PCSC Bill was defeated in the House of Lords following impassioned, repeated protests over the most controversial amendments, which only confirms the power of demonstrating and civil disobedience to force political change. (No wonder the Home Office wants to make it almost impossible.)
Attending protests and organizing locally are just some of the ways to ensure much-needed work (like Greenpeace's boulder installation) gets completed. You can donate to support legal aid and prisoner support groups such as Green & Black Cross, Beyond Legal Aid, your local ABC group, or Bristol Defendant Solidarity, the latter of which is currently fundraising for those arrested at the city's numerous successful #KilltheBill demos.
Paris could be completely bike-friendly by 2026
The good news: Paris, France, is updating its existing Plan Velo program to make the entire city cyclable by 2026. The mayor, Anne Hidalgo, plans to add more than 80 miles of bike paths thanks to a €250 million ($290 million) government investment. Plan Velo: Act 2 will also add bike workshops to each district and encourage cycling tourism, while schools will teach children how to ride bikes safely at a young age.
The impact: Paris is not the only European city investing in cycling (we covered Milan in the previous Good Climate News), but transforming the entire, notoriously busy French metropolis is notably ambitious. Parisians have always cycled, but the pandemic saw people relying even more heavily on the sustainable, two-wheeled form of transportation. Around 30 miles of temporary bike lanes were recently made permanent due to this increase in traffic.
Did you know? Bike designs haven't changed that much in well over a century. Materials, bells, whistles, and carbon-fiber technology come and go with each new season, but the basic technology of today is not all that far removed from the "safety bicycles" of the late 1800s. It's exciting to think that society is slowly returning to the dominant form of pre-car transportation, the never-bettered efficiency (and sustainability) of pedal power.

How you can help: Paris is setting an example that large cities around the world could emulate in the coming years. Write to your mayor, MP, or representative to request more policies and programs ensuring cycling is as safe, accessible, and environmentally-friendly as possible. (In terms of sustainability, read on to learn more about built-to-fail bikes, recycling vs. landfill, and the horrors of bicycle-shaped-objects.)
Organizations such as Sustrans in the UK are working hard to ensure cycling is inclusive and accessible, while charities like World Bicycle Relief help to actually provide people with the bikes they need.
This Chinese city is getting a vertical forest
The good news: An impressive new structure is bringing greenery to Huaggang, a city in Central China's Hubei Province. The newly opened Easyhome Huanggang Vertical Forest Complex consists of five towers, two of which are residential. Designed by the celebrated Italian firm Stefano Boeri Architetti, the towers incorporate plant and tree life to create a vibrant green skyscraper towering over the rest of the area's buildings.
The impact: The façades of Easyhome Huanggang Vertical Forest towers feature an irregular pattern of open and closed balconies, which is designed to provide trees and shrubs with plenty of space to grow and flourish. (There are 404 trees, 4620 shrubs, and 2408 square meters of grass, flowers, and climbing plants.) Overall, the green building will absorb 22 tons of CO2 and produce 11 tons of oxygen per year.
Did you know? Stefano Boeri Architetti has already rolled out similar projects in Milan, Italy; Eindhoven, the Netherlands; Paris, France; Tirana, Albania; and Lausanne, Switzerland. Each project incorporates local plant life for maximum impact.
In Huanggang, the space between the buildings also provides much-needed public, urban green spaces for city-dwellers. Research and first-hand-accounts increasingly highlight the importance of nature for mental and physical health, particularly in large towns like Huanggang, which is the second most populous city within its prefecture. Urban greening also helps to clean the air and promote wildlife, in addition to supporting human wellbeing.

How you can help: Learn more about sustainable architecture here. As with everyday purchases, the most sustainable choice is always to repair, reuse, and recycle what you already have, and buildings are no exception. There are many ways to try and make your own home more sustainable, some of which can be accomplished on a budget and even in rented properties. Certain energy efficiency improvements can even be requested by UK tenants.
Looking for more good climate news? Read the previous installments here.