In this week's positive environmental news: Australian conservation efforts have been rewarded with significant population growth for Eastern Barred Bandicoots. Meanwhile, U.S. President Joe Biden just restored protections for three key natural monuments. In Scotland, a 30-year-long rewilding project is now underway, and California plans to build a much-needed wildlife bridge over Highway 101. In Singapore, combining traditional rag-and-bone collections with modern technology could help the island city-state reach its zero-waste goals that much sooner.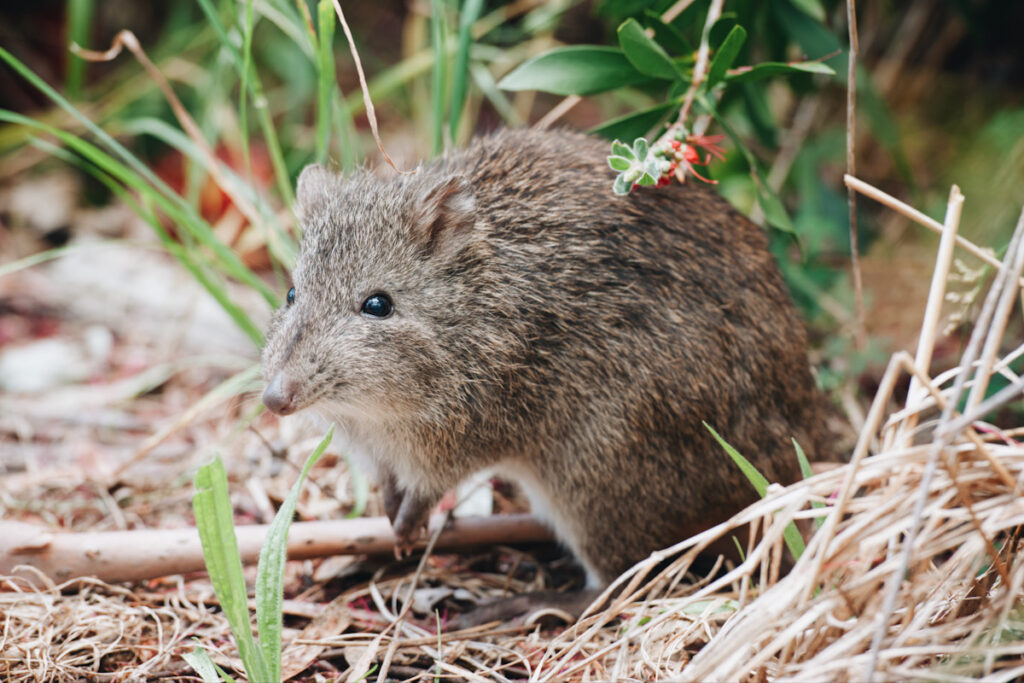 Conservation in action: Australia's bandicoots increase tenfold
The good news: Officials say that the Eastern Barred Bandicoot has been brought back from the very brink of extinction on the Australian mainland. This marks the first-ever upgrading of an Aussie animal from extinct in the wild to endangered.
Lily D'Ambrosio, Victoria's Minister for Energy, Environment, and Climate Change announced the good news last month and said that the species looked to have a "much brighter future" going forward. Eastern Barred Bandicoots were previously a common sight on southwest Victoria's grass and woodland, and their near-relatives can also be found on the island state of Tasmania. Further work will be required to surpass the species' endangered status.
The impact: The original population was decimated by habitat loss and the introduction of the European red fox in the mid-1800s, brought to the continent by colonizers for recreational bloodsports that continue today. Australia has the highest mammal extinction rate in the world and declared three other varieties of bandicoot extinct this year alone.
Because of the continuing impact of humans and invasive, non-native animals, establishing protected areas for the Eastern Barred Bandicoots was essential. Over 30 years of conservation efforts have now increased their mainland population from just 150 in 1989 to 1500 today, spread across several predator-free reintroduction sites.
Did you know: Bandicoots are furry, nocturnal creatures about the size of a medium-large guinea pig. They are often confused for rodents, but as marsupials, female bandicoots have a backward-facing pouch for their young. They live mostly solitary lives at ground level foraging for berries, seeds, and insects, and hold food in their front paws to eat, like otters.
How you can help: You can donate to Conservation Volunteers Australia's Wild Futures fundraiser via Global Giving, or support CVA directly here. Learn more about bandicoots from Bush Heritage Australia here (including "snout pokes"), and support WWF Australia here. If you live near the Fleurieu region in Southern Australia, volunteer directly with the Bandicoot Recovery Action Group—dedicated to monitoring Southern Brown Bandicoots in particular.
President Biden restores protections for 3 natural monuments
The good news: Biden's government just restored protection for three natural monuments—Northeast Canyons and Seamounts, an undersea region in the Atlantic Ocean, along with Utah's Bears Ears and Grand Staircase-Escalante (GSENM). The announcement came approximately one month after the 25th anniversary of GSENM's management as a national monument by the Bureau of Land Management.
The impact: Bear's Ears and GSENM alone span 3.23 million acres of public land, including a wide range of different "life-zones," from low desert to coniferous forest. These areas have almost incalculable aesthetic, cultural, scientific, and environmental value, providing a home to flora and fauna of all kinds along with historical and archeological sites.
Did you know: Biden's action notably undoes former president Donald Trump's orders to downsize the national monuments, something that prompted speculation at the time over whether such an action was even legal. The shrinking of monuments was roundly criticized as a significant blow to conservation, to public access to natural spaces, and for the continued disenfranchisement of Native Americans.
"The historical connection between Indigenous peoples and Bears Ears is undeniable," said Secretary of the Interior Deb Haaland. "Our Native American ancestors sustained themselves on the landscape since time immemorial and evidence of their rich lives is everywhere one looks."
How you can help: Learn more about Utah's two restored national monuments from the Bureau of Land Management here and here, and read about the diverse Northeast Canyons and Seamounts monument from the NOAA here. You can directly support the Natural Resources Defense Council (NRDC) here, which ran a Save Our National Monuments campaign requesting urgent intervention from the Biden administration.
Scottish Highlands will be rewilded over the next 30 years
The good news: Trees For Life, a registered rewilding charity, just launched a 30-year project to restore over 750 square miles of iconic Scottish landscape. The Affric Highlands initiative will rewild half a million acres of land sweeping from the West coast all the way to Loch Ness, encompassing Glens Cannich, Affric, Moriston, and Shiel. Trees For Life is working with various local landowners and communities to achieve its goals along with Rewilding Europe, which has designated the Affric Highlands one of its 10 official rewilding areas.
The impact: Much like the rest of the UK—and indeed, many parts of the world—Scotland has experienced a huge amount of deforestation. According to Trees For Life, just a fraction of the Highlands' original, native forest cover remains. For example, only one percent of Scotland's native pinewoods exist today. This ambitious rewilding project aims to replenish the landscape by restoring wildlife, plants, and trees, as well as encouraging human connection through its reliance on practical, grassroots conservation and hands-on community involvement at every stage.
Did you know: Britain should be a bustling, diverse ecosystem rich with flora and fauna. (It's even home to rainforests.) But generations of industry, intensive farming, and urbanization have made the UK one of the single most nature-depleted countries in Europe. While it's impossible to turn back the clock, rewilding efforts represent an innovative path forward, and Rewilding Britain claims that the restoration of wildlife habitats across just 30 percent of the UK could save a fifth of its species.
How you can help: Despite its enormous potential (and several significant success stories, from the high-profile to the extralegal), rewilding remains controversial. Contact your local representative to show your support for these types of rewilding projects, and discuss them with friends and family. You can get involved directly through countless local and regional groups, or support larger organizations such as Trees For Life, Rewilding Europe, Rewilding Britain, and Rewilding North America. Learn more about the Affric Highlands project here.
California's notorious Highway 101 is getting a wildlife bridge
The good news: The California Department of Transportation (Caltrans) plans to build a much-needed wildlife highway in the Agoura Hills—just north of the Santa Monica Mountains National Park and south of the Santa Susana Mountains. The National Wildlife Federation has managed to raise over $72 million from public funds and private donations for the $87 million project. Work is scheduled to begin in early 2022.
The impact: The wildlife crossing will bridge a busy, eight-lane section of the notorious Highway 101, which currently inhibits travel for mountain lions (also known as cougars), bobcats, foxes, coyotes, and mule deer that would otherwise range between the two mountainous areas divided by road. For mountain lions, in particular, this will encourage genetic diversity and could keep isolated populations of the unique predators from extinction.
Did you know: Wildlife highways may look deceptively simple, but in practice must ensure that multiple species are both able and inclined to use them. The 200-foot Wallis Annenberg Wildlife Crossing is designed to mimic a natural habitat and will feature native plants to create a living ecosystem. There have already been several successful wildlife crossing projects worldwide, including underpasses in Southern California's Bernardino County, and the Netherlands' 66 distinct overpasses and ecoducts to protect badgers, boar, and deer.
How you can help: Learn more about wildlife highways in general from National Geographic here, and read about the Wallis Annenberg bridge here. You can also directly support the Save LA Cougars campaign, a public-private partnership that binds Caltrans, the Santa Monica Mountains Conservancy, the National Park Service, and the National Wildlife Federation. You can donate to the Mountain Lion Foundation here, and even adopt a mountain lion here.
Singapore's intergenerational fight against waste
The good news: Traditional karang guni traders (the Singaporean equivalent of rag-and-bone or junk men) continue to play an essential role in the country's ambitious zero-waste goals, particularly when combined with modern ideas, technology, and infrastructure.
"They can complement the current collection methods. There's still the challenge of getting the recycling from the door of your home. They have networks. They have knowledge of what can and what cannot be recycled," said Christopher Tan, the director of the National Environment Agency's sustainability division, speaking to the BBC earlier this year.
The impact: Singapore's Zero Waste Masterplan includes cutting national landfill waste by a whopping 30 percent, and primarily relies on the private sector to manage the country's waste services. Companies such as SembWaste are working directly with karang guni traders through an app to facilitate effective rubbish collection and reduce dependence on landfills.
Did you know: Karang guni is a Malay phrase for "gunny sack," and modern practitioners travel door-to-door collecting newspapers, unwanted appliances, and other items that can be resold, upcycled, or recycled. Whereas modern-day rag-and-bone men are less common in the UK and U.S., the densely urbanized architecture of Singapore (one of the cleanest cities in the entire world) has made the karang guni industry extremely profitable.
As the repair and reuse of household items becomes increasingly popular (and increasingly necessary), Singapore's juxtaposition of a traditional role with modern infrastructure provides a valuable lesson in the journey towards a truly circular, zero-waste economy.
How you can help: You can minimize waste in your own life by avoiding excessive consumption, wearing and using the items you do buy as long as possible, then rehoming, repairing, or recycling them properly at their end of life. Thrifting is arguably the most sustainable way to shop, while apps such as Imperfect Foods, Misfits Market, and Too Good to Go help to share food and minimize kitchen waste, in particular.

Looking for more positive news stories? Read the previous selection here.