More and more, women-owned vegan restaurants are cropping up around the world.
Some women entrepreneurs have been in the restaurant business all their lives. For others, a vegan eatery is a second or third career. Some began eating plant-based for health reasons, while others were encouraged by family. The commonality between these women restaurant owners is that every single one of them has an interesting backstory.
Read on for ten women-owned vegan restaurants you just have to try.
10 Women-Owned Vegan Restaurants to Try
Angela Means, Jackfruit Cafe
You may be familiar with Angela Means from her role on Friday. But the actor is also a plant-based restaurant owner. The vegan entrepreneur is the owner of the Los Angeles-based soul food restaurant Jackfruit Cafe.
Means founded the vegan restaurant in 2017 in order to bring plant-based comfort food staples to south Los Angeles. As the name suggests, the restaurant features an array of jackfruit-based vegan dishes. For a satisfying meal, indulge in the jackfruit bowl, which features vegan mac and cheese, sautéed cabbage, lima beans, grilled plantain, and hot water cornbread. Or, for a hands-on meal, take a bite out of the pulled barbecue sandwich. Filled with barbecue jackfruit on a toasted sesame seed bun, this delicious-looking offering features cilantro and shredded green and purple cabbage.
Learn more here.
Chef Velvet, Veltree
Like most plant-based eaters, Chef Velvet didn't grow up vegan. Her sister "converted" her, she likes to joke. Her family ran a vegan restaurant in Maryland before Chef Velvet and her partner, Tree Kelty-Jacobs, branched out on their own in Charlotte in 2018. Now VelTree is the city's first Black woman-owned vegan soul food restaurant.
Her dishes include the likes of Fried Drumsticks, Cajun Shrimp, and BBQ Ribz. And the dishes are so good, they've even made fans of celebs like Erykah Badu, Cam Newton, and Nick Cannon. In fact, this April Cannon helped Chef Velvet expand to a new location in Hollywood called The V Tree. Chef Velvet also launched her own line of frozen foods—vegan shrimp and vegan chicken—for customers to order online. Truly, there's no limit to what she can do.

Learn more here.
Pinky Cole, Slutty Vegan
When it comes to phenomenal women-owned vegan restaurants, Pinky Cole's Slutty Vegan tops the list. Aisha "Pinky" Cole set big dreams for herself when she was young. Growing up in a Jamaican household in Baltimore, she watched her mom work as many as three jobs at a time to support her family. Cole became a popular party promoter as a teen, and as an adult, worked as a producer for The Maury Show and Iyanla: Fix My Life.
But the idea for a vegan fast food restaurant—Slutty Vegan—"came to me like a lightbulb," she told Bitter Southerner. And the rest is history. Slutty Vegan started as a food truck in 2018. Now, Cole has three brick-and-mortar locations in Georgia. And if her Instagram page is anything to go by, celebs like Tiffany Haddish, Tyler Perry, and Snoop Dogg love her food.
And if that's not enough, Cole just opened a vegan cheesesteak concept inside her bar, Bar Vegan ATL. Called Dinkies, menu items include the Impossible Meat Cheezesteak.
Learn more here.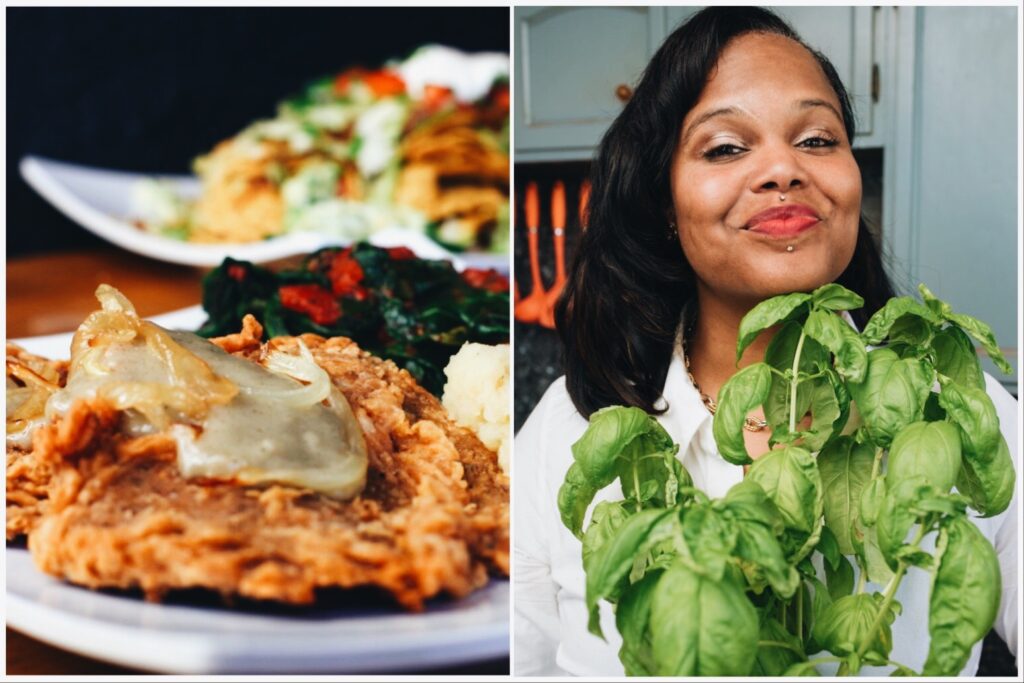 Tamerra Dyson, Souley Vegan
Dyson began cooking vegan food at age 18. But she originally considered a career in nursing. After leaving nursing school, she decided to open a vegan restaurant to make her favorite Louisiana Creole plant-based foods. A single mother with bad credit, she was able to secure funding from supporters who believed in her dream.

Souley Vegan opened in Oakland, California, in 2009 with Dyson as founder and head chef. Among Dyson's dishes include Jambalaya with house-made seitan and Hearts of Palm Battered Calamari. Now, Dyson boasts two additional locations, one in Los Angeles and the other in San Francisco.
Learn more here.
Carole Jones, Uncooked
Jones began her plant-based journey after losing her husband to cancer. She co-founded a plant-based restaurant, Chicago Raw, in 2009. And in the summer of 2020, she opened un*cooked. The all-vegan, zero-waste, grab-and-go eatery is located in Chicago's Fulton Market. Jones runs un*cooked with her son Jeremy and her daughter-in-law Kaitlyn. All food at un*cooked is cooked at or below 118 degrees, according to their website. Among their many treats include a Golden Milk Muffin, Overnight Oats, and Vegan Sushi.
Learn more here.
Loreta Ruiz, La Vegana Mexicana
Ruiz was born in Mexico City. She studied homeland security and became a member of the foreign service working in consular diplomacy. She was transferred to Southern California, where she has set down roots.
In 2014, Ruiz saw her daughter suddenly become ill with an autoimmune disease. This inspired her to begin converting her family's favorite Mexican foods into healthier, plant-based versions. After 30 years in the homeland security field, Ruiz created a pop-up in Santa Ana in 2017 based on her dishes. She now owns her own brick-and-mortar restaurant, La Vegana Mexicana. As owner and chef, Ruiz and her restaurant are famous for award-winning vegan tamales, such as the vegan cheese with rajas tamale.
Learn more here.
Babette Davis, Stuff I Eat
Babette Davis suffered from asthma, digestive issues, and skin disorders before deciding to see if eating a plant-based diet could help her. She began developing vegan and raw food dishes and selling them outside of the church.
In 2008, Chef B, as she likes to be called, opened her own restaurant, Stuff I Eat, in Inglewood, California. Her dishes include enchilada pie, burritos, quesadillas, and a soul food platter. In 2018, she even published a cookbook, Cash in on Cashews: 50 Plus Desserts Using 1 Nut.
Learn more here.
Tara Punzone, Pura Vita
Chef Tara Punzone has definitely earned her spot on this women-owned vegan restaurant list. Vegan for more than 30 years, her passion for creating healthy, Italian food started when she was very young. The Italian American from New York started veganizing all of her family's traditional Italian recipes. And in 2018, she opened her very own brick-and-mortar restaurant in West Hollywood.
Fast forward to today, and Chef Punzone is now the owner of Pura Vita Pizzeria, located right next door to her first restaurant. She also opened a second Pura Vita location in Redondo Beach. From hearty pasta to Neopolitan pizzas, her restaurants have everything you need to please a grumbling belly.
Learn more here.
Makini Howell, Plum Bistro
Chef Makini Howell is a vegan chef extraordinaire. A lifelong vegan, raised by plant-based parents, she left her career as a men's denim designer in New York to create meat-free dishes for vegans and non-vegans alike.
"My mother liked egg sandwiches as a vegetarian, so she started selling tofu sandwiches and went from there," she told Seattle Refined. "She showed people that you could do other things with tofu and really changed the natural food industry."
In 2009, she launched the upscale Seattle-based restaurant Plum Bistro. The restaurant's plant-based meals feature organic, seasonal vegetables and fruits sourced from family-owned farms. She is now at the helm of a mini vegan empire. For lunch, stop by Plum Burgers food truck, for a healthy snack, visit salad bar Plum Chopped, and for dessert, Sugar Plum.
Learn more here.
Emma Sawko, Wild & The Moon
If you ever find yourself in Paris, a stop at Wild & The Moon is in order. The plant-based restaurant's founder, Emma Sawko started out living in New York and Paris, working in the field of advertising. Inspired by her mother's healthy, organic cooking, Sawko now owns nine Wild & The Moon locations throughout Paris.
In addition to being vegan, the restaurant is big on sustainability. Wild & The Moon is plastic-free and uses 100 percent biodegradable packaging. It also partnered with the food waste app Too Good to Go to ensure the restaurants never waste food.
Learn more here.
Looking for more women pioneers in the plant-based food space? Click here for nine vegan women who are working to change the food system.