Sprouts Farmers Market just launched its own high-protein vegan burgers.
The U.S.-based supermarket chain now sells Plant Based Burger Patties under its Butcher Shop label — a primarily traditional meat-based line. They are available in the meat aisle alongside other animal products. According to Sprouts, it developed the meat-free patties as a tasty, healthy, and more environmentally friendly burger option for everyone, regardless of diet.
"Since the beginning, Sprouts has focused on offering innovative products that taste good and are good for the planet," Sprouts Culinary Director Matthew Pratta said in a press release. "We developed these new plant-based patties to give customers a healthier, more nutritionally balanced option that offers a satisfying, great taste that are easy to cook at home."
The Plant Based Burger Patties contain 17g of protein per serving, more fiber than the average beef patty, and less saturated fat. They combine "freshly chopped" portobello mushrooms, pea protein, dried vegetables, and beetroot, which is frequently used to give meat-free patties their pink coloring. These private label vegan burgers are a first for Sprouts, but join an increasingly wide vegan range of plant-based products sold in its stores.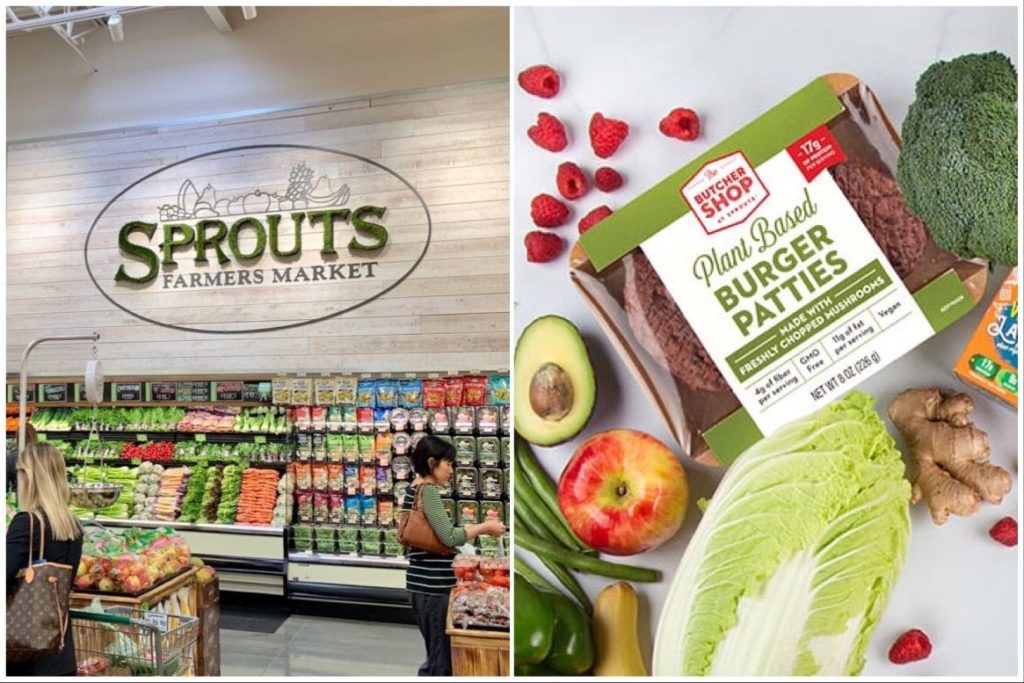 Vegan Food at Sprouts
Last September, Impossible Foods launched its vegan burger patties nationwide at Sprouts stores. The supermarket also stocks several Beyond Meat products, including ground beef, spicy Italian sausage, breakfast sausage, vegan burgers, and more.
In addition to plant-based meat, Sprouts sells plant-protein salads, ready meals, baked goods, cheese, milk, yogurt, and a wide range of private label, vegan-friendly staples such as pasta, grains, and fresh produce.
"Sprouts shoppers are enthusiastic about foods that offer unique attributes and visit our stores to find new products to incorporate into their diets," added Pratta. "Including plant-based items because of their health and environmental benefits."
Sprouts has also launched a plant-based advocacy campaign that includes educational resources, nutritional information, and even vegan recipes. On social media, the brand continues to promote its growing range of plant-based products with recipe ideas and other tips.
Back in 2018, Sprouts gave $10,000 to educational nonprofit Tampa Bay Farm2School (formerly known as Temple Terrace). The organization empowers young people with educational experiences, and it used the money donated by Sprouts to launch a vegan mobile kitchen.
Sprouts Plant Based Burger Patties are available at stores nationwide and retail at $5.99 per pack. They are available in the frozen meat section with other Butcher Shop products.