(Updated March 6, 2021) | Starbucks has upped its vegan game recently.

The biggest coffee chain in the world added more plant-based food and drink options to its menu than ever before. The move is in response to consumer demand. In the last few years, more people have learned of the health, ethical, and environmental benefits of steering away from animal products.

Nearly half of U.S. consumers now regularly purchase vegan milk, according to a 2019 study. In the UK, Brits are continuously choosing plant-based options over animal-based ones. In fact, a study by supermarket chain Sainsbury's revealed that 91 percent of UK consumers identify as flexitarian.

The story isn't unique. It's the same in many countries around the globe, with vegan meat and dairy-free products becoming bigger business than ever. And Starbucks knows this. At the 2018 Seeds and Chips global food conference in Milan, founder Howard Schultz said, "the opportunity for plant-based food is huge."
https://www.instagram.com/p/CHqF_ysJqPY/
The Importance of Sustainability
Starbucks knows there's more to sustainability than offering vegan options. It took steps to reduce its carbon footprint by announcing that by 2025, it aims to run 10,000 stores on renewable energy.

Kevin Johnson, Starbucks' chief executive officer, spoke on a conference panel at the Global Climate Action Summit in 2018. He said, "If you look at this problem on a global basis, it can be so overwhelming it's discouraging. The only way to look at this problem is, 'am I partnering with other like-minded organizations in the public and private sectors and NGOs to work progress?'"

He explained that although Starbucks is, of course, about turning a profit, it's "also about doing what's right." He continued, "One of our social impact pillars is sustainability. We are a company that believes, in the fabric of mission and values, that the pursuit of profit is not in conflict with the pursuit of doing good."
Recycling and Fighting Plastic Pollution
The chain has also debunked the myth that paper coffee cups can't be recycled. In 2018, it managed to recycle 25 million coffee cups after sending 18 truckloads to Sustana, a paper mill in Wisconsin to "make a point," according to Fast Company. Jay Hunsberger, the VP of sales for North America for Sustana, told the publication that Starbucks wanted to "demonstrate that a coffee cup can be turned back into a coffee cup."
Starbucks is also on a mission to do what it can to combat plastic pollution. That same year, it revealed its decision to eliminate straws from all of its stores. The chain replaced them with lids for cold cups, similar to the design it uses for its hot beverages.
https://www.instagram.com/p/CL588grHtF1/
Starbucks Vegan Options Across the Globe
In 2020, Starbucks Portugal launched new vegan cakes and sandwiches. In the Phillippines, it launched decadent vegan chocolate cakes. South Korean customers also have vegan options, including cake and focaccia.

The same year, Starbucks Hong Kong launched two new menu items featuring vegan meat made by Impossible Foods. the Maize Impossible Sandwich—topped with egg, mayonnaise, and cheese — and the Spiced Impossible Puff use Impossible's plant-based meat but include eggs and dairy.

The company added five new menu items across China, each featuring plant-based meat. The "GOOD GOOD" menu includes three distinct pasta and lasagna dishes, now served at more than 3,300 Chinese locations, and featuring Beyond Meat. Starbucks China also offers vegan meat from Hong Kong-based brand Omnipork in two dishes.
https://www.instagram.com/p/CMALOg0BExa/
Vegan Options at Starbucks
If you're planning on taking a trip to Starbucks anytime soon, what can you eat while you're there? Here are Starbucks' vegan food and drink options that could be available to you.
Starbucks Vegan Options in the U.S.
Starbucks customers can take a bit out of a number of plant-based options like the new Chickpea Bites & Avocado Protein Box, Impossible Breakfast Sandwich, Hearty Blueberry Oatmeal, and the chain's certified vegan bagels. Snacks include Hippeas, dark cacao coconutty macaroons by Emmy's, fruit salad, packets of nuts,
Although the chain doesn't offer certified vegan drinks, it does offer a variety of non-dairy beverages. These include iced coffee, cold and hot brews, caffe Americano, Pink Drink, Green Drink, Violet Drink, and unflavored latte and espresso. Customers can request plant-based milk options of almond, coconut, soy milk, and Oatly oatmilk, which the chain recently launched nationwide. They can also opt for a flavored syrup, such as Vanilla, Caramel, Hazelnut, which do not contain animal-derived ingredients.
Also new on the menu: the non-dairy Iced Brown Sugar Oatmilk Shaken Espresso and Iced Chocolate Almondmilk Shaken Espresso. The chain doesn't just reserve its dairy-free and vegan options for its own stores. In Target, U.S. consumers can buy almond milk Starbucks frappuccinos.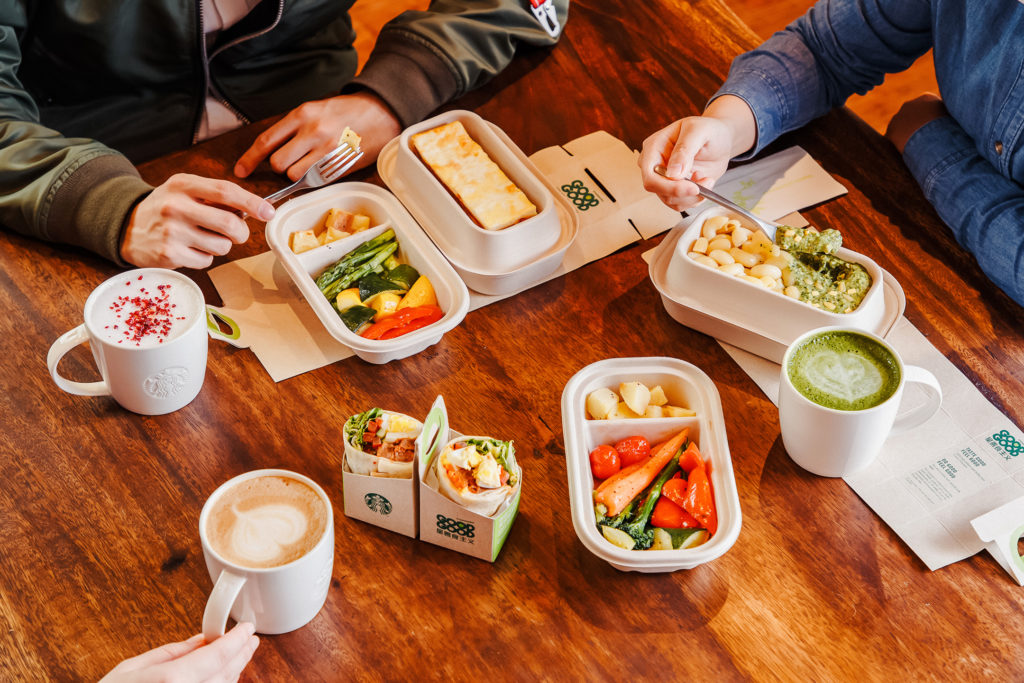 Starbucks Vegan Options in the U.K.
In early 2020, Starbucks UK added vegan mac 'n' cheese and an all-day breakfast burrito to its shelves. For lunch, you can also snag a vegan roasted veggie salad or beetroot wrap. Asda customers can also sip on dairy-free iced coffee with almond milk.
Starbucks just launched the Chocolate Chip Cookie Latte for a limited time, which customers can order vegan. It's now on menus across Europe, the Middle East, and Africa. Starbucks Europe also rolled out an Original Nut Blend. According to the chain, the dairy-free alternative features "a blend of light rice, sweet hazelnuts with subtle chocolatey notes, and buttery cashews." It's available in select markets across Europe, including the U.K.
And for dessert, try the chain's Vegan Chocolate & Raspberry Cake, vegan butter cakes, almond or pistachio butter bars, and Deliciously Ella's Cacao Energy Balls.
Starbucks Vegan Options in Canada and Australia
Coffee lovers can snag a hot or cold drink at Starbucks locations in Canada and Australia, too. The former was a step ahead in the U.S. in launching oatmilk nationwide. It added the plant-based milk to its menu in August 2020. Canadians can also enjoy the chain's Oat Latte and dairy-free sesame lattes.