Updated July 26, 2021. Amid Subway's tuna controversy—in which DNA tests revealed the chain's tuna contains exactly 0 percent tuna—the company now says it plans to add more plant-based options to its menu.

Following the tuna scandal, vegan seafood company Good Catch put Subway tuna on blast by giving out free plant-based fish subs in the UK and U.S.—directly outside of select Subway stores.

Good Catch launched a mobile food van—called OurWay in a cheeky nod to the sandwich chain—to dish out free plant-based tuna sandwiches in front of Subway restaurants in London, New York City, and Austin, Texas on July 15.

Although it doesn't appear that Subway appreciated the trucks—the chain sent Good Catch a cease and desist letter—it does appear the move paid off. 
"Subway is not surprised that your company believes that consumers want environmentally friendly food options," the letter detailed. "Subway is also adding more plant-based options to its menu to meet growing consumer demand for meat-free alternatives."
"If Subway adds more vegan products to their menus, then it shows they've been listening to consumers," Good Catch's chief marketing officer, Scott Simons, said. "Our activation was a small part of the consumer voice that's gotten louder and louder, demanding more plant-based products in restaurants."
LIVEKINDLY has reached out to Subway for further comment.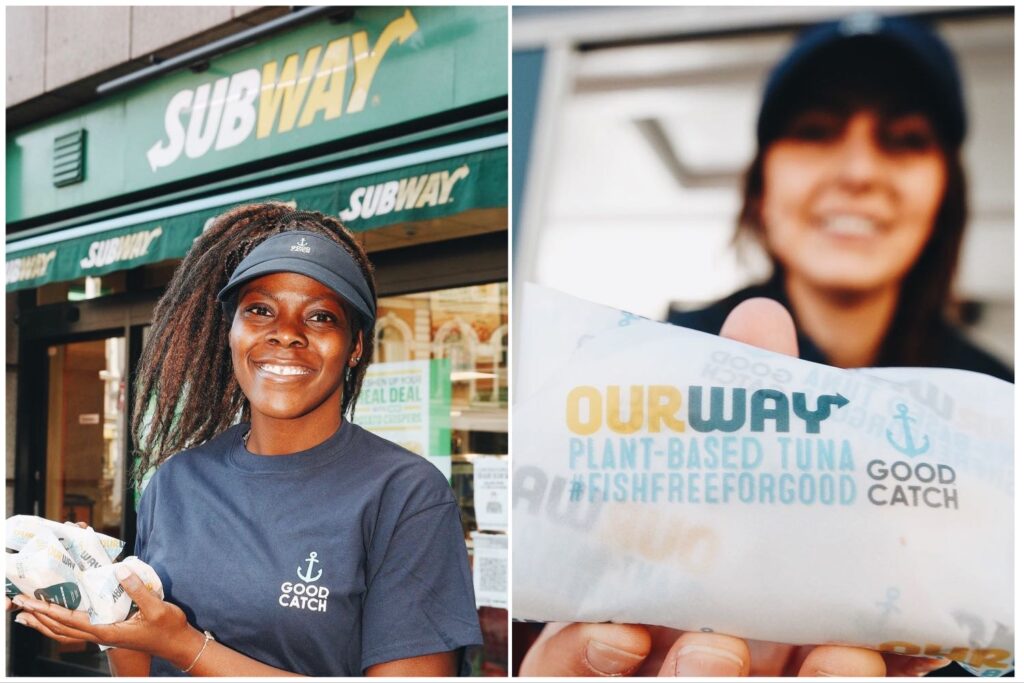 What's Wrong With Tuna?
Certain species of tuna are endangered—and most threatened—and the commercial fishing industry has a huge negative impact on the natural world. Consumers are increasingly aware of the effects of overfishing, particularly following the recent Seaspiracy (2021) documentary. Today, more people than ever before are turning to the burgeoning vegan seafood industry, of which Good Catch is a leading brand.

"Our mission is to make plant-based seafood that's good for the sea and all life who call it home," says Good Catch co-founder Chad Sarno. "We can do better. We're here to offer great tasting seafood alternatives without bycatch, mercury or environmental damage."

As it says on the OurWay van, the company offered "footlong tuna subs with no catch"—just outside Subway's doors. But the growth of the plant-based seafood industry isn't the only reason why Good Catch is trolling Subway so hard.
Subway's Tuna… Isn't Tuna?
At the start of 2021, the Washington Post reported that two Subway customers filed a lawsuit alleging that the so-called tuna stocked by the chain contains absolutely no tuna fish. A recent New York Times investigation into the contents of Subway's popular tuna sandwiches, prompted by the lawsuit, recognized no tuna DNA in the food.
According to the lab worker who analyzed the fish on behalf of the New York Times, the lack of a conclusive result means either that Subway's tuna is "so heavily processed" that they couldn't identify the animal's DNA at all (but it could still be in there), or that the subs really don't contain fish.
Subway declined to comment on the lab results, but they may not be as definitive as they first seem. For example, cooking denatures the tuna's DNA, making it extremely difficult (if not impossible) to test. Either way, commentators have expressed hope that the attention could encourage additional consumers to think about where their food comes from.
"This is the perfect moment to inform people that there is a better way to enjoy the taste and experience of delicious seafood without harm to our oceans," says Sarno. "We want to encourage Subway, and other businesses, to add fish-free options for goodness to all."